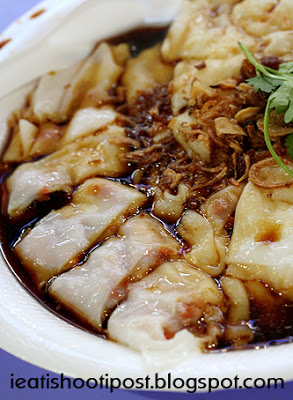 Char Siew Chee Cheong Fun $2 each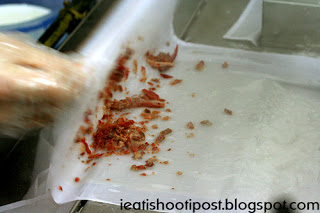 My five year old daughter is really picky about food and often would take an hour just to finish a meal (if she even finishes it!). But when she took her first bite of this Chee Cheong Fun, she couldn't stop eating it and I had to go back to buy an extra one just for her! Are there any parents out there who are reading this?
The reason she likes it so much is that the Chee Cheong Fun is really soft, smooth and slippery. That's because it is made on the spot. The sauce that goes with the Chee Cheong Fun is the type that you get when you go for Dim Sum. Ok, belay that, the Chee Cheong Fun IS the type that you get at Dim Sum Restaurants — only better. It doesn't get fresher than having your face steamed by the very steam that steamed your Chee Cheong Fun.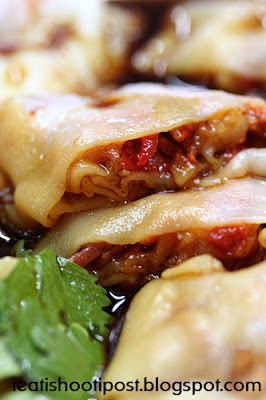 Ok, I admit it. I had to buy my daughter some more Chee Cheong Fun because Daddy liked it so much that Daddy had finished it before she had enough. I am so enamored with freshly made Chee Cheong Fun that I don't think I would ever be satisfied with the usual pre-made ones anymore! Aside from the superly duperly soft-as-silk Chee Cheong Fun, I also found the Char Siew to be very good. Gimme two Char Siew Cheong and I am a very happy man! (Oh and two more for my little girl….and two more for my boy) 4.5/5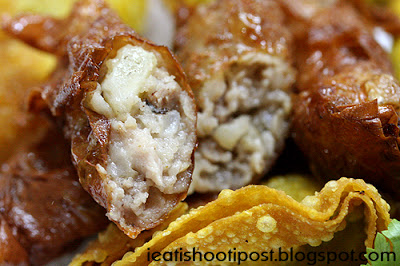 Hae Chor and Sui Gao $4
Besides the Chee Cheong Fun, the other item that you should try is the Hae Chor. It's handmade and contains lots of crunchy water chestnuts and they are freshly friend to order. Bit on the small side but it packs quite a crunch! 4.25/5
Conclusion
Definitely one of the best Char Siew Cheong Fun and great value for money too! From my daughter's point of view it would probably have rated close to a 5!