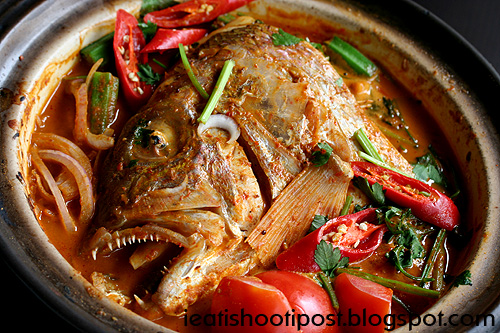 With ieatMama, iwatch_ueat, liverpool, PowerAunty and the PowerGang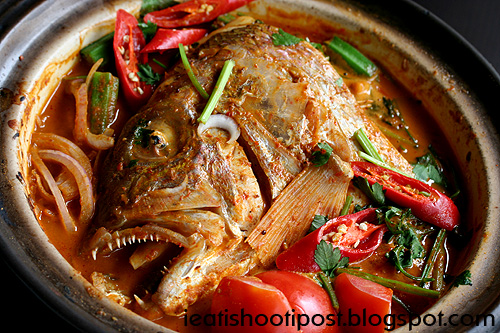 Fish Head Curry (whole) $30
Quite a few people have written to me about Hooked on Heads, but I never quite got round to it. However, last week a series of events happened that finally brought me to this restaurant. Firstly, my friend from church emailed me about this stall raving about the Mee Siam and Har Cheong (Prawn Paste) Kai and then PowerAunty found out that ieatMama was in town and wanted to meet her. Knowing that both these ladies love fish heads and peranakan food, I finally arranged to eat here. At least I will have two experts to give their opinion on the Fish Head Curry!
I must admit that I have never been big on fish heads, but I really enjoy watching how people who love fish heads really slurp up all the fiddly jelly bits with gusto. I imagine it is like eating chicken feet or oxtail where there is a lot of effort for that bit of tasty gristle.
Anyway our two experts concur that the fish head curry was really sedap! (tasty). The curry is made with milk and coconut milk so it is not too jerlak, but still creamy and the fish was really fresh. It wasn't overly spicy so it suited me fine but for someone like Liverpool, he complained that it was too mild. If like me you are not big on Fish Head Curry, this one might get you "Hooked on Heads". 4.5/5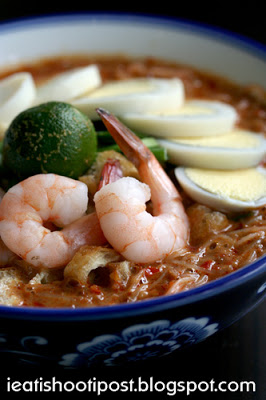 Mee Siam $3.80
The Mee Siam here is quite different from your normal Mee Siam. If you are a stickler for the more traditional Mee Siam, you might not take to this. However, I loved it because it had the sweetness and creaminess of the Indian version but at the same time it retained the tanginess of the more familiar Mee Siam. Both PowerAunty and ieatMama gave a resounding two thumbs up as well. 4.6/5

Mango Salad $6.80
Although there is a strong emphasis on Peranakan food, the restaurant owners has not allowed this to restrict his menu. They also offer Thai food as well as local Cze Char dishes. I was amazed at how well Thomas and wife Gina were able to juggle it all. And what I really enjoy is the way they tweak the dishes just that little bit to make it even better. Take for instance the Green Mango Salad which is a traditional Thai Dish. Aside from the crisp, tangy shredded Mango and other greens, they have also topped it off with shredded dried Cuttlefish which has been lightly toasted. The savoury flavour and chewy texture of the cuttlefish was an excellent contrast to the tangy, crunchy salad. 4.5/5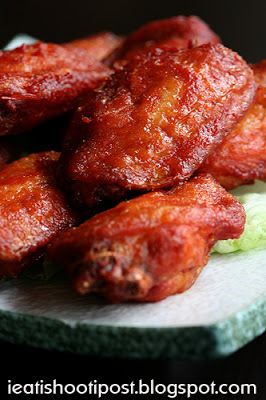 Prawn Paste Chicken $8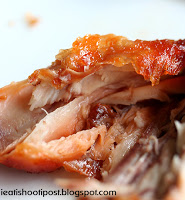 I have been lamenting the fact that though many places serve Prawn Paste Chicken that one can hardly taste the flavour of the prawn paste. So I am happy to report that the prawn paste chicken here is excellent. They use only mid wings here and they are marinated long enough such that the red colouring has really seeped into the flesh. Thomas also explained that they use modern fryers to deep fry the chicken instead of a wok. So with the right temperature control, the meat of the chicken is kept nice and juicy inside. One of the best Prawn Paste Chicken I have tasted. 4.5/5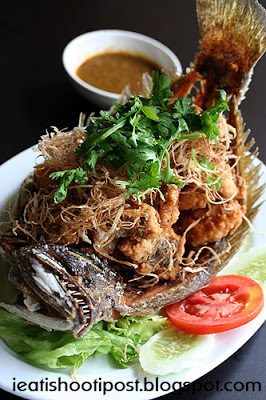 Crispy Sole Fish $18
There are three versions of the Crispy Sole Fish. We had the plain one which is dipped in a Thai style green chilli sauce. This is a real visual treat and though it was executed perfectly, I found that there was a lack of ooomph in the flesh. What was interesting though is the unique garnishing which is made from thinly shredded lemongrass. I think the Garlic Fried or Thai Sweet Chilli version should taste better. 3.75/5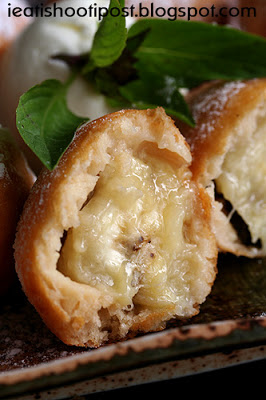 Banana Fritters Special $3.80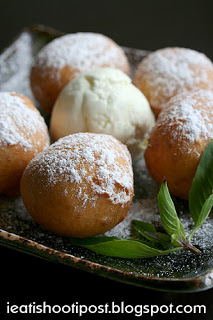 Make sure that you leave some room for desserts as they have got a nice selection here. The first I would recommend is the banana fritters which is eaten with ice cream and golden syrup. I used to have this a lot when I was living Thailand. But the version I had was simply a banana halved lengthwise and fried in a crisp batter, very similar to our Goreng Pisang. This one is a little bit different. It has a crispy golden shell on the outside and fluffy on the inside, almost like a donut with banana inside. They use Del Monte bananas here which is nice and sweet. It was both a visual and gustatory treat! 4.5/5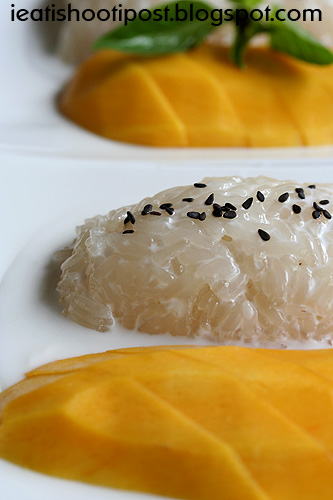 Mango Sticky Rice $3.80
I used to buy Mango Sticky Rice for 50 Baht (less than $2) from the roadside hawkers in Bangkok and it was one of those things that I was really hooked on. Although it seems like a simple dish, there a real art in getting the sticky rice to the right consistency and it has to have a good balance of sweet and salty. Thomas was explaining to me that they use Thai sticky rice which cooks evenly unlike those of Vietnamese origin. This is one of my all time favourite Thai desserts and I am very happy with this one. 4.5/5
Conclusion
We all had a great time in this restaurant that really exceeded our expectations. They have a nice Lunch Sampler Set for 2-4 people that features a half Curry Fish Head with a choice of other dishes for $22.80+ on weekdays which is quite good value. For those eating alone, you can get a mini set with a choice of 2 dishes for $5.80+. Everyone was so delighted that we all vowed a return visit to taste the other items on the menu.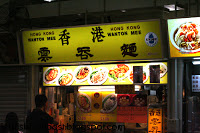 Recommended by Rebecca and Karen