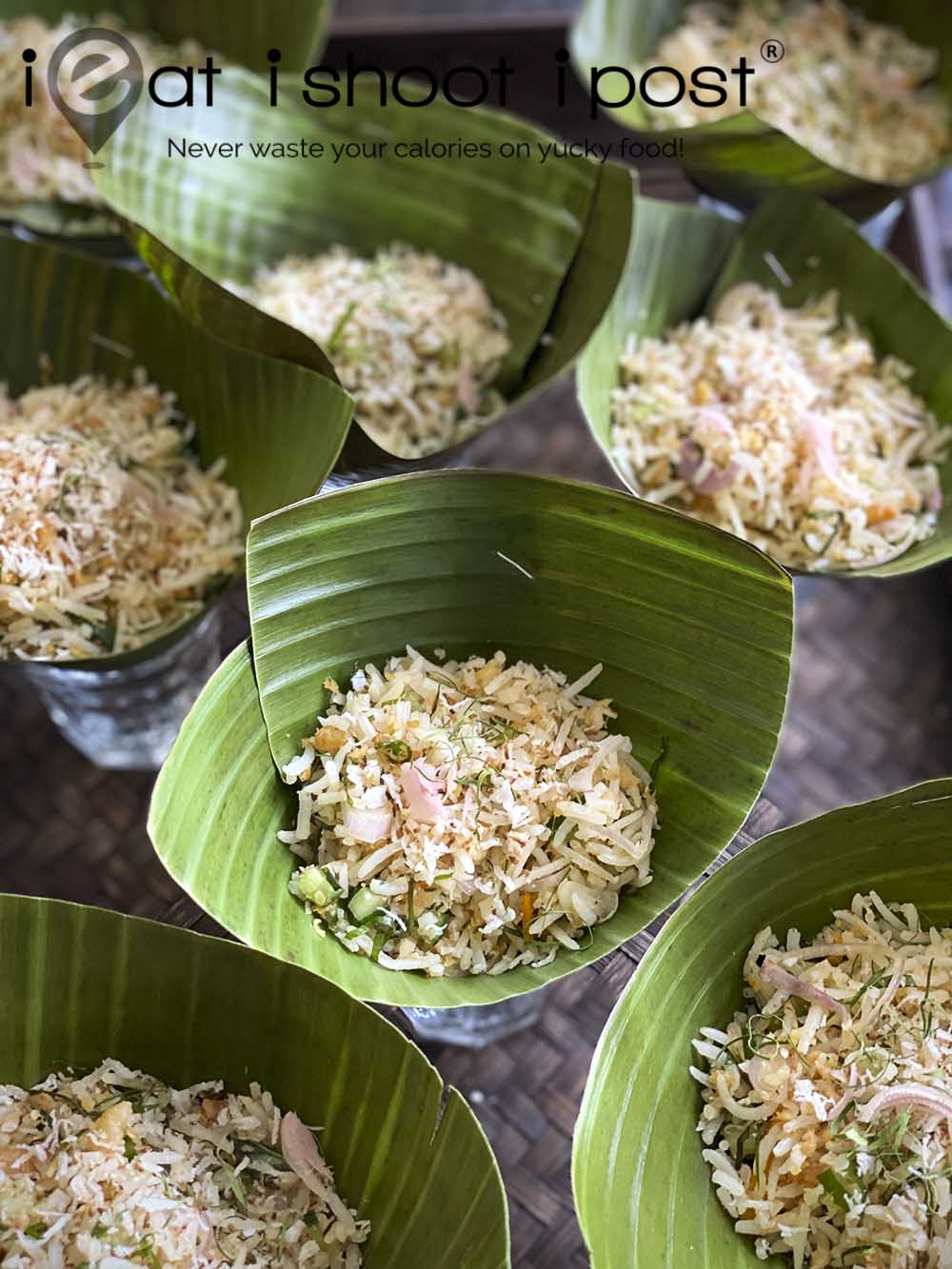 Guest Contributor The Food Canon
Introduction
Private dining is getting very popular during this season and we have more opportunities to taste some good home-cooking.
I was invited by my friend Terry (aka The Food Canon) for a Nonya home dining meal recently at Linda's Table. Nonya dishes are suited for private dining as there are many skillful steps in preparations which need the cook's un-rushed and personal hands-on attention. Diners will be tasting her take on popular Nonya favourites like Buah Keluak Ayam or Sambal Udang. You can expect her Sambal Belachan to be prepared the traditional way in the lesong  (mortar and pestle)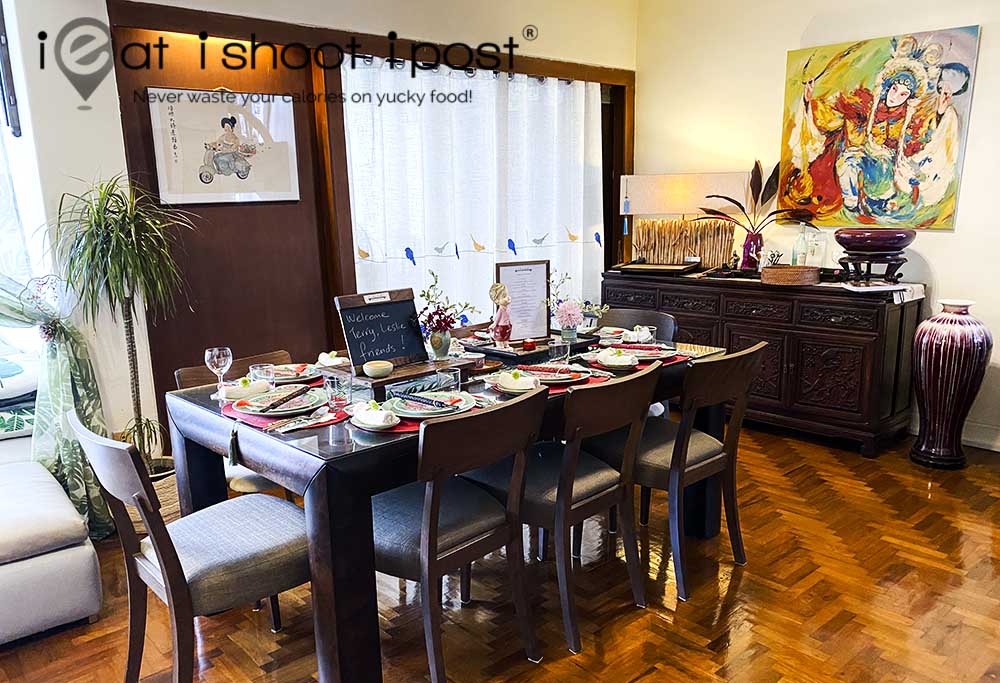 The home experience starts when you stepped into her spacious apartment at Pandan Valley. The table is beautifully decked as a visual feast of Nonya art. After a welcome drink and chatter, the dishes are served Omakase-style, which is unusual in Nonya dining.
Nonya Omakase Course
We got off to a fresh start with Linda's Kerabu salad of cold Jambu, rose apple and white bait was a crisped and flavorful opener. The hints of fish sauce in the dressing reflects Thai influence in this Penang Straits approach to salads. To cater to those who cannot handle too much spiciness (or "heat"), the lesong pounded Sambal Belachan was served alongside. That a cold fruit salad can be enjoyed with some spicy dried shrimp paste reflects the centuries of Malay/Thai influence and fusion with Western cuisine.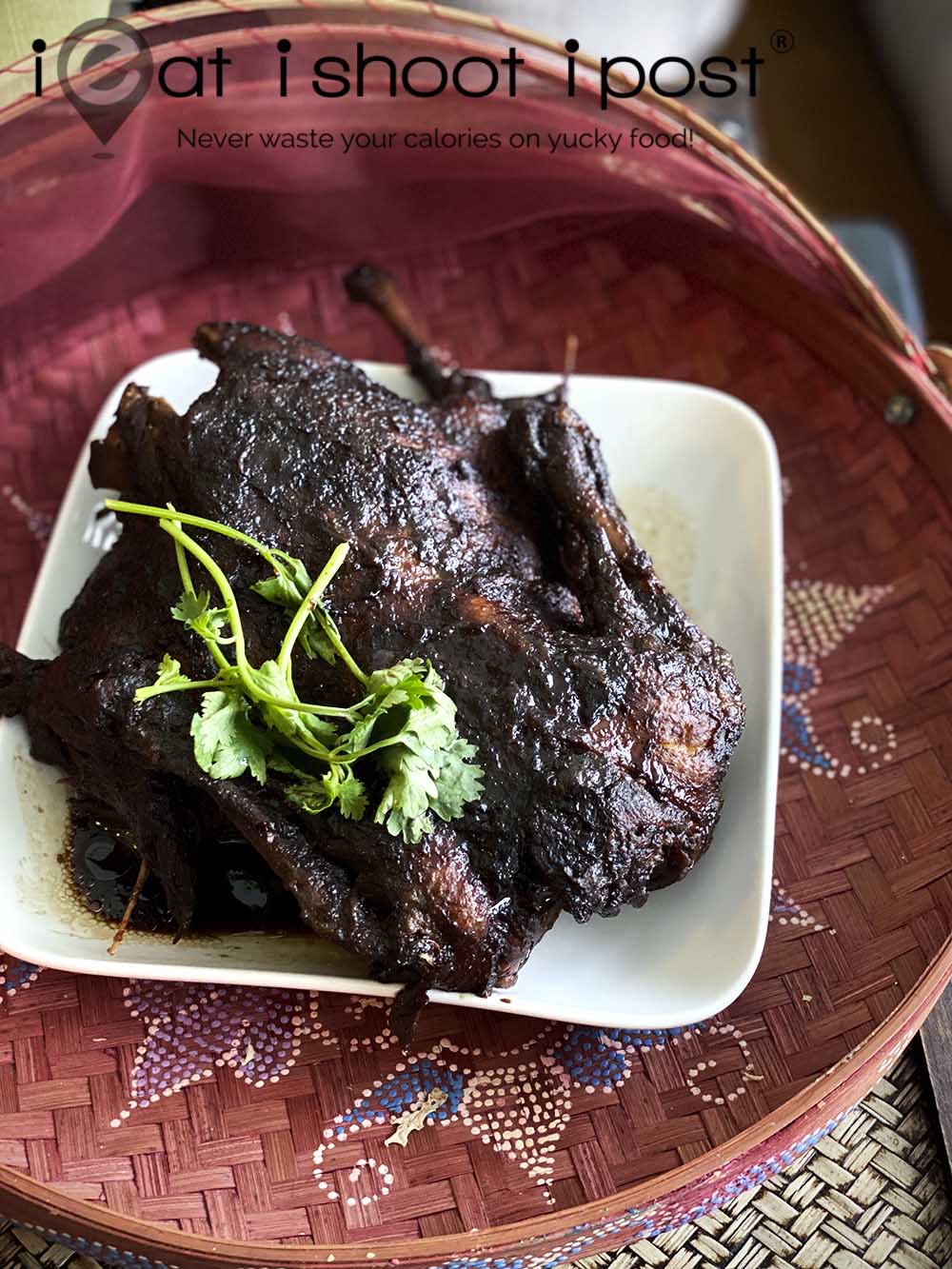 Itek Sioh was served next. The duck is braised in tamarind and coriander gravy and served "pull pork" style with Mantou buns. The taste of tamarind and coriander makes it an unmistakably Sioh dish. It was tasty but we missed the taste and texture of duck skin. It reminded us too much of the French's Duck Rillette sans the confit of her own fat or the famed Peking Duck without the crisped skin.
Leslie adds:
The duck was lovely but it was paired with a factory made mantou which was a tad dry!  Need to find a supplier of freshly handmade mantou to do justice to the duck!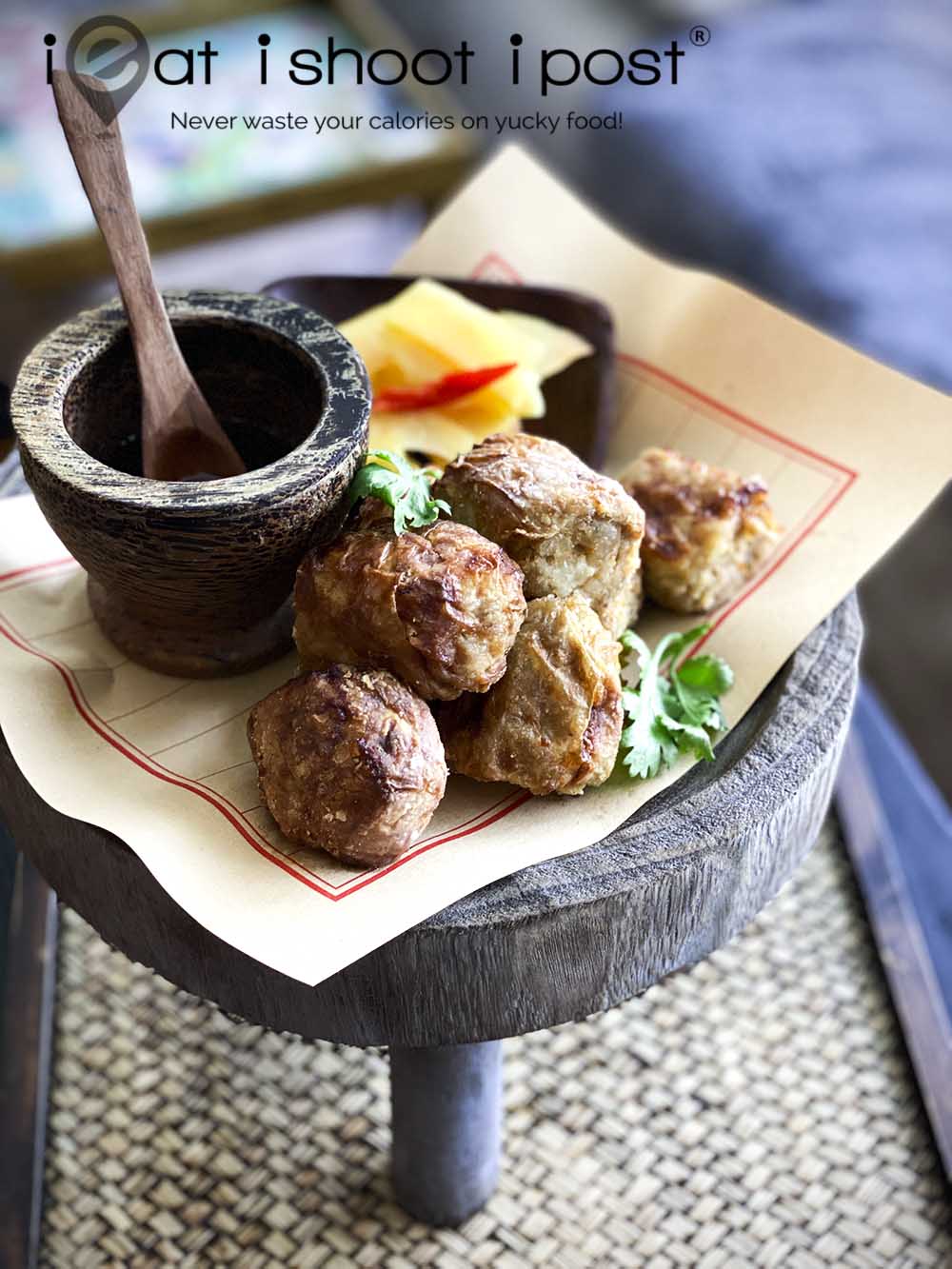 The ubiquitous Ngoh Hiang was next, beautifully served. The pork was minced and "slapped", resulting in a bouncy texture. The water chestnuts adds some crunch to every bite along with the crisped bean curd skin. We love her version. We had to avoid asking for the empty plate to be replenished (an unusual allowance in private dining!) to give room to the coming dishes.
Leslie adds:
Linda uses pork jowl for the filling which gave the Ngor Hiang a very unique texture which I haven't come across before.  She air fried her ngoh hiang to make it more healthy but I couldn't help buy wish it was deep fried such that the skin has a better crunch!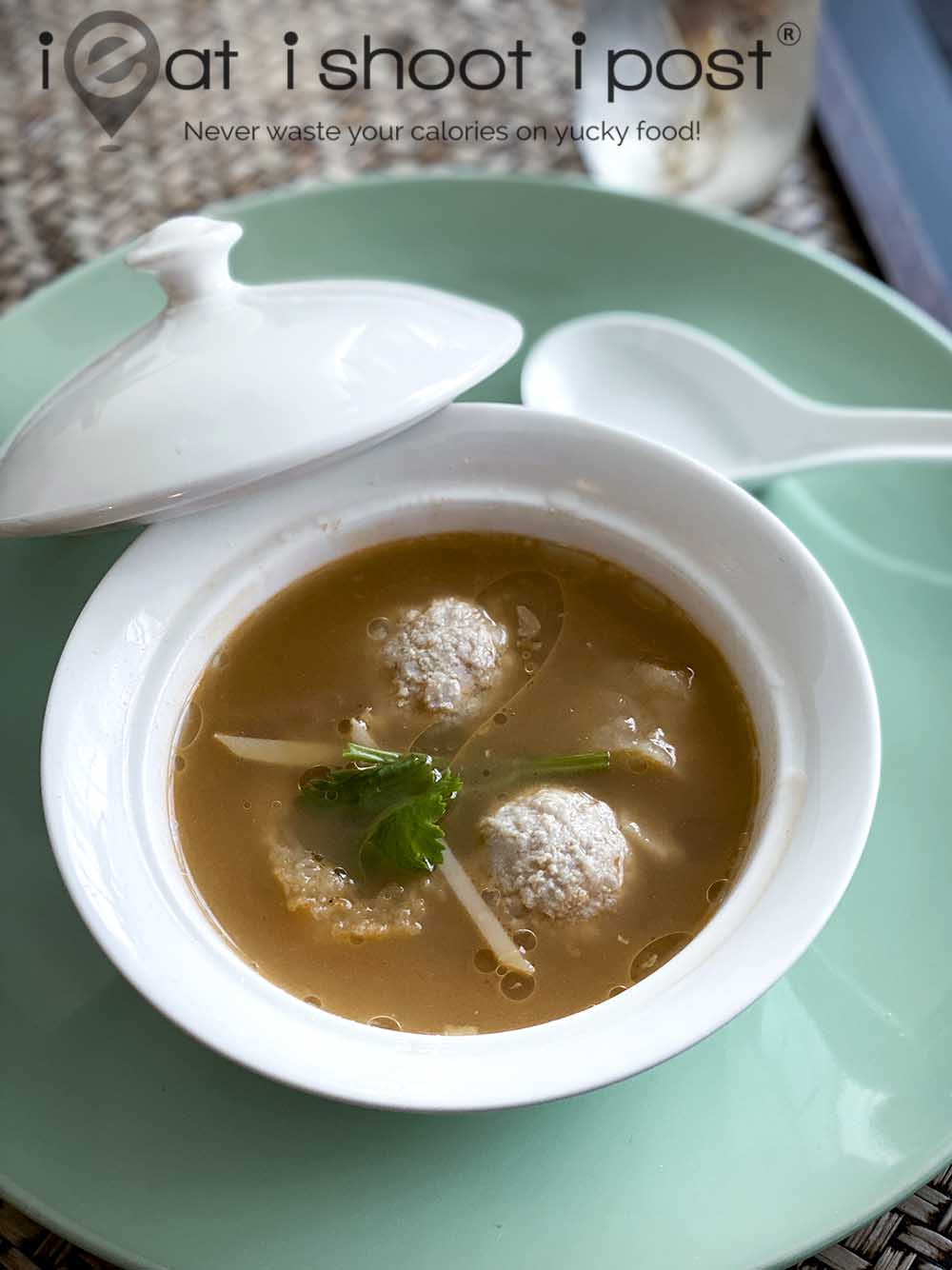 We were greeted next by Hu Pioh T'ng (Fish Maw Soup). Many Nonya homes would have grown up with their Mum's version of fish maw soup with minced pork balls, tofu and shredded bamboo shoots. This is not a recipe that one should innovate but the preparation need to be done with care to get the textures right (think of bouncing meat balls and crisped bamboo sticks). Linda told us that many diners are silenced by this soup as they slurped. She also serves a version with blue crab if they are available in the market.
Leslie adds:
The soup stock was excellent!  You can see from the photo how rich the stock is!
Next up was Nasi Ulam, (Topmost photo) served beautifully in a cone of banana leaf. The fresh herbs were hand-slice and the flavours were carefully balanced along with the umami undertone of dried seafood. The use of the light and fluffy basmati rice was a traditional break from the chewy and stickier jasmine rice. Every spoonful sparked off a riot of dancing flavours. Her refined take of Nasi Ulam is indeed unique and showcased the flavours of our local herbs.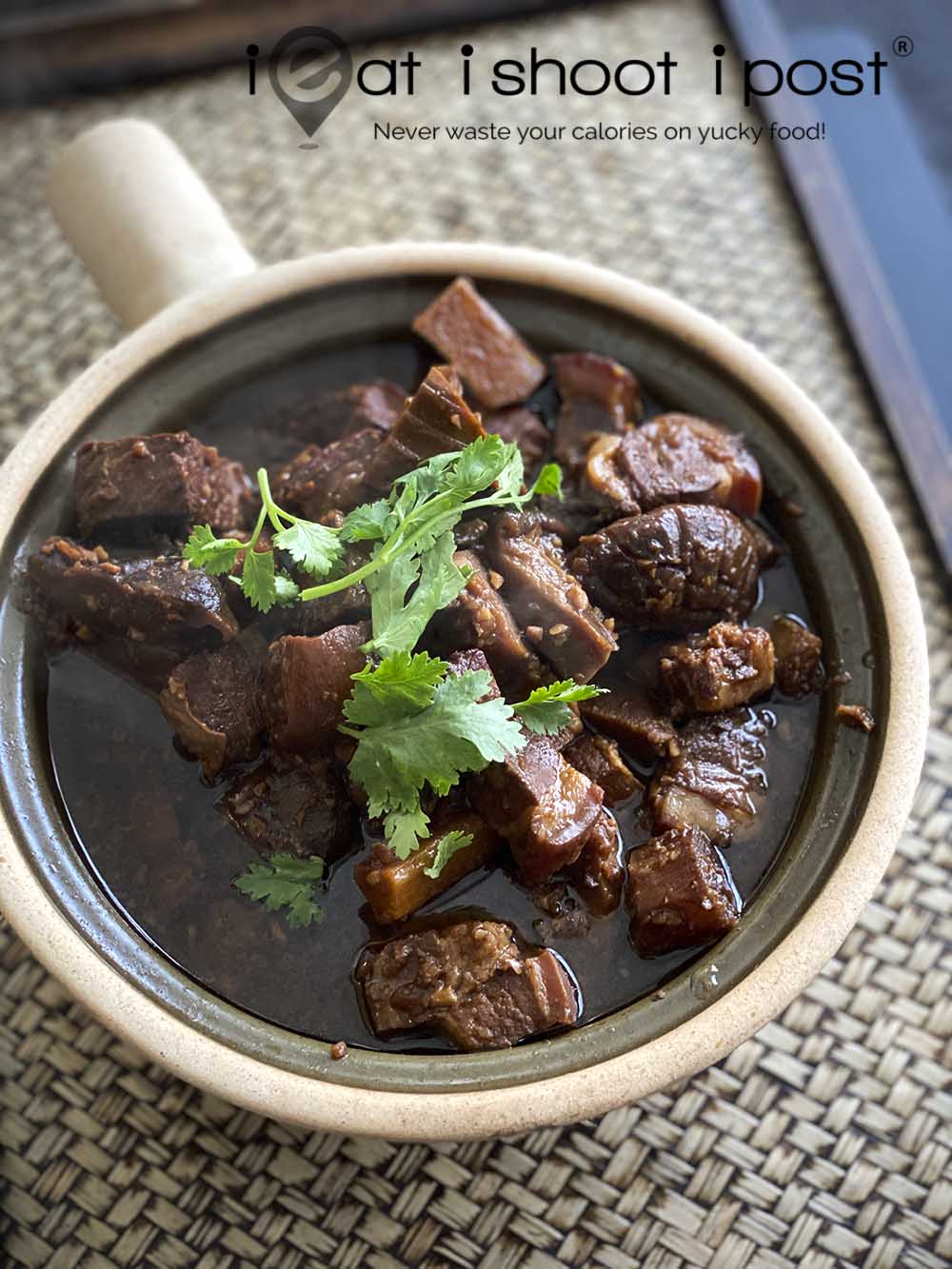 Next, we were served pork belly cooked "two ways." Her version of Babi Assam in tamarind onion gravy was homey and traditional. Her Babi Pongteh arrived in a closed claypot pot and cracked open with some fanfare.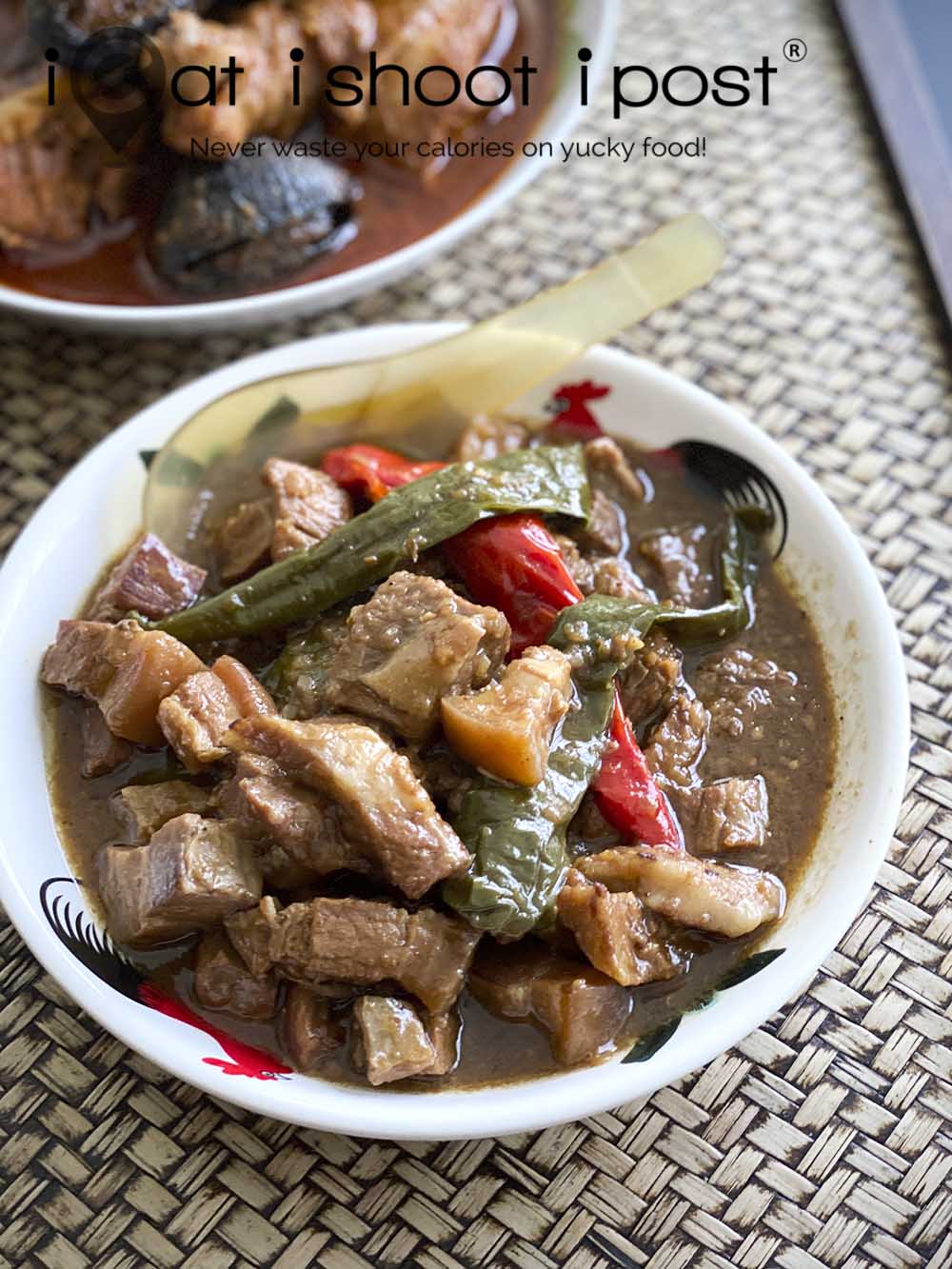 The Pongteh aroma of pork belly in tau cheong (soy bean paste) greeted us. The addition of sugar cane added a caramelized mouthfeel and provided a sweet chew, reminiscence of our childhood experience.
Leslie adds:
The Babi Assam was the best dish of the whole omakase course!  Make sure you ask for it when you book for your private dining!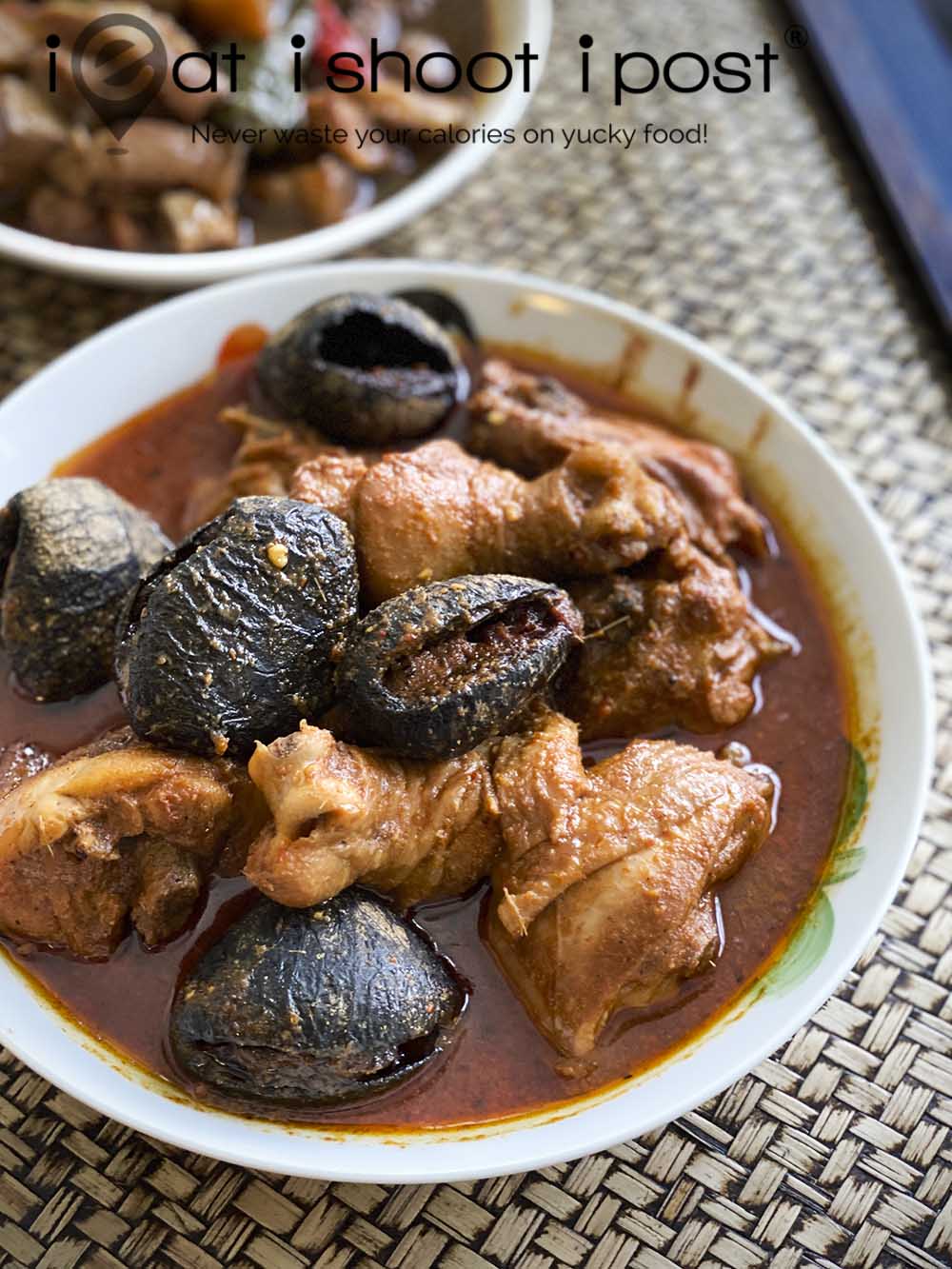 Ayam Buah Keluah was next and her version of braised chicken in thick, mild spicy tamarind gravy with stuffed nuts was traditional festive version. Love it or hate it, the earthy buah keluak paste is an acquired taste. This dish needs to be enjoyed with white rice. Linda surprised us by serving some rice in a claypot , flavored with fried lard and soy sauce. It was an off the menu dish and we did not mind at all.
Leslie adds:
I like my ayam buah keluak gravy to be blackened with mashed buah keluak but that is my personal preference because that is how I would cook it! (Here's my recipe)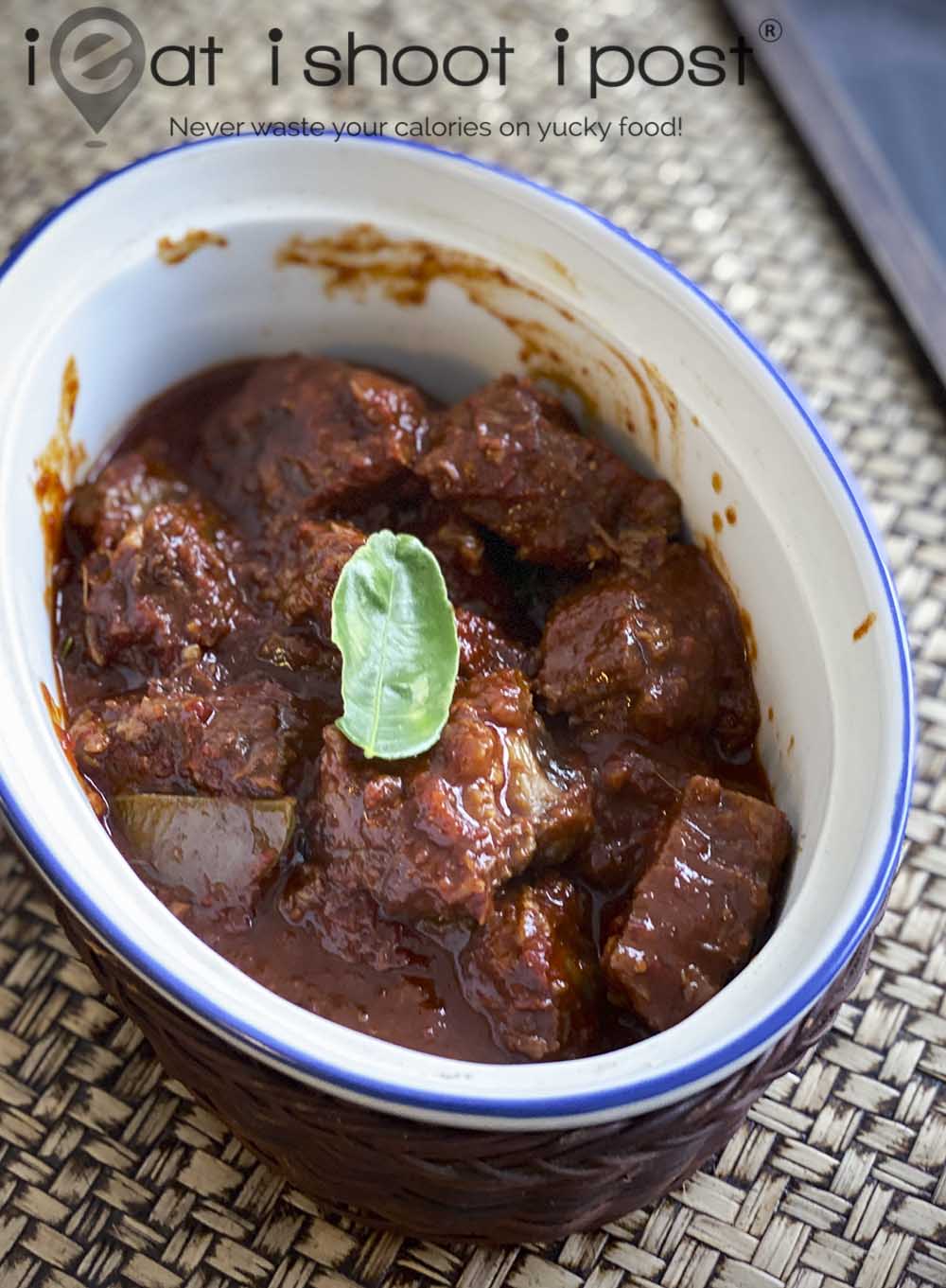 Linda's version of shin beef rendang is another well-loved dish by her returning diners. We would have preferred the traditional Malay version of dark brown sauce that has been braised, thickened and mellowed over many hours. It goes to show that there are indeed many versions of good Beef Rendang.
Leslie adds:
Linda has many ways of cooking Beef Rendang. The one served to us was a bit too spicy for me.  Next time I will request for a sweeter, more rounded version of the dish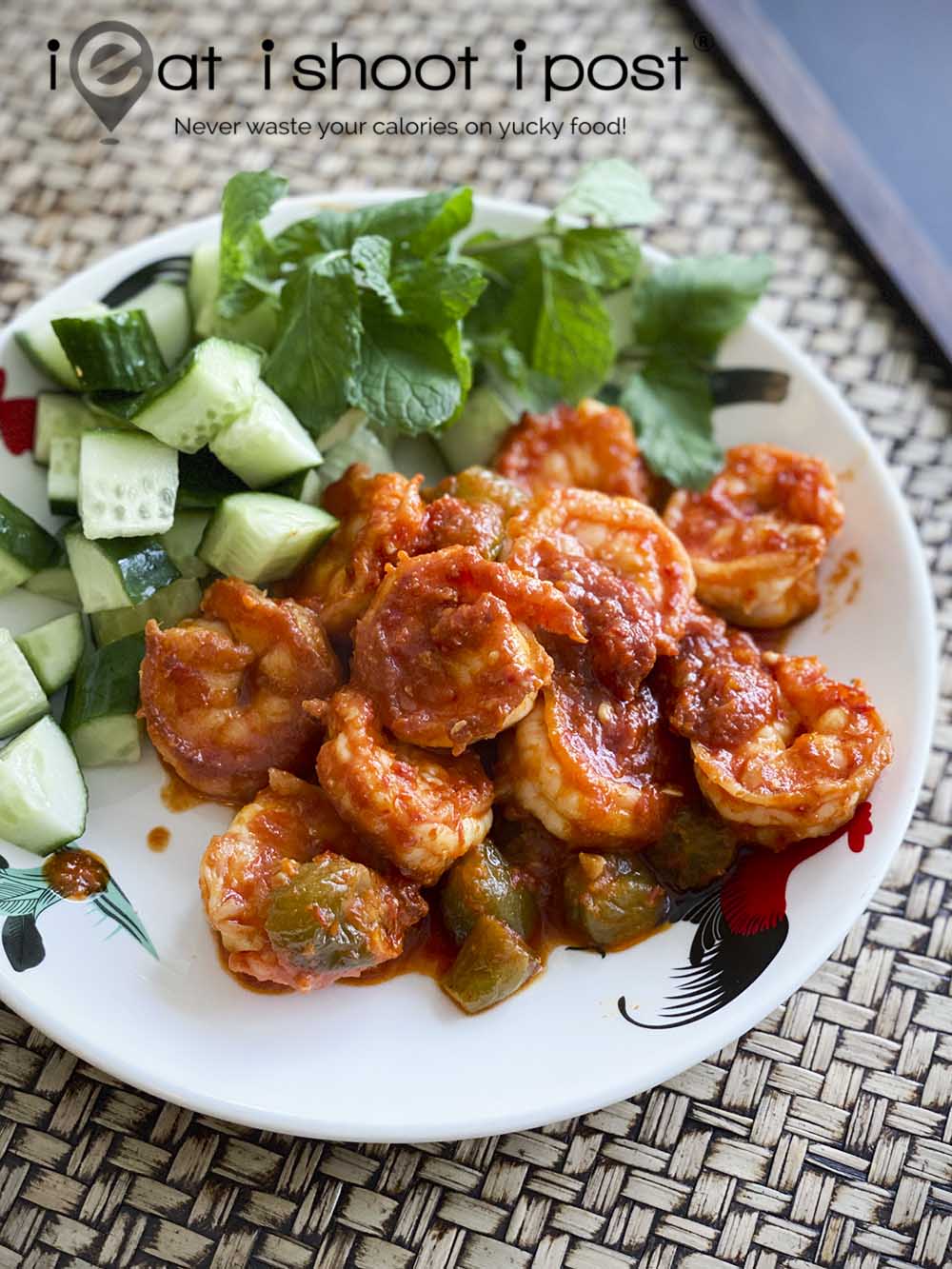 Her version of Sambal Prawns with Belimbing was again a traditional take and it came with crunchy prawns, chunky bits of the sourish and fruity belimbing and fresh mints. Again, this needs to be enjoyed with some rice. Dial up the spiciness by adding in some Sambal Belachan.
As for the dessert drink, we were served a light refreshing drink of frozen yuzu wine with lemongrass, completed with some lemon water and home-made coconut candies.
Linda also cooks many other Nonya dishes which we will have to be back to taste.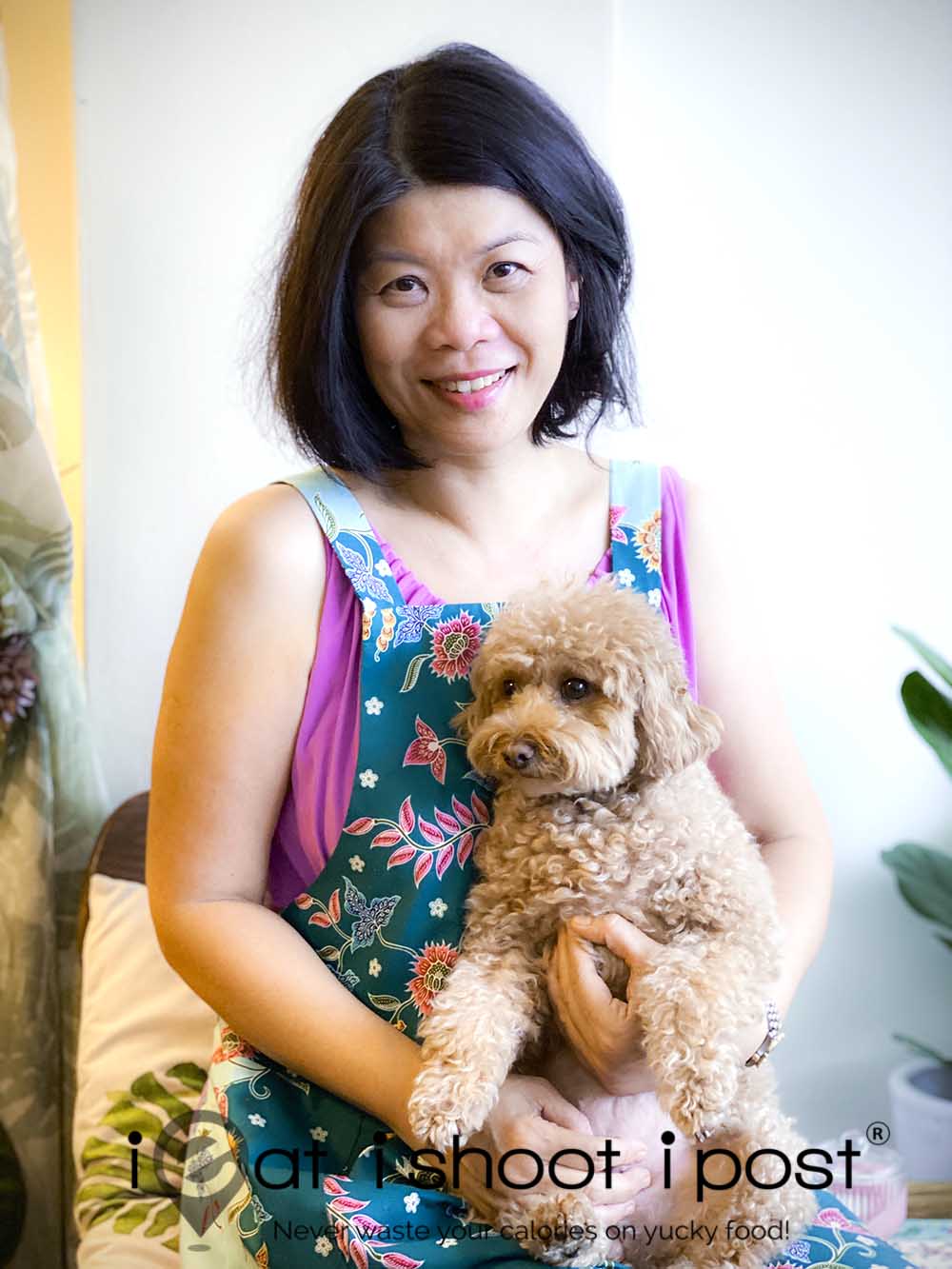 Conclusion
This has been a difficult pandemic season which has generated new initiatives and innovative ideas by individuals. As life slows down, one's hobbies and passions come to the fore. And we are glad that some home cooks have opened their tables to us.
To book a session, please write to lindatable.pd@gmail.com