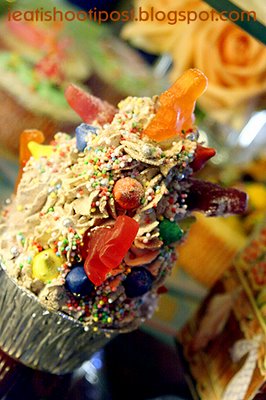 Every now and then, someone will offer to "Blanja" me to lunch. So I took the opportunity to "Ketok"(Slaughter with a Smile) my friend a bit (He quite nice guy with some money in his pocket) and reserved a table at the V TeaRoom. This place is known for its really "over the top" cakes and desserts which I always wanted to try, but reluctant to pay with my own Visa Card.
Just look at their cupcake in the picture above. Isn't that a bit over the top? Phwaa, simple cupcake, they put the frosting, gummy bears, and loads of other stuff. And they have quite a number of different types to choose from; each one a work of art. Good idea as a simple gift for your friend yah? At $5 each, they are over the top in design, but reasonably affordable (considering you get a piece of cake at Starbuck at $5-$6), and definitely worth it just to see your friends go "Wow!".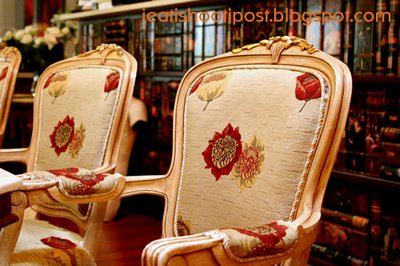 Dining at the V Tearoom is quite an experience. You feel that you should speak really good English and handle your teacup with the little finger sticking out. The decor is also "over the top", but it's rather cosy and an excellent place to bring someone you are trying to impress.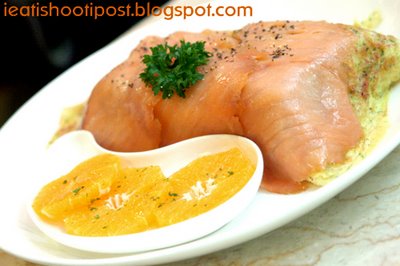 This place is well known for its desserts, but actually, few people realise that the food here is actually quite good. We were pleasantly surprised by this Smoked Salmon Omelette loaf.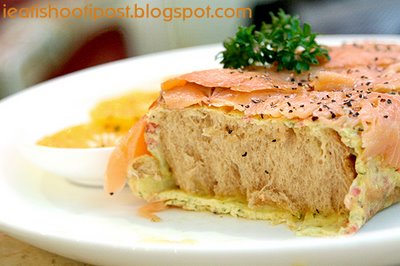 Basically, it is a thick slice of Lohti (Bread) wrapped in a thin omelette and topped with yummy Smoked Salmon and a buttery cream sauce. Not nice, VERY nice. The bread was so super soft that it reminded me of the Kopi Tiam bread. $16 4/5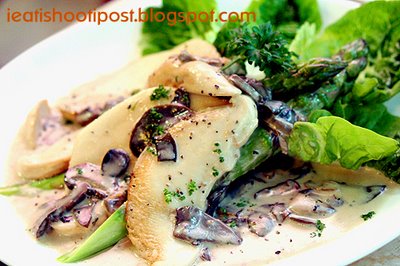 This Mushroom Steak with Asparagus Salad was also quite delightful. The giant mushroom was lightly seared and then topped with a creamy mushroom sauce which was quite shiok. Now, that's quite a compliment coming from a carnivore. Hey I had a lunch without any meat from any land animals! I feel healthier already. $18.90 4/5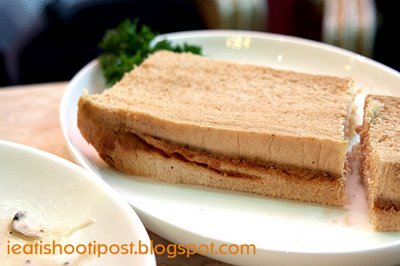 The sauce was so good that being the Teochew Ah Hia I am, I asked for more of the Lohti to dip into the sauce ala Roti Prata style. At first the waitress told me that they don't actually sell bread in the restaurant, but talk about Ritz Carlton service recovery, they actually made an exception and brought me a nice thick slice of Lohti. Ha! Just as I suspected. This is from that famous bakery that everyone buys their Kaya Toast Lohti from! Apparently, the staff go there early in the morning to pick up a few loaves! Don't look down on this humble bread ok? It is very VERY soft and Pang (Nice Aroma) and you just can't readily get it anywhere nowadays.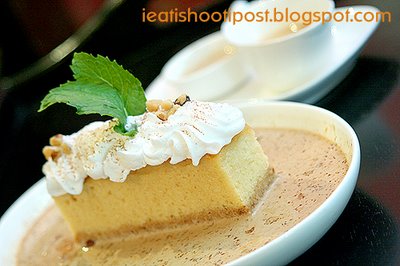 Ok, we come to the desserts. This is their signature Bailey's Irish Cream Liqeuer Teacake. For those who love to eat kaya toast and drink Kopi, you would be happy to know that even the High Class Ang Mos (Westerner) pour their Kopi into a Saucer then drink it! Yep, that's really nice cafe latte with baileys in the saucer with a slice of TeaCake (Butter Cake lah) topped with whipped cream. It was nice, but it could do with a little more Baileys in it. Afterall, we are paying $15 for this dessert! 3.75/5 If you order this, make sure you ask for Kopi Si Kao Kao, Baileys Tid LoH. (Extra Strength Latte with extra Baileys)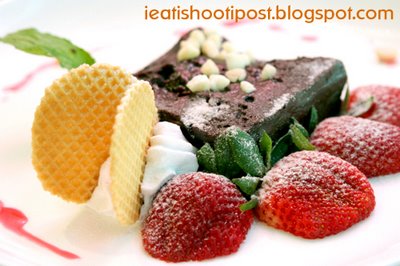 The Warm Chocolate Cake Melt is really rich and seductive. It is not overly sweet and has a good strong and aromatic dark chocolate flavour . One of the best warm chocolate cakes around. It would have been even better if we had a scoop of Haagan Daz Vanilla Ice Cream with it. 4/5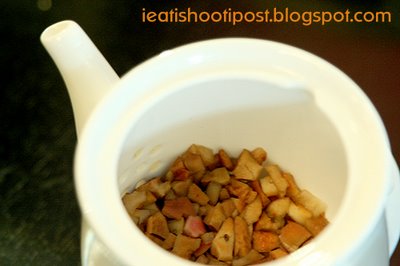 They have an extensive selection of specialised teas some with flavours like Tamarind, Green Tea with Jasmine and they even offer a range of Liqeuer Teas. I had the apple tea which was nice and refreshing. Ay, this really tastes like apples leh! When I opened the Tea Pot, Ay, no wonder it tastes so much like apples, it IS apples in hot water! (Well I am sure they must have dried the apples and processed it first)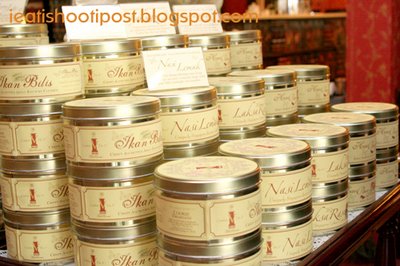 The store also sells a selection of homemade (well baked in the kitchen) cookies with exotic flavours ranging from Lavender (quite nice) to Nasi Lemak (quite nice but a bit weird). Why pay $20 for a tin of Nasi Lemak Cookies when you can buy a whole plate of Nasi Lemak in Tanjong Pagar Food Centre for $1.90? Ah, but then you can't eat that Nasi Lemak comfortably in front of the TV with one hand right?
Conclusion
It's the kind of place you just have to visit at least once because it is just so unique. The food is quite reasonably priced and excellent, the desserts are great but a little on the pricey side. The service here is excellent and very personal, so you are guaranteed a great experience overall.
8/10 T3+V2+S2+E1
Link to the V Tea Room Cookie Museum blog, click here