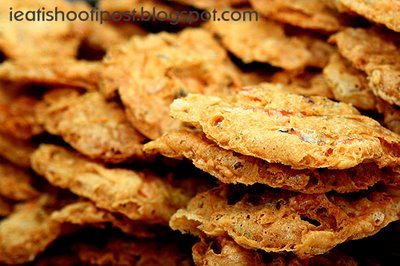 Discovering Lao Zhong Zhong is almost like opening your "O" level results slip and finding out your got straight A's when you only got 3 A's in your prelims!! Those of you who don't like to hear me rave better stop reading because this is one place you MUST visit if you call yourself a true foodie! OK, so I am a Teochew Sua Gu from Swatow (Teochew Ignoramus from Swatow Province in China). This Teochew Ngo Hiang stall has been in existence since the current owner was only 11 years old. (He's almost 60 now) Started by Mr Tan's father, this stall IS already very famous! I mean, they got a newspaper cutting dating back to 1986 by Margaret Chan already declaring them to be the best Teochew Ngo Hiang in town! What have my parents been depriving me all these years?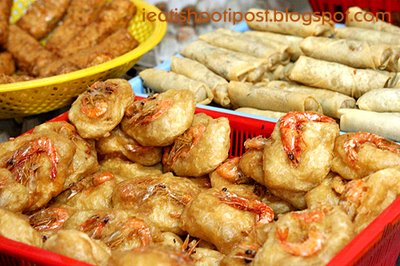 After the dissappointing Ngo Hiang at Lavender FC where all the stuff was bought from the supplier, I was really elated to find some Teochew Ah Chiks and Ah Sohs (Uncles and Aunties) busily wrapping Ngo Hiang at Lao Zhong Zhong. Now there are times when being Hou Lian (Proud) and Ngerng (Stubborn) can be an asset and this is definitely one of those times. All the Teochew eateries that I have sampled so far have revealed a common personality trait among the famous Teochew food sellers. They are all Hou Lian and Ngerng when it comes to their food. They just feel that it is their God given duty to produce quality food for their customers. Click here to read about the other Teochew eateries. One of the reasons that that Mr Tan has refused to buy from suppliers is, aside from the poorer quality, the fact that most of the Ngo Hiang that you eat is the Hokkien style Ngo Hiang.(No proper Teochew Ah Chik would want to sell Hokkien Ngo Hiang, OK?) "What's the difference?" I hear you ask. Plenty. First we Teochews tend to use lots of waterchestnuts in our cooking. So they add liberal quantities of waterchestnuts in their prawn rolls and waterchestnut slices. We Teochews also love Yam (Or Nee is Teochew) so they add yam into their Pork Rolls. (The last time I had yam laden pork rolls was in Bangkok where there is a huge Teochew community) The chilli is not overly spicy and is made of sweet plum sauce, sesame oil, black vinegar and peanuts. I don't usually like the chilli, preferring the sweet sauce. BUT this one is really Phwaaa Sayah! (Unexpressibly delicious)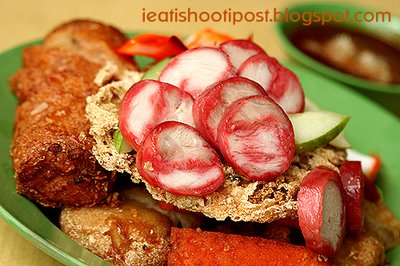 Of the 10 odd items, only the Tau Hoo is bought from the supplier. They even make their own Pork Sausages from pork thigh meat. The crispy prawn fritter is so light and crispy that it just melts in your mouth after the first bite! Dipped into the sweet, spicy and tangy chilli…..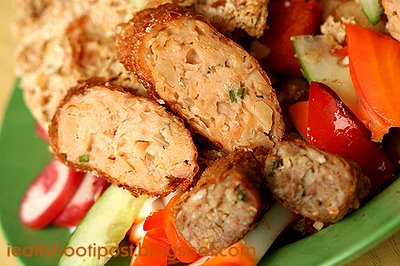 This Heh Chor (Prawn Roll) is definitely the World's 2nd Best (World best dunno where). Full of crunchy and sweet waterchestnuts, if you are feeling a little depressed, just eat 2 of these and guarantee you feel better. The Ngo Hiang (Meat Roll) is pork mixed with yam and has that subtle sweet flavour mixed in with the savoury pork and five spices. Phwaa Say! They are also famous for their Lo Mei Squid, though I did not know how to appreciate them.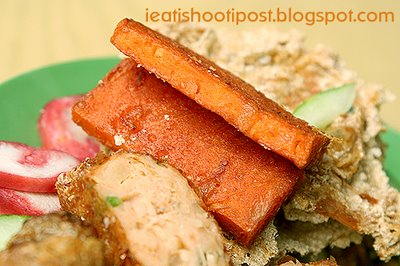 Another item you just have to save up calories for is this Waterchestnut slice. It is made of egg, flour, waterchestnut and pork lard. Not for those with cholesterol problems (Maybe you should take some Xenical with this meal yah?) But one bite of this and all your troubles seem so far away! MUST TRY! This statement concerning Xenical is meant for entertainment purposes only and does not constitute medical advice. You should consult your own family doctor before taking any medications. Please read the disclaimer on the side of the blog.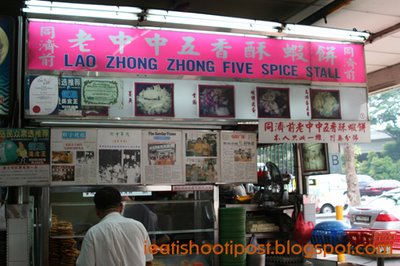 Conclusion What are you waiting for? The Jackson Centre will be closed in June 2007 and demolished to make way for a new tunnel so you better be quick or you'll miss out on real Teochew style Ngo Hiang. 4.75/5 No need to say anymore. Lao Zhong Zhong Five Spice Stall Jackson Centre Kopitiam (Corner facing the PIE flyover) Opened 11.30am to 11.30pm Closed alternate Mondays PS: I have already given them instructions to inform me when they confirm their new stall location. So please check back next year for updates. Update 9 Mar 2008 The stall has moved to occupy the coffeeshop opposite Hoe Nam Prawn Noodles.