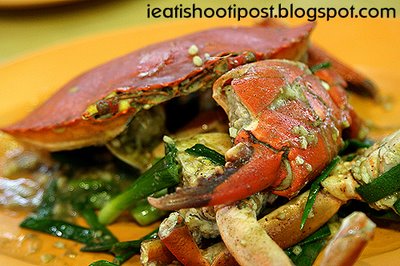 I did not actually plan to eat crab today. I mean, crabs are not your typical lunch item. But after shooting pictures at the Ngo Hiang place, I walked past this store with a big cage full of crabs and spied a familiar looking face. "Hey, Uncle! Aren't you a TV star?"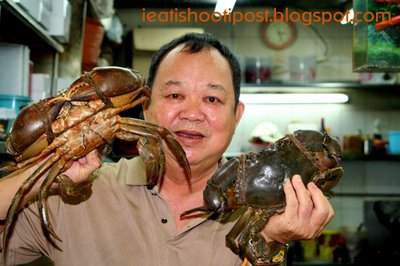 It was none other then Tang Hu, the veteran actor who started in the good old days of Black and White TV with Wang Sa and Ye Fong. What was he doing here? Well, it turns out that this is his semi retirement business. He started this stall 6 years ago after insistence from his friends that his wife's crabs were shiok shiok. Seeing that I was enthusiastically shooting pictures of his crabs, he gladly got up to teach me a few tips on picking the perfect crab.
First of all there are a few types that are commonly available in Singapore. The ones from India and Sri Lanka usually have this type of twine binding their claws as oppose to nylon ones for the Indonesian Crabs. You will also notice the difference in colour between Sri Lankan and Indian crabs.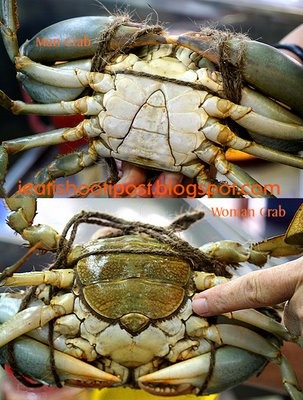 So how do you pick a good crab? First, Uncle Hu tells me, is to make sure that the crabs are heavy. I guess you can only tell after handling a few heavy and light crabs. Secondly, you pull on the back legs and the tone should be good ie the crab pulls his legs strongly away from your finger. You then decide if you want a Man crab or a Woman crab. Don't make the mistake of picking a Woman crab if you plan on ordering pepper or chilli crab. All that roe is lost and wasted in the frying process. (This is a Teochew Ah Hia's point of view OK?) Woman crabs should be simply steamed so that you can appreciate all that roe.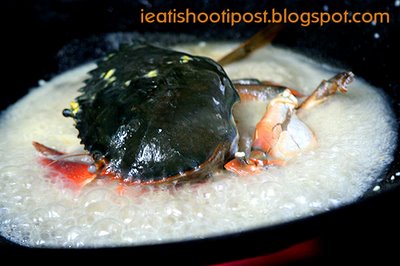 Unlike a lot of big seafood places, the crabs here are killed on the spot and fried to order. (I have always suspected that the big seafood places steam their crabs first then throw the prepared chilli sauce over the crabs before serving – if someone knows for sure please let us know) Here, everything is prepared when you order. The picture above shows the crab simmering in the white pepper sauce. This will simmer for 5 minutes till the sauce thickens then served. This way the sauce is infused with the sweet goodness of the crab.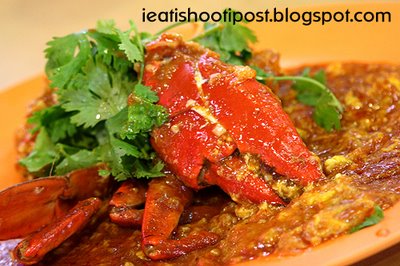 I don't usually like food that is too spicy, so I found their chilli sauce just nice. Its also a bit sweeter, just the way I like it. Great with mantou. 4/5
You can see from the picture that the crab is pretty solid. The white pepper sauce was nice but not overpowering such that you can still taste the sweetness of the flesh. But having also tasted the famous White Pepper Crab from No Signboard before, I have decided that maybe I just don't like the White Pepper Crabs as much as Black Pepper Crabs. 3.5/5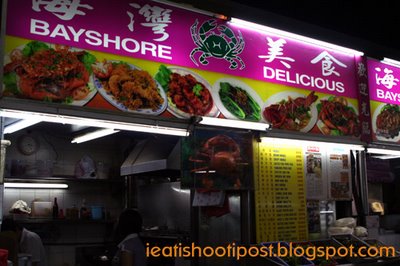 Conclusion
Very good and solid crabs. Didn't quite enjoy the White Pepper version but I would go back and try the Black Pepper Crabs next time. The nicest Black Pepper Crab I had was in Bangkok. The difference is that the crab is first coated with Sweet Potato Flour and deep fried before it is added to the sauce and simmered. Wow, but it increases the calorie count immensely.