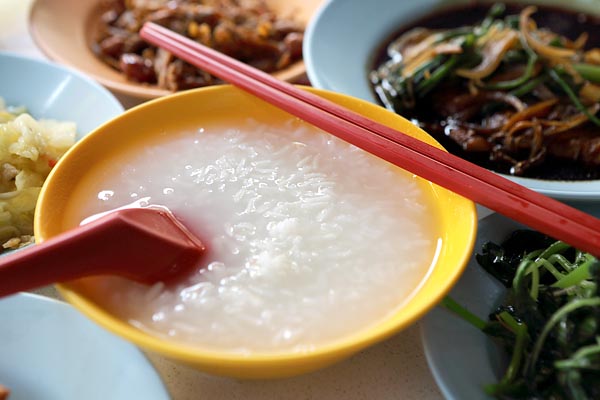 I was just searching for a good Teochew Muay place to eat at and it just dawned on me that I hardly know of any good Air-Conditioned places to eat Teochew Muay ever since my friend SCS Butter decided to close Teochew Muay! Don't you think it would be great to have Teochew Porridge in a nicer air con environment? Granted there are some hotels that are doing this, but what I would really love to see is not so much a high class, expensive Teochew Muay, but just somewhere clean and comfortable to enjoy that bowl of gruel. Of course, the most important factor is that the food still has to come across as authentic and rustic rather than fine and classy in order to keep to its historical roots.

Unlike some other Hawker dishes which are looking at an uncertain future, Teochew Muay is here to stay. Again, as I have argued before, it is a question of simple economics. The average spend per person for Teochew Porridge is at least $6-$8. This alone will secure its future and see many more hawkers choosing to serve this dish. The other reason is that it really is something you can eat everyday since you get a variety of dishes and it is something that most of the Chinese population would consider to be a basic meal of rice and three veg.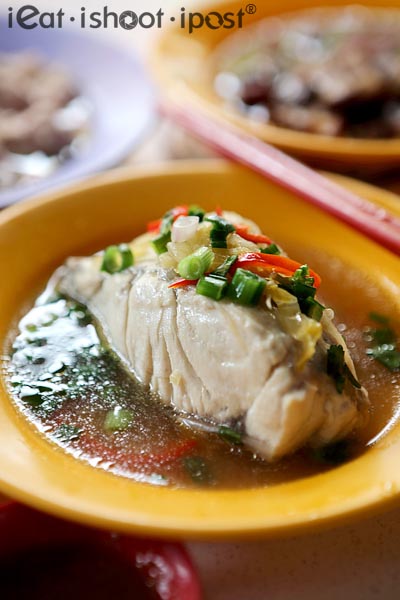 The problem I have with a lot of places that purportedly serve Teochew porridge is the fact that they try to double up as Economic Rice stalls as well. One particular dish which I personally love, but consider sacrilegious to be eaten with Teochew Porridge is Sweet and Sour Pork! Aiyoh, when I see Sweet and Sour Pork in a Teochew Muay place, I immediately slap a 50% discount on the stall before I even try the food! There are certain dishes that don't go with Teochew Porridge and Sweet and Sour Pork is one of them!
What we would all like to see is steamed fish. Not only that, it has to be FRESH steamed fish that's been FRESHLY steamed, like the Steamed Giant Sea Bass which is one of the signature dishes at this stall. I am sure you have eaten badly farmed Sea Bass before right? It has an off odour which I am sad to say I have come across once too often even in more expensive restaurants. Well, the Sea Bass here has somewhat restored my confidence in the fish. The flesh is wonderfully tender and the steaming sauce has a light touch such that you can appreciate the delicate flavour of the fish. 4.25/5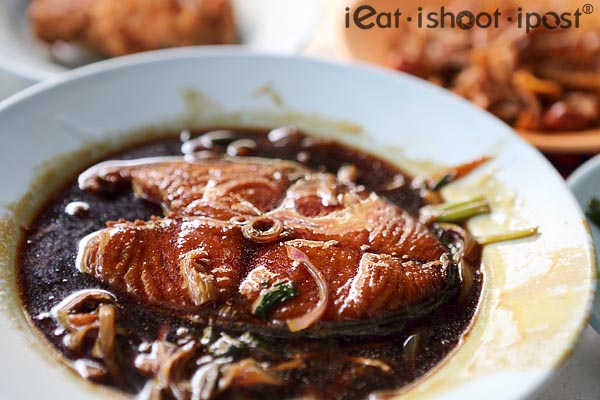 Mackeral is one of my favourite fish because it has such a marvelous flavour. Unlike Sea Bass where you want to steam the fish to preserve its delicate flavour, with Mackeral, its often fried to bring out the best in the fish. My favourite way to prepare Mackeral is to fry the fish first and then braise it in a sauce. There is a wonderful umami about the fish that only begs to be washed down with some hot, watery porridge! 4.25/5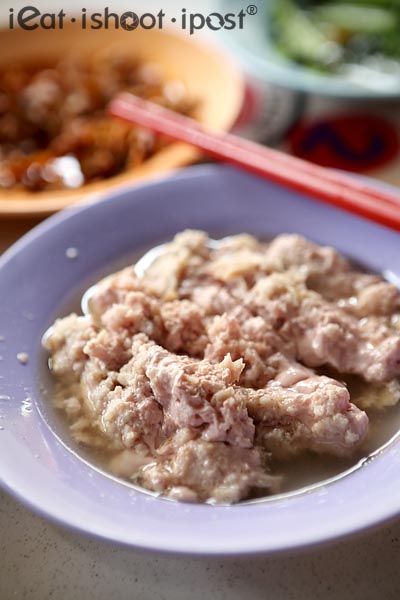 A chef taught me once that the secret to a good minced pork dish is the addition of what we Teochews call Dang Chye (冬菜). These are the brown pickled cabbage which I used to pick out of my bowl of noodles when I was a kid. But now that I am older, I begin to realize how well it combines with minced pork!. There is a good reason for this. Chinese cabbage is full of tasty glutamates (natural MSG) which gets boosted even more when the vegetable is pickled. Pork on the other hand contains inosinate, another flavour compound which was discovered in 1913 right after the discovery of glutamates. When you combine glutamate and inosinate together, POW! 1+1=8! They work synergistic ally to boost the umami levels eight fold!
Now the minced pork here is very tasty but my main complaint is that it is just a bit too mushy for my liking. The pork was minced too finely and lacked bounce. Still, I wouldn't hesitate to order it again as I like this dish whenever I eat porridge. 4/5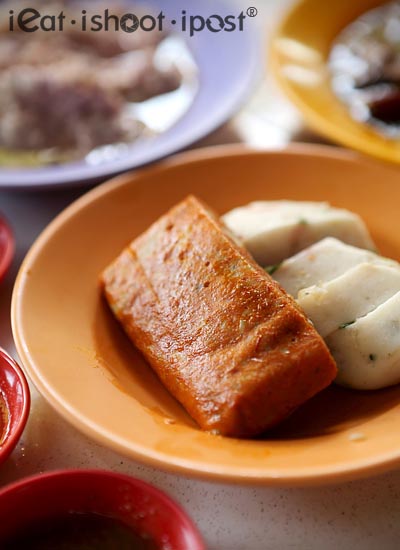 Another signature dish is their homemade otah which is not really a classic Teochew dish but it works very well in our local context. Both the fish cake and the otah were good but not memorable. Again I would always order fish cakes when I eat Teochew porridge but I might pass over the otah the next time. But if you like Otah with your porridge, its not bad. 3.5/5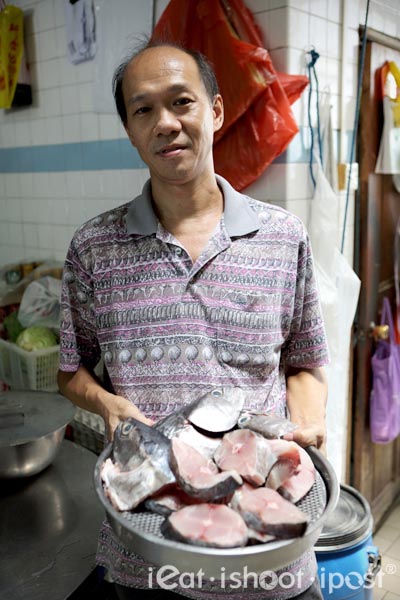 Conclusion
This is my friend Allan's favourite spot for Teochew porridge because he loves the Sea Bass here. Allan is a guy who specializes in fresh produce and was the one who help me write my post on how to choose Crabs, so he knows a thing or two about fresh fish. There is no doubt that if you are looking for Teochew Porridge with fresh fish, then this is one place you can visit. Just don't expect any sweet and sour pork here, ok?