Here are ten things that set ieatishootipost apart from the rest: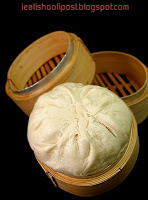 1. The blog is responsible for introducing new and exciting dishes to the Singapore market by encouraging hawkers to experiment with new dishes and publicizing them for others to try. A lot of these dishes are now regular items on the menu! Godzilla Da Pau, ieat Superburger, Boston Lobster noodles in a Cze Char stall as well as the latest, Foie Gras in a Coffeeshop, are just a few examples. The rest can be found at the ieat's Creations label.
2. Not only is there a review on the food, but often there there are insights into the hawker's lives, Singapore's food culture as well as trends in the development of Singapore hawker food. So it predicted the explosion of stalls like Astons and Botak Jones as well has heralded the introduction of fine dining cuisine to our Singapore heartlands. There have also been lots of articles written about how hawker food is prepared, like how hawkers make XO Fish Head Bee Hoon milky.
3. It has its own forum with over 800 registered members who interact and exchange information on what to eat in Singapore. The forum is also a place where restaurateurs and foodies can interact to give feedback on their food.
4. Although we all enjoy good food, we also need to remember those less fortunate than ourselves. As such our makan kakis were responsible for raising $7616 during our Charity makan session in aid of the Andrew and Grace Home. We are planning new and creative ways of supporting the work amongst the less privileged.
5. The blog serves to provide insights into technical stuff like "how to choose a good durian" by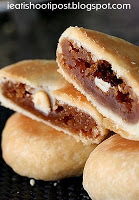 providing a video tutorial by a Durian expert as well as documenting how to differentiate between the various breeds of durians. It also has an important role in documenting the history of Singapore food so that our future generations will know that foods like Tau Sar Piah and Bak Kut Teh originated right here in Singapore. It also explored the socio-political aspects of our hawker foods in posts like "Politically incorrect Bak Kut Teh" and "Invasion of the foreign hawkers".
6. Not satisfied with just organizing any old makan session, we continue to creatively think of new and inspiring kinds of things that our makan kakis can do, like organizing a Durian Degustation Session where Durians are enjoyed course by course. In the pipeline are a Makan Session plus Food Photography workshop as well as an overseas Makan Trip.
7. Our readers also get to learn about how our eyes work to see pictures in 3D in my special post, Food pics in 3D. This was an original idea based on principles of optics and the physiology of sight. As far as I know, this is the first time it is done to see if food pics can look tastier when viewed in 3D. Try it, it really does work!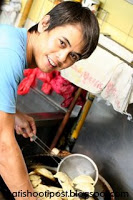 8. The blog is about applying some fun to our Singapore food culture. So it has zany labels like "Hawker Hunks" which document hawkers who look like they belong to a catwalk. The "President's Picks" lists some of President Nathan's favourite hawker haunts and "Food Nazis" focuses on hawkers who food are so good that they can afford to be nasty to their customers and still command a great following.
9. Not only do we ask tough questions like "Does Tariking the Teh make any difference to its taste?", we actually go out there and conduct a non-randomised, totally uncontrolled trial to find out once and for all! And don't forget the time when we wanted to find out which satay stall in East Coast Lagoon served the best satay. Our group of intrepid makan kakis went out there to try every stall in order to determine the answer! In order to gain more insight into Singaporeans' food preferences, we also conducted a poll where almost 4000 readers voted for Singapore's favourite hawker dish. It turned out to be Hokkien Mee rather than Chicken Rice to everyone's surprise.
10. One of the blog's mission is to share inspirational stories of our very own heartlanders. So we wrote of ex-con, Benny and his story about how he overcame drug addiction to start his own restaurant and how he is giving back to society by training other inmates before their release. Then, there is the story about Wow Wow West owner, Eric, who hires ex-cons to work for him and spends his after hours counseling them. The latest news is that he has subsequently given his hawker stall to one of them and started another stall for himself! Such stories serve as inspiration to us all.
So there you have it, a cook's tour of ieatishootipost.
What to do next?
Read the Lian He Zao Bao Cover Story here
To view the statistics of the blog, click here
Watch Channel U's coverage here
Read the Straits Times feature here
To read all of the media coverage of ieatishootipost, click here