Stall is closed
Ever wondered what the big fuss is over Mao Shan Wang? Or what is the difference between XO and D24? Or whether you can eat Hong Xia (lit Red Prawn) if you are allergic to prawns? There are now so many branded Durians out there that there should be Durian appreciation courses just like what we do with wine! I think it's all to common that when Singaporeans eat Durians, the main concern is about where to go so that they don't get cheated. A lot of times, you either need to know a trusted Durian seller or know someone who does. Why can't there simply be a place where you can buy good Durians at an honest price? So with those concerns in mind, I set out to see if I could find a place to conduct a Durian Appreciation session for our readers. As fate would have it, I met an old boy whom I used to book for coming to School late (I was a prefect then — not so uptight now) who just happened to be the brand manager of Four Seasons Durians. They have just opened a new Durian cafe at Joo Chiat and it was also his idea to challenge the way Singaporeans enjoy the fruit. So when I broached the idea of a Durian Degustation, he readily agreed organize a session for us. The idea is simple. Eat several breeds of Durians in a set course so that each one can be appreciated and have a Durianologist educate us on the different breeds so that our kakis can learn to differentiate between the real stuff and the fake stuff. Another important point was to fix the price per head so that we can all enjoy the session without worrying about whether we are still going to have spare change end of the night. Now it takes a true Durian lover to gather at 10pm on a Monday night and pay $25 in order to eat the fruit. This gathering really did separate the true believers from the pew warmers. For those who don't have a habit of buying Durians by the kilo, $25 might seem a lot of money, but for the faithful Durian Devotees, $25 can sometimes mean only half a fruit. Our group of Devotees that night came from all walks of life and at different levels of enlightenment. But we were all gathered for the ritual shucking of the Durianfollowed by the partaking of instant gratification.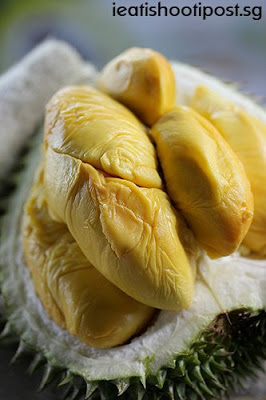 Hong Xia (Red Prawn) aka 101 12/kg Our Durianologist, Richard started off the night by showcasing the Hong Xia* (Red Prawn) Durian which is easily recognized by the reddish colour of its flesh. Before he brought out the actual Hong Xia, we were presented with the cheaper D13 which was $8/kg which can easily be mistaken for the real Hong Xia which is the D101 $12/kg. The D13 and D101 are really very different fruits but both have similar red-orangey flesh. The big difference between the D13 and the D101 is that the D13 can sometimes be bitter while the D101 is always creamy, sweet and easy on the palate. Fashionfoodie remarked that it was one that you can eat a lot of without getting too jialat because it was not as pungent as the rest. The Hong Xia got the most votes for the favourite breed that night. 4.25/5 *A note about Hong Xia. It spoils quickly, so if you plan to buy it home, eat it immediately as it might be spoilt by thenext morning.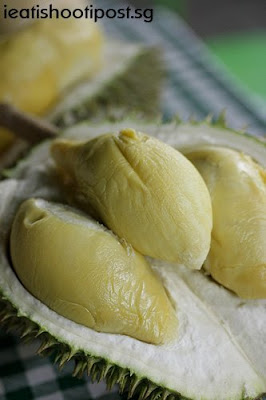 D24 Durian $15/kg The D24 is a popular breed which I think is so ubiquitous now that one really doesn't know which is the real D24 and which is not. The real D24 is thick and creamy (almost pastey) and very aromatic. 4.25/5 There was another D24 XO ($18/kg) version which was a little runnier and bitter which was my personal favourite for the night. 4.5/5 We had a brief intermission after the third course of Durians for people to run to their cars when the traffic police came to book people for parking illegally. Fortunately no one was issued a ticket, but the brief adrenaline rush was great for digestion.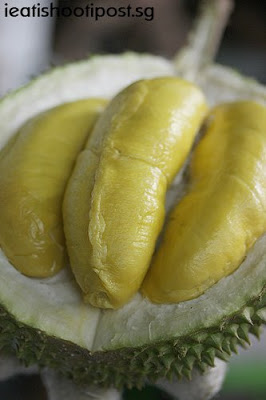 Mao Shan Wang $20/kg Mao Shan Wang is by far the most famous and sought after Durian amongst Durian lovers. But as with all the hype surrounding this particular breed, our expectations were very high. Most of the seeds were what we Teochew call "Zhu Hook" ie shrunken. So you get lots of flesh and very little seed. I have now eaten this breed a few times and personally I feel that there were times when it was really good and other times when it was just so so. The really good ones were sweet, really creamy and had a bitterness that really hits you at the back of your palate leaving a nice "Karm Karm" (neutralized) aftertaste. The ones we had that night were not quite up to most of our expectations so a lot of our kakis came away feeling that it was "overrated". I felt it might have been that particular shipment that day because you really can't explain why people would be willing to fork out $20/kg for it otherwise. For that amount of money one would almost expect them to guarantee that the Durian would make you swoon or your money back! 4/5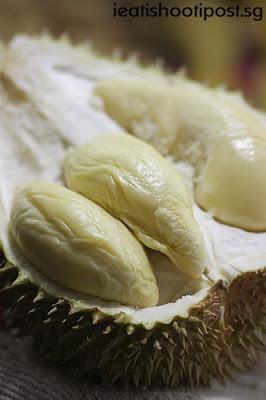 XO Durian $18/kg Richard served the XO* last because it was the most pungent and bitter of the lot. Served slightly runny so that it has some time to ferment, the XO was not as creamy but really very pungent so much so that our Japanese guests that night were holding their breaths while politely nodding their heads at the same time. Actually this was my second favourite of the lot. If you think of Hong Xia as Gouda then this is Blue Cheese. Might not be for everyone but it's the one to choose if you wish to scare some unsuspecting foreigners! 4.5/5 *There were only 9 XO durians available that night. They are usually reserved for the owner's personal consumption and only available on special request.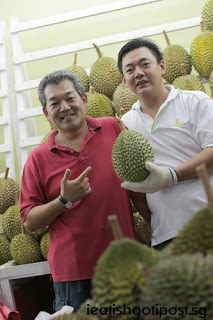 Boss Victor and his "Tao Chiu" (Expert) Conclusion It was a great night of fruit and fellowship for the true believers. Some actually got scolded by their partners for overindulgence but we rejoice for being persecuted for our devotion. I think we all got to learn a few things about Durians from Richard who also tells me (this is the promo part) that Four Season's policy is to build its reputation on honest dealing and to ensure that the customer always get what they pay for. In the next few months, they plan to open an air conditioned cafe proper which will showcase their Durian processing kitchen as it churns out Durian confectioneries like cakes and puffs. I think the future is indeed looking very bright for our next generation of Durian Devotees! Thanks to Cactuskit and Holydrummer for helping me organize the session and to Richard for agreeing to do a degustation. Update: 10 Dec 2008 Our kakis report that this store is now closed.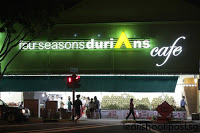 Four Seasons Durian Cafe 212 Joo Chiat Place, Off still road. For corporate functions and parties contact Richard at 96536625