With ieatjr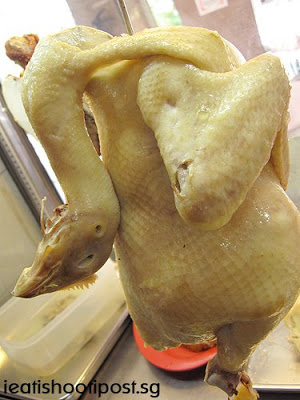 Tucked in a small corner coffeeshop in the East Coast is an elderly couple who are still making chicken rice the same way they have been for 30 years. If you have ever wondered what chicken rice tasted like in the old days, you better get here quick, cos these good old mom and pop shops are getting rarer nowadays.
So just what makes a particular chicken rice "retro" and what makes it "modern"? Well, for one thing, the traditional way of preparing the rice is to fry the grains in garlic and ginger first before boiling the rice in chicken broth. Not many people do it nowadays and certainly the large chains will not be able to do it because of the volume of rice they have to dish out. So the only place to find such rice is either at home if you are fortunate enough to have a Hainanese Grandma OR you have to look for other people's Hainanese Grandma to cook it for you. In case you do not have Hainanese friends or if your Hainanese friends are sort of half Hainanese, quarter Teochew and quarter Cantonese, then can I suggest that you come to this stall where you can find a purebred Hainanese couple.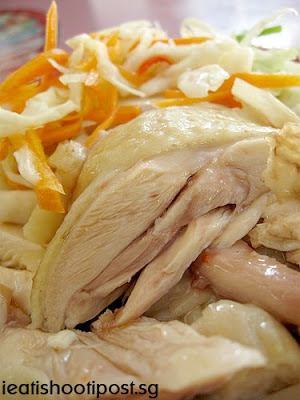 Another thing that makes this a "retro" chicken rice is the way they cook their chicken. Traditionally, Hainanese do not soak the chicken in cold water after cooking. Trust me, I know. I have a Hainanese MIL who has refused to soak the chicken in cold water for the 20 years that I have known her. Now, soaking the chicken in cold water quickly stops the cooking process which results in nice crunchy skin but at the expense of losing all that nice chickeny juices. If you don't soak the chicken then it takes a lot more skill and experience in order to get the timing just right so that the chicken flesh is still tender.
Now, for those who like chicken with a strong chicken taste, this one is just right for you. The flesh is still amazingly tender but of course the skin is not as crunchy as if it was soaked in ice water. I am sort of quite undecided whether this is the one for me but I know that the traditionalists will love it. 4/5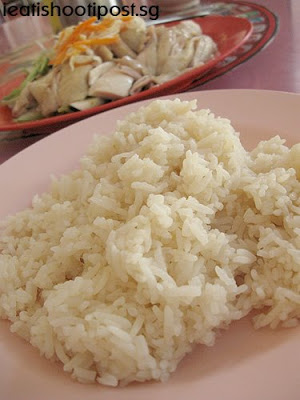 As I mentioned before, this is one of the few places where they fry the grains first before cooking the rice. They also make a point of not adding the chicken oil into the rice so the rice is not so oily. I am sort of wishing they would as I think it would have made the rice even more shiok! 4.25/5
Conclusion
I must make it a point to find and blog a few more of these mom and pop shops before they all disappear!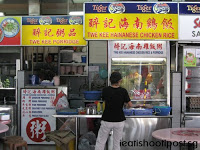 Twe Kee Hainanese Chicken Rice
Coffeeshop at the jn of Jago close
Open 6.30am to 4pm
Closed Tuesday
Recommended and gently persuaded to blog this place by Cactuskit and supported by Smart in the forum
You can read their comments here
Where to go next?
Another place you can find traditional "non-soaked" chicken is Yet Con
The other place that still fries the grains first is Thien Kee
Read about other chicken rice stalls by clicking the "Chicken Rice" label – 21 stalls blogged and counting!
Join the Forum and see where our forummers are eating chicken rice! Click Here
Have a read of the other mom and pop shops!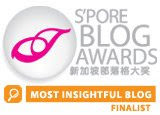 Remember to vote today! Click here