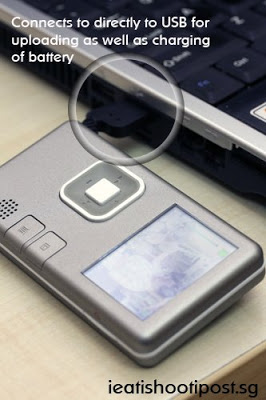 I just got my hands on the new Creative Vado which has just been released during the last PC show. This is basically a small video camera which has an inbuilt 2 GB memory that you allows you to capture video clips and upload it onto the web instantly.
So as we get into the thick of the Durian season, I thought it would be interesting to film a short tutorial on how to choose a good durian. As with many things, choosing a Durian might seem like a daunting task at first, but once you know a few simple tips, it can really help you avoid being conned.
So do be patient and download this 5 minute clip. You might pick up a few important tips on how to choose a good durian.

To watch a higher resolution clip click here and choose "watch at high quality"
I hope you found that useful. I especially appreciate the bit where Mr Wong explained that one has to choose a Durian that is shapey rather than round and how the shapey ones give you thicker flesh and smaller seeds. Doesn't the deep red colour of the D13 durian just make you drool? Oh, and they ARE very good and worth the $8/kg price tag!
I have always toyed with the idea of adding video clips to my blog but so far it has been too complicated for me to consider it. I have a camcorder that records on DV tape. If I wanted to capture the clip above, I have to bring the bulky camcorder to record the clip, then come home, download it onto my computer, startup a video editing program to change the resolution, size and quality of the clip so that it is small enough to be uploaded and only then be able to upload it to youtube.
With the Creative Vado, all I needed to do was to push a button to start recording, push the same button to stop. Come home, attach the Vado directly into my USB slot, click a special youtube button and voila! It's hosted and ready to be embedded into my blog post.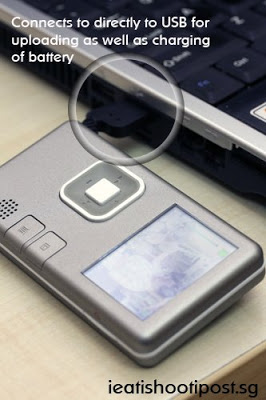 The Vado's inbuilt 2GB memory can store up to 2 hours of video at 640X480 resolution which looks alright if you connect it directly onto the TV. The resolution on the monitor is similar quality to that of a VCD. I think this is done on purpose to keep the size of the clip small enough to be uploaded directly to youtube without having to downsize it. When you view it on youtube, it is like any other youtube clip which is never as high quality as a DVD video clip.
The Vado also comes with a rechargeable battery which lasts for 2 hours on a full charge. Charging the battery is as simple as plugging the Vado directly to the USB port. So there is no need for an extra charger.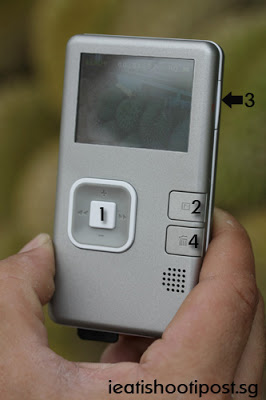 This is a very simple machine to operate. It really has only four buttons and one directional pad. One button to start and stop recording (1) . One button to play (2). One to turn the machine on and off (3) and one to delete your clip (4). The direction keys are used to forward and rewind the clips, change the volume and to zoom in and out during video recording.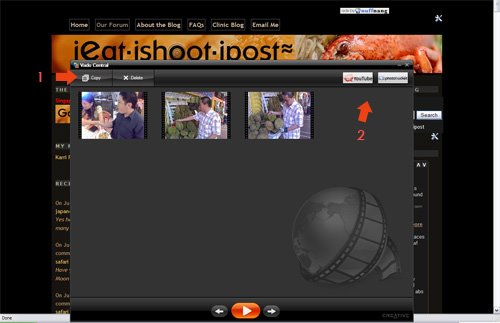 When you plug the Vado to the computer, the interface is automatically loaded and you get to choose what to do with the video clip. From here you can either (1) copy it onto your computer or (2) click the youtube or photobucket button to upload your clip directly onto your youtube or photobucket albums. So it really took less than a minute to start uploading my clip onto youtube.
Here's another clip for those of you who are interested to know more about the Mao Shan Wang Durian. Not all Mao Shan Wang are created equal. There are grades of Mao Shan Wang depending on which plantation they come from, the age of the trees and whether the fruit is an early harvest or late harvest. I will let Mr Wong explain more:
To watch a higher resolution clip click here and choose "watch at high quality"
Hope you now know a little about Mao Shan Wang. Incidentally, this particular harvest is winding down and the next one starts around 10th July. That is when we can expect a bumper crop of Durians and prices to come down.
I hope you found this short Durian tutorial useful. I had quite a bit of fun filming it with my new toy which is so simple and intuitive that I only took a few minutes to learn how to use it.
Summary
The Pros:
The Creative VADO is an interesting gadget. I think it is useful as a blogging tool because it is portable and easy to capture short clips to upload onto the web. The built-in rechargeable battery and 2GB memory means you don't need anything else but to plug it into your computer. The interface is straightforward and the ability to upload directly to youtube and photobucket make it even easier. The lightweight and small size means I can easily put it into my camera bag rather than having to lug another bulky piece of equipment around. For those who do not carry around a bulky camera like me, it fits right into your pocket. And the best thing is that it is surprisingly affordable. At $169 it seems almost too affordable for a device which would have made James Bond (Sean Connery's era) smile.
The Cons:
At first the resolution of the video might seem less sharp when compared to a camcorder. But when you realize how you always have to reduce the quality of the video to upload onto the web then it makes a lot of sense. However it does mean it will not be able to replace your comcorder if you intend to make DVD quality videos. I feel that a slot for headphones would have been useful as it is difficult to listen to the playback when you are outdoors. It would have been useful to be able to take some still shots as well.
Conclusion
I think the Vado is an excellent tool for blogging purposes and I have been having a lot of fun capturing not only clips of eateries but I also have it in my pocket every time I am out with the family to capture those special moments with the kids. The ease of use, portability and simplicity more than justifies the lower image and sound quality but what I think would astound most people is the unbelievebly affordable price tag of $169 for such a useful gadget! I think we are going to see an explosion of video clips on blogs very soon.
Acknowledgement
Thanks to our Durian expert, Mr Wong who runs a small boutique durian stall at 231 East Coast Road (Opp Jago Close). You can contact him for your durian needs by calling 97514828. At the time of blogging, his Mao Shan Wang was selling for $16 per kg. Having been in the durian trade for 20 years, he has established a good relationship with his suppliers who would pre-select all his durians so that his customers can look forward to a really good durian experience.
This Durian Tutorial was proudly sponsored by Creative Technologies.
You can learn more about the Creative Vado by clicking here.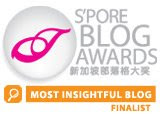 Remember to vote today! Click here