With liverpool and iwatch_ueat

In my quest to find the ultimate Briyani in Singapore, I was recommended this restaurant which sells a $11.50 Lamb Dum Briyani which I alluded to in my Hamid's Briyani post. So I have been plotting to try this since before the CNY break. Before I get to the Briyani, let me just highlight some of the other really good stuff here.
I really enjoyed the Paneer Tikka (Cottage Cheese). They use a very special cottage cheese imported from India and there is a marked difference in the texture. You might be wondering why it had to be imported from India? It turns out that this cheese is made from fresh milk straight from the cow and and it is a noticeable difference. The cheese is firm on the outside but soft, crumbly and creamy on the inside. One of the best version of Paneer Tikka I have tasted. $12.90 4.25/5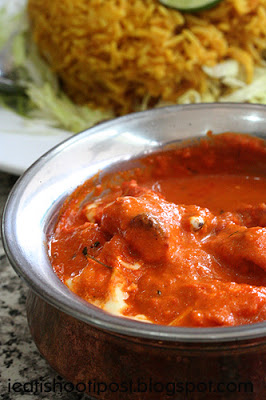 Butter Chicken is to North Indian cuisine what Har Kow/Siew Mai is to Tim Sum…. for me at least. I never fail to order Butter Chicken with Naan bread when eating at a Tandoori Restaurant. So far I have found that Butter Chicken in Singapore tends to be very spicy. I have never eaten this in India so I don't know what the Gold Standard is. In Australia, Butter Chicken is mild and creamy so I always thought it catered to the Ang Moh taste. The version here is more akin to what I used to eat in Australia and I was told by Restaurant owner, Ceejay, that it is more like what they serve in India than what you usually find in Singapore.
I loved the butter chicken here. It was rich and creamy and dipping a piece of fresh Naan into the sauce is definitely one of my top 10 favourites eats of all time! $15 4.5/5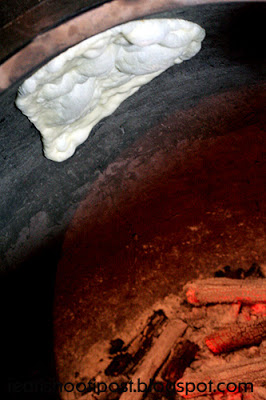 This picture is for those who are wondering what the inside of the Tandoor (Clay Oven) looks like. After the dough is flattened, it is stuck to the side of the Tandoor and within 2-3 minutes it is ready to eat. The concept of the Tandoor is really a very similar to the oven that Fatty Cheong uses to cook his CharSiew. Charcoal is placed at the bottom of the Tandoor which is essentially a big Clay Urn. However, it is not so simple to get a good Tandoor. A good Tandoor is made from a special Clay that is only found on the banks of a particular river in the Northern part of India (where the cuisine originated from).
The Naans here are very good. Especially good is the Cheese Naan which is stuffed with a mixture of cottage and mozarella cheese. My only complaint is that at $5+ per Cheese Naan, it was hard for me to eat till I was completely satisfied. 4.5/5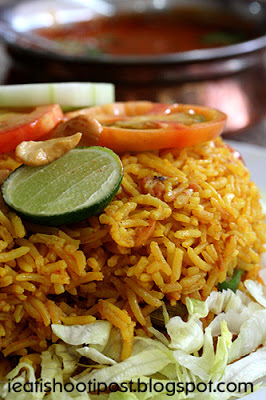 We finally come to the Briyani. It was very good but as I had alluded to earlier, it would take a lot for a $11.50 Briyani to beat Hamid's Briyani in terms of "per dollar shiokness". Most of the cost for the Briyani is on the lamb rather than the rice. Unlike Hamid's, this is a Dum Briyani which means that the lamb is cooked together with the rice. The lamb was very tender as they use the meat around the rib area. $11.50+ 4/5
Conclusion
I loved the Naan, Paneer Tikka and Butter Chicken and would definitely be back to eat that. The Briyani I am not so enthusiatic about since I can get more satisfaction out of a $2.50 Briyani at Hamid's. To be fair this is an air-con restaurant, so the prices are higher. However, at $15+ for a small bowl of butter chicken, one's craving to satisfy the palette is limited by the restraining hand of one's wallet.
8/10 (T3.5+V1.5+S2+E1)
Note:
$11.50+ means you need to add an additional service charge of 10% so price of the Briyani is actually $12.65