Republished with Updated Pics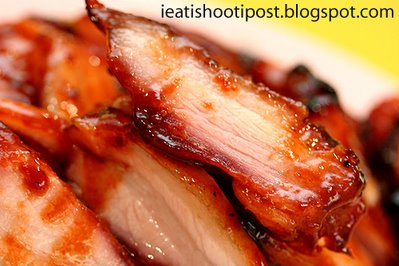 This is my idea of what a great char siew should be like. Thickly cut, tender, marbled and juicy meat with nicely charred and caramelised bits of fat on the outside. When you bite into the char siew, not only should it melt in your mouth, but, at the same time you should be able to appreciate the smell of smoking charcoal. Char Siew doesn't get better then this!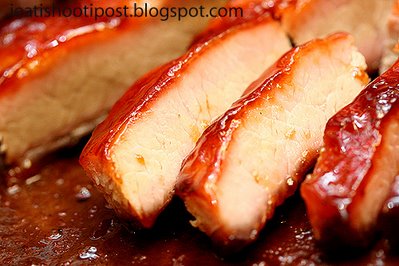 For those who are inversely horizontally challenged (ie watching your weight), do not despair as you can have a choice of both lean and marbled versions of char siew.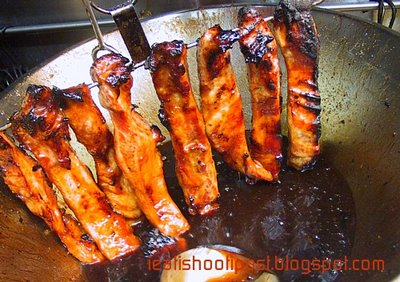 The Char Siew is dipped intermittently during the roasting process in this marinade of soy sauce, sugar, oyster sauce and tau chio (salted bean paste) to ensure that a thick, translucent, caramelized layer coats the outside of the Char Siew. The importance of the cut and source of pork cannot be underestimated. Fatty Cheong uses only pork collar/shoulder meat from Brazil. This cut of meat has good marbling and level of fat to ensure that the Char Siew comes out tender and juicy.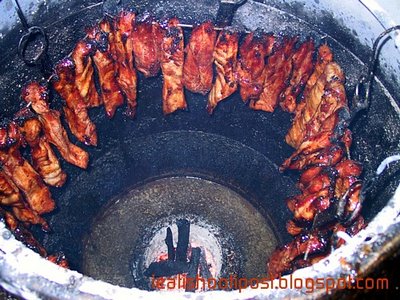 Ever wondered what a Char Siew Sauna er.. Oven looks like? Charcoal ensures that the pork gets that characteristic flavour. Don't bother to do this at home in the oven, it is never the same. By the way, I learnt that the process of making Sio Bak is amazingly simple. Pork Belly is marinated in salt, sugar and five spice powder for just over an hour and placed into the oven. Mr Cheong assures me that that is all that is needed to make the skin crispy.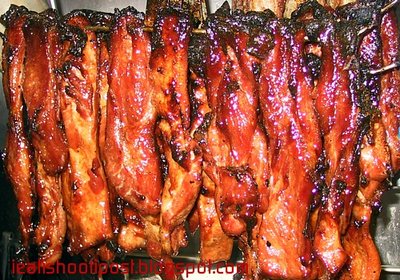 Ta Da! Beautifully charred Char Siew fit for any five star restaurant.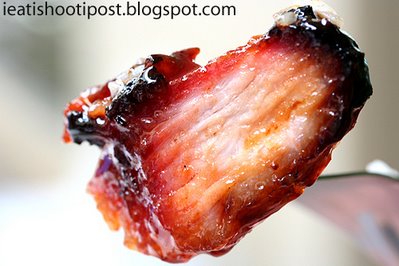 I love the charred bits best! (But please eat in moderation ok?)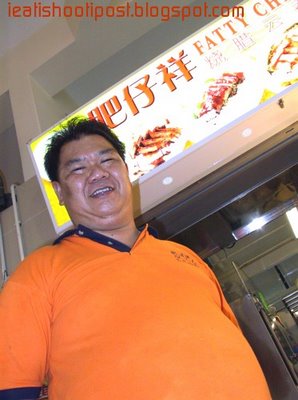 Now you know why the shop is called Fatty Cheong? Well it turns out that it may be a case of self fulfilling prophecy. When Mr Cheong started his shop 14 years ago, he was still a slim young man. I think he must have chosen the name Fatty cos he used to be an apprentice of the famous Fatty Ox HongKong BBQ. Since then, he has tweaked his Char Siew formula to suit the local taste. I must say that the disciple has a better char siew then the master, although Fatty Ox's roast duck is still number one.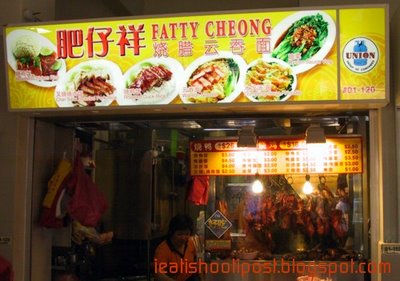 Conclusion This is easily one of the best if not the best Char Siew in Singapore, and very reasonably priced. Certainly the current number one Char Siew in the ieatishootipost Char Siew Challenge. The Sio Bak and Roast Duck are both very good but it is the Char Siew that just has that extra something to keep you salivating while trying to get to bed. 4.5/5 Currently World's 2nd Best Char Siew (We are still looking for the World's Best). PS: At this stage, I must say that I have tasted a couple of great Char Siew that all rank very close to the top five best Char Siews. My feel is that at the end of the day, there might be a few which would have to be crowned World's 2nd Best. We'll see. Another thing, to enjoy really good char siew, you need to have at least a little fat. If you take it lean, don't expect it to be that great.