This stall did not move to the new market.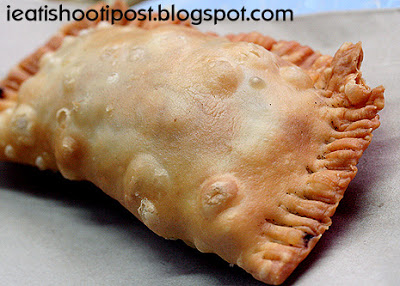 I am sure you all still remember the Heart Shaped Epok Epok which I featured around Valentine's day. At the end of the blog I mentioned that I was on a quest to get them to make a Minced Beef Epok Epok for me. After several SMSes, the Mak Cik at Merpati Putih finally did it! After experimenting with several different shapes, she finally settled on this simple "MacDonald's Apple Pie" shape for her Beef Epok Epok.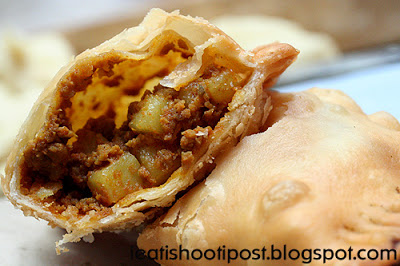 I don't think I would ever eat an ordinary potato Epok Epok again! She seasoned the minced beef like a Keema and fried it till it was fragrant and added some potatoes. There is a good proportion of beef in this curry puff so it can be truly called a "beef with potatoes" rather than the other way around. To borrow liverpool1965's fav expression: "Ooooooo, very shiok!" 4.5/5
Conclusion:
A definite MUST TRY because I believe it is the first of its kind in Singapore and it will seriously give your tastebuds a good workout! The Beef Epok Epok is around one and a half times bigger than the normal Epok Epok and costs $2. It is a special order item at the moment so you should ring up first to order before you go down. Hopefully it will become so popular that it becomes a regular item at the stall just like the ieat SuperBurger and Double Whammy.
Updated 18 Dec 2009
The stall did not relocate to the new Geylang Serai Mkt. But you can still order the curry puffs by calling the hp number.