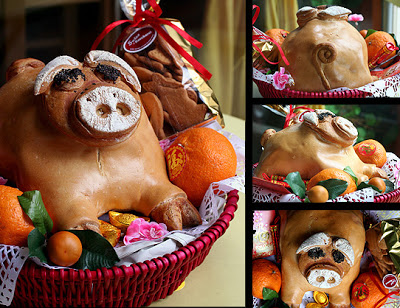 Tis the season for Pigging out! This coming Chinese New Year the world's porcine population is going to suffer a big blow when thousands of piglets make their way onto our plates. Actually, have you ever considered that the pig is actually quite close to humans? Yah, they are hairless, their skin is pink, they eat anything and their hearts are so similar to ours that we use their heart valves to replace human ones.
Talking about pigs, I can't resist but post some pictures I took while having breakfast at one of my favourite breakfast places viz Swiss Baeckerei. This year their Hamlet, which usually makes its appearance during Christmas, gets to make a second appearance — a phenomenon that only occurs once every 12 years. For those who don't already know, the Hamlet is a whole rolled ham wrapped in bread. The set even comes with pig shaped cookies!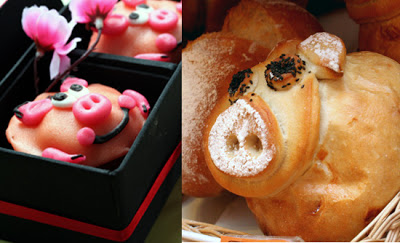 Those wanting something smaller might want to consider the cupcake pigs (sold without the box) and the wheat and raisin loaf shaped like a pig. I thought it would be interesting to buy a few of these to give along with Mandarin oranges!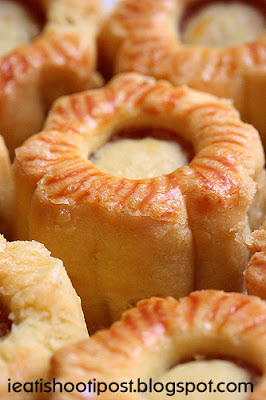 These pineapple tarts are really good! They are very attractive and I love the buttery, melt in your mouth pastry. The pineapple filling is reminicent of the Taiwanese Pineapple cakes ie it is chewy with the consistency of Nian Gao and not overly sweet with just the right level of tanginess that doesn't cause your scalp to itch.
Conclusion
Just plugging a few items for one of my favourite breakfast spots! I thought the Piggy Pastries would make an unique Chinese New Year gift! The pineapple tarts are seriously worth considering.