These pictures are going to elicit 2 extreme responses. The first would be "Wah Lao! Look at all that FAT!" The second is "Wah Lao! LOOK at all that fat!" One group would not go near it, the other would be drawn to it like a Sotong (Squid) to a Fluorecent Lamp. I belong to the Sotong group. When I saw the beautifully marbled beef in a newspaper advertisement, I just got to find out for myself if it is for real. For the lovers of beef amongst us, I have got this to say: "Good News! It's true! It's true! OH YES! It's true!"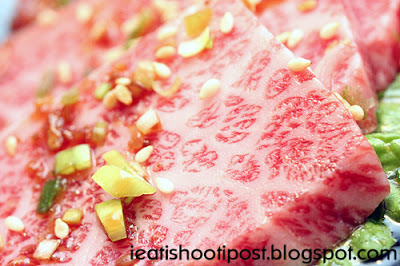 Wagyu Toku Jo Karubi (short rib) $38.90 per 100gm
It is not easy to find beef of this quality outside of a five star Japanese Restaurant. The setting here is simple, family friendly and the decor is reminiscent of the 80's. So I was really surprised when they served the Wagyu Toku Jo Karubi that it was really as beautifully marbled as the picture in the advertisement.
Now, I have heard people describe Wagyu beef as "melt in your mouth like butter". I have tasted many cuts of Wagyu already and I think that such a description only serves to dissappoint the uninitiated. The texture of Karubi is very different from other cuts. It is actually quite springy to the bite (like a fishball but not quite), so don't expect to be able to simply cut it with your chopsticks like you would with butter. When you put it in you mouth, you are first rewarded with the smooth buttery juices that coat your mouth followed by the floral beefy scent that tingles your olfactory nerves as you swallow the heavenly morsal. 4.25/5 I have to admit that I don't have that much experience with this cut of beef, so would readers please let me know if it is really possible for a piece of Karubi to have the texture of foie gras?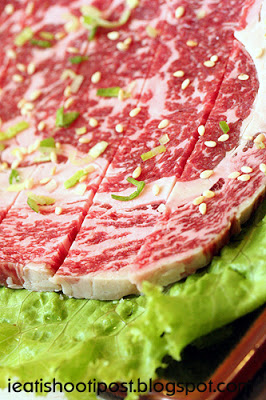 Wagyu Toku Jo Roshu (Cuberoll/Ribeye) $38.90 per 100gm
This is the Grade 7 Australian Wagyu Ribeye and it tasted excellent with the Tare Sauce. The Ribeye has a more familiar meaty texture and was a little more beefy than the Karubi. Wrapping a grilled slice of marbled ribeye coated with the sweet Tare Sauce around some Japanese Rice and enveloping it in crisp lettuce is one of my all time favourite eats! 4.5/5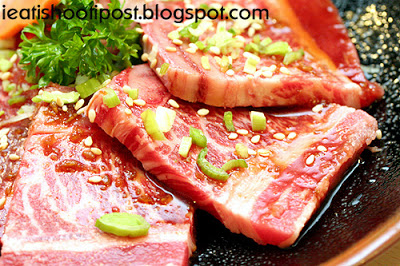 Honetsuki Karubi (Belly with rib) $16.90 per 100gm
When comparing normal beef to Wagyu, I like to think of the usual (American) beef as being more like a Cowboy whereas Wagyu is more like a Geisha. Australian Beef, like American beef is plain straight talkin' beef without the nuances, whereas Wagyu is more delicate and teases you somewhat. Although it is not as tender as the Wagyu, for half the price of Wagyu beef, it is actually pretty good for satisfying that beef craving. 4/5
Conclusion
Great place for beef lovers to sample the different cuts of beef at one sitting and the prices are reasonable for the quality you are getting. My only complain is that the vegetable sides could be more attractive. One word of warning though, this stuff is darn shiok. So when you order that Toku Jo Karubi, you might be taking your very first step down the slippery slide of Wagyu Beef Addiction!
8.5/10 (T3.25+V2.25+S2+E1)
Link to my Blog on Wagyu Beef
Link to my Blog on whether Wagyu Beef is really healthy