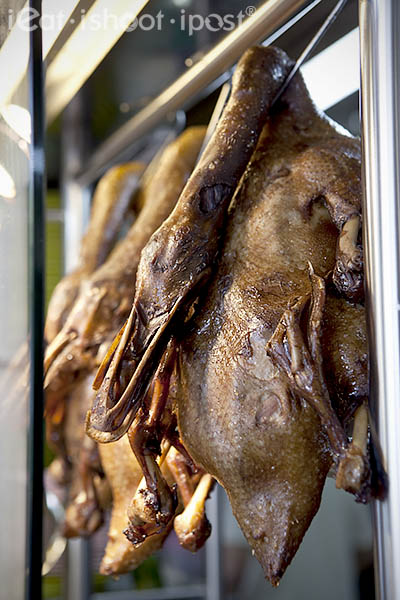 Let's talk duck.
There are basically three different types of ducks being sold in Singapore. They call them Chai Ya (lit Vegetable Duck), Ban Chai Ya (Half Vegetable Duck) and Fan Ya (Rice Duck). The one that you will most likely eat at hawker centres would be the Cai Ya. They are the common white coloured Pekin Duck, a breed that grows very quickly to reach table size. The Ban Chai Ya, from what I can gather, has tougher meat and is excellent for braising, but the cost is much higher than the Chai Ya so only very passionate hawkers would use them. The Fan Ya is even more expensive and is used only on very special occasions.

So when you go to eat braised duck what do you look for? Well, for me, one simple way of predicting if your braised duck is going to be good is to look at the size of the duck. The larger the duck (more than 3kg), the more likely your braised duck is going to be good. However, if you wish to make your own braised duck, how do you choose?
To find out, I spoke to a duck seller at Tiong Bahru market named Stanley of Stanley's Fresh Chicken & Duck Suppliers (Tel: 81612178) who tells me that even though he only sells Cai Ya, there are different birds for different dishes. To make braised duck, you want a duck with strong bones which equates to tougher meat. The tougher meat will withstand a longer braising time resulting in a more flavoursome braised duck. For other dishes like salted vegetable duck, you want soft bone duck which is quicker to cook. To tell the difference, you will need to press on the breast bone of the duck (the sternum). Of course, the best thing is to make sure you find yourself a trusted duck seller who can help you choose a duck! (Like Stanley – he was pretty friendly and helpful even though I just called him out of the blue! Talk about great service!)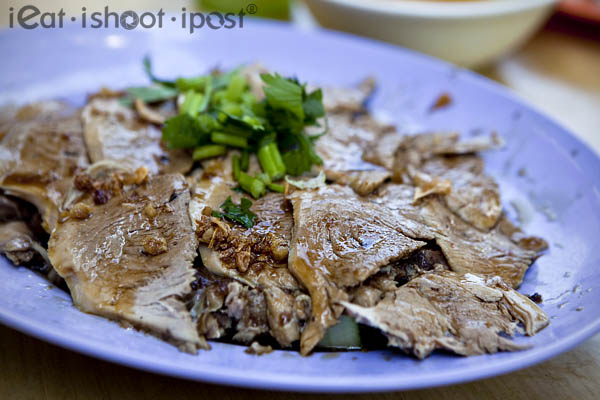 Anyway back to the story of this stall. We were here eating at Loo's Hainanese Curry Rice when Cactuskit spied the nice big braised duck. Since the braised duck looks like it's "Wu Seh" (Got standard), Cactuskit bought a plate for us to try.
As you can see from the way he sliced the breast, this duck is pretty big, allowing the hawker to slice diagonally, cutting through the transverse fibres and thus producing a very tender sliver of meat. This is Teochew style braised duck, so the braising sauce is the watery type and is surprisingly good. Good discovery Cactuskit! 4.25/5
Conclusion
It's good but I am still looking for my Holy Grail of braised duck. Interestingly, the dish is more Teochew than many other Teochew hawkers but the chef is from Hong Kong. He married into the Teochew clan and has been manning the shop for three years. Shows you don't have to be Teochew to make a good Teochew braised duck!
Update 4 Jan 2016
The stall has relocated the coffeeshop next to Tiong Bahru Bakery, 56 Eng Hoon Street, Tiong Bahru