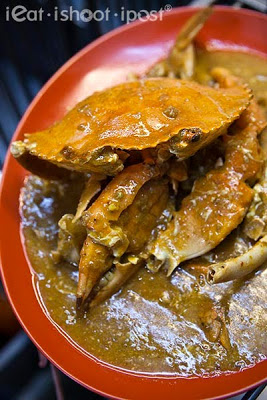 When I started my blogging adventure four years ago, there was a list of hawkers which I set myself the target of blogging. These were the Makansutra Hawker Legends. This was the very first list that Makansutra had come up with. Subsequently, they have come up with lists every year, but have called them Streetfood Masters instead. To me, this first list of the Best of the Best Hawkers represents the Best of the Best of the Best, because they were probably the lowest lying fruit at that stage.
It took me four years but I have at last blogged every hawker on the list! (Applause please). Ok, I admit that along the way, I was a little distracted and lost my focus for a while. It was because of the Hawker Legend list that I found Hillstreet Char Kway Teow which is till this day my favourite Char Kway Teow. I also learnt the pleasures of Leng Heng's Kiam Chey Arh (Salted Veg Duck) and the secret of Meng Kee Satay Bee Hoon. It took me a few visits before I managed to eat Ah Chuan's Oyster omelette because he was always closed, but man it was worth it. It was not all wonderful tough. There were also ones which left me wondering what the fuss was all about, like Garden Kway Chap and Shukor Stall's Roti John, which coincidentally are both located at Serangoon Gardens Food Centre.
And now, finally, I have completed the task with this post on Mattar Road Seafood.
The old couple here operate a tiny little stall selling seafood of all types. Since they were legends because of their chilli crabs, this was the first dish we ordered. Okay, I have to tell you that the chilli crabs did not meet up to my expectations. They were after all legends, so I guess I had very high expectations. The crabs were very fresh, but somehow the chilli sauce did not quite cut it for me. 4/5
However, I must say that I really admire the old couple as they are still putting in so many hours even though they were getting on in years. I spied their white pepper crab dish and managed to snap a photo. The aroma was very good, but I did not taste it so I can't say beyond that. At $32 per kg for crabs, the price is quite reasonable and this is one of the places that you can eat chilli crabs and still order other hawker fare.
Conclusion
At last, the project I started in 2006 has finally been completed! This chilli crab did not meet up to my expectations, but I am sure they have lots of fans who would vouch for their dishes. Perhaps you can voice your support for this old couple?