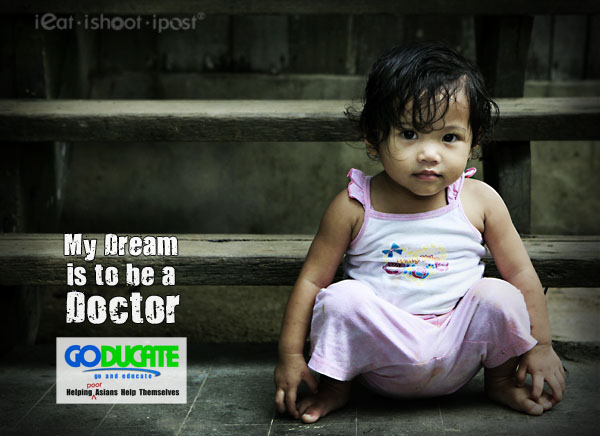 Today marks another milestone in the life of the blog. We shall be making our very first Makan Mission trip later this evening, bringing a group of 15 Kakis to Sandakan to present our cheque of $22K to our friends from Sandakan. Our ieat Team members, Cactuskit, Soundman, Rockett Girl, Cactuskitty, IF, Holydrummer will be following me on this trip and we will be accompanied by the Nuffnangers and a few other kakis.
This trip is made possible by the generous donation of our community towards the ieatishootipost van project. Some of you have contributed by coming for our makan sessions, others have contributed by sending cheques, yet others have volunteered to organize makan sessions. This van is made possible by everyone here who reads the blog, so we are going on your behalf to present the van to the kids!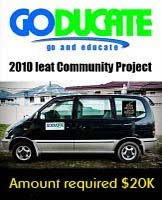 OK, we won't hide it, in between visiting the kids, our local contact, Johnny has already planned for us to dine at all the best makan places in Sandakan. So it is going to be breakfast, lunch, dinner and supper plus whatever we see along the way! We promise to bring back loads of photos and stories for you!
But this is only the start. We will be looking at more Makan Missions in the future, so if you missed this trip, not to worry, there will be more to come. For our next project, we will be looking at providing a computer lab for the kids in Batam. In fact, some money has already been raised for that effort so you will be hearing about the work in Batam as well as the food there soon!
Our next fund raising effort is going to be through sales of my upcoming book, ieatishootipost: "Title to be confirmed". The book is a distillation of all the hawker stories I collected over the last four years with my best photos centre spread. I will of course be recommending a few of the best places to eat for each hawker dish. It will be more than just another food guide, but more of a celebration of our hawker culture. What I plan to do is to donate all the proceeds of the pre-sales to fund education for children through Goducate. So the books will be sold by Goducate at the retail price and half of the of it will go to our community project.
I hope that you will consider supporting this project by buying a few books for your friends, as corporate gifts, christmas gifts and so on. Several of my corporate sponsors have already placed their orders like Canon, Astons and Killiney Kopitiam. They will be using the books as gifts as well as sell them at their shops. So if you are just buying a copy for yourself you can pick one up from their respective shops. However if you would like to place a bulk order, please write to me at leslie.tay@gmail.com
More info about Goducate can be found at their website: www.Goducate.org.
My post on Sandakan can be found here.