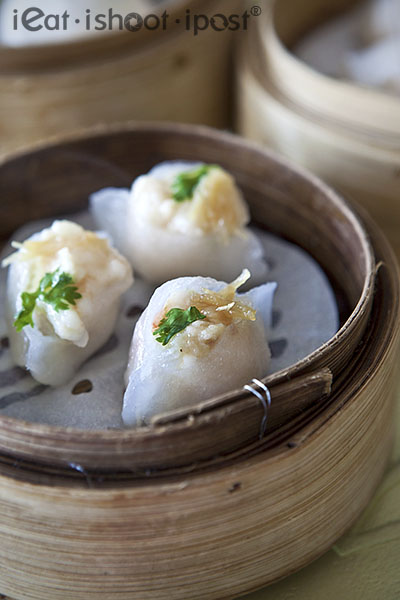 Thanks for your overwhelming response! The class is full, but you can still be put on the waiting list. Please write to cliff_l[email protected]. We will try to accommodate as many as possible.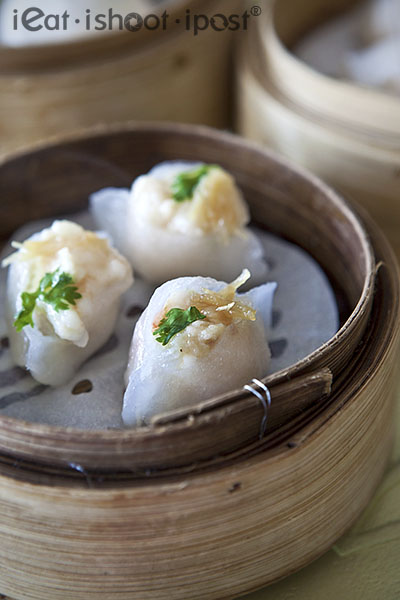 Scallop and Prawn "Dragon Eyes" Dumpling $4.50++
The next Canon-ieat Food Photography workshop is going to be held at Peach Garden Restaurant at the OCBC Centre, so here is a bit of a teaser of what you can expect.
Situated on level 33 of the OCBC centre, the Peach Garden Restaurant has both the food and the views. I was there last weekend to finalize the logistics of our workshop and managed to try some of their Dim Sum dishes and they were excellent!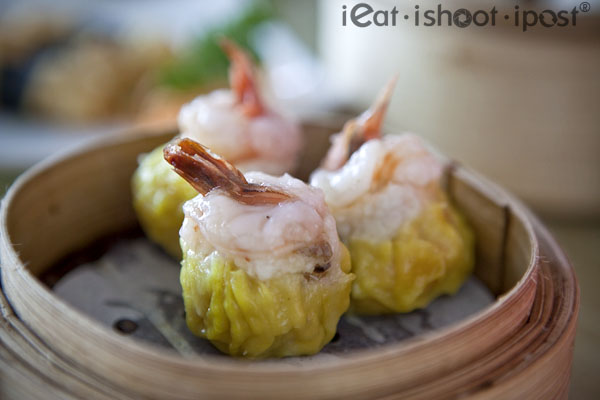 Siew Mai $4.80++
I am just posting a few of the photos here to wet your appetite. During the workshop, we will have our usual 45 minute lecture on how to take food photos and then we will be setting up different types of dishes to let you practice some of tips you picked up during the lecture. The tasting portions will be served up separately after that, so that you can take your time to photograph the food.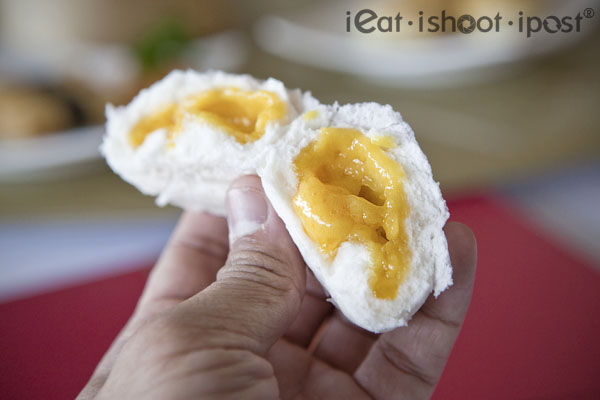 Liu Sar aka Nai Wong Bao $4.20++
The quality of the Dim Sum is excellent. You can see from their Siew Mai that they serve premium quality Dim Sum. At $4.80 per "long", it is a bit pricier but you really do get what you pay for.
So how do you all judge whether a Dim Sum place serves up good dim sum? Well, one Hong Kong friend told me that her criteria to judge the skills of a dim sum chef is to see if he can make a good Liu Sar Bao. As you can see from the photo, the filling of the Liu Sar Bao really does ooze out of the freshly baked Bao, so that is a good sign that the Dim Sum Chef knows what he is doing! During the workshop the Dim Sum chef will dish out 9 different Dim Sum creations for our tasting and photography!
Here are the details:
Venue: Peach Garden Restaurant www.peachgarden.com.sg
65 Chulia Street, #33-01, OCBC Centre Singapore
Date: 2 Oct 2010
Time: 2pm
Price: $50 per pax (9 course Dim Sum menu included)
Registration is done at the Canon Website: http://digitallab.canon.com.sg/foodpeachgarden_info.html
Note: You don't need to own a Canon camera to attend. A DSLR is ideal but a good compact camera like the Powershot G11 or Powershot S95 is fine too. There will be Canon cameras and lenses for you to try out.