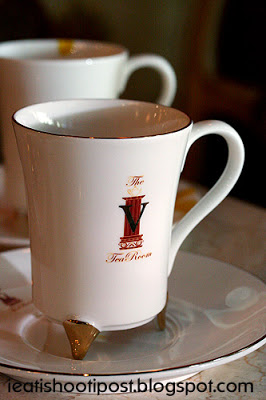 As our standard of living improves, Singaporeans continue to look for new things to buy with their excess money (Money more than enough – for some). We are not content with just having our tiger beer anymore! No, we want to learn to appreciate freshly brewed beers. We are not content with plain old Magnolia ice cream, we want it homemade and spiked with flavours like D24 Durian and Baileys. We are not content with plain old Kaya Toast, we want it on Ciabatta Bread.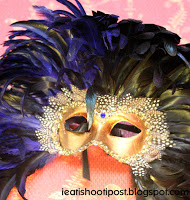 Clever entrepreneurs like Ian Ong, owner of the V Tea Room knows this very well which is why he started a cafe that is quite unlike any other cafe in Singapore. A place like the V Tea Room will invariably polarize consumers into those that love it and those that think it is a bit over the top. As I sat there surrounded by replica Victorian style furniture, plush red wallpaper, Venetian masks – the type with feathers used for masquarade parties, and waitresses dressed like English maids, I can't help but feel as if I was involved in a period movie.
According to Ian, the place was designed with the well-heeled lady of leisure in mind. The octagonal tables are purposely small so that ladies can sit close to each other (close enough for their knees to touch, according to Ian) to gossip while enjoying liquor teacakes and drinking from 3 legged teacups.
Surrounded by such extravagence, I can't help but try to stick my little finger out while picking up my cup of English Toffee Tea. It was then that I realised that I was indeed surrounded by ladies with big hairdos, CEO types in suits and a handful of Metrosexuals who look like they have just done their facials. Needless to say, this Teochew Ah Hia felt a bit out of place.
Aside from the unique cafe experience, the V Tea Room also houses Singapore's one and only Cookie Museum. Here you can find 49 different flavours of cookies all baked on the premises with exotic flavours like Lavender, Orchid and Cantaloupe with Macademia nuts. Ian is obsessed with using only the finest ingredients to produce his cookies. His vanilla pods are sourced from Madagascar — which I am told, produces the world's finest vanilla pods. Since there is no local supplier of the pods, he flew his friend from Madagascar to Bangkok and met him to personally courier the 20kg of vanilla pods to Singapore!
Anything in life can be appreciated when you really get into the details. You can apply this to wines, coffees, teas, fishballs, ice cream and even stuff like Coke. Oh yes, Coke from different regions of the world taste different because of differences in the quality of the water. Some Coke afficianados will be able to tell you where a can of Coke is from from the taste of the beverage!
So what can a Cookie Newbie like me learn from visiting the Cookie Museum? Cookies are made from butter, flour and sugar with the addition of different flavourings. So what is so difficult about that? And how come people are happily paying $28 to $32 for a tin of cookies when I could easily buy a packet of Khong Guan butter cookies for $2 from Aunty Lucy (NTUC).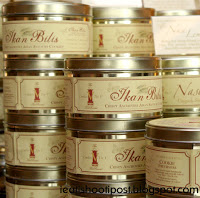 As I gingerly bit into the cookie, trying to discern the texture and the taste of it rather than gobbling it down to satisfy the craving for sugar, I began to appreciate how light and crisp the texture is and how the fragrance and taste of the ingredients bathe the palate and tease the olfactory glands. Wow, this really does taste better than Marks and Spencers! (Lucky I never say Khong Guan – sure kenna fried!) It turns out that they use 3 different types of flour to bake the cookies. Two of these are easily available and one has to be specially imported. They also use 2 different types of sugars in order to create the right texture for the cookies.
I liked the Lavender, which is made with dried Lavender flowers specially imported from England. Traditionally used for potpourri, aromatic oils and medicine, I have noticed that chefs are now using Lavender increasingly for dessert creations like creme brulee. The way to enjoy this cookie is to take your time and savour the lingering fragrance of the Lavender at the back of the throat. It's almost like you are having tea and undergoing aromatherapy at the same time!
Another cookie I really liked was the Cantaloupe with Macademia nuts. They go to the extent of semi-drying the cantaloupe themselves in order to capture the taste they wanted. I could really appreciate that strong woody rock melon taste which can be very addictive!
Conclusion
Ok, I have already admitted to being a Cookie Newbie who thinks that of the best cookies as the ones from Marks and Spencers, Famous Amos and Mrs Fields. So for me the cookies from V Tea Room is way ahead of anything I have tasted before. Considering the amount of effort Ian and his team puts into every cookie, I'd say that $30 for a tin is actually quite reasonable, especially if you want to impress that special someone or if you simply had a hard day at work and just want to pamper yourself.
Update 14 Oct 2014
They are no longer at Esplanade Mall and have moved to:
Previous Address
The V TeaRoom
#01-02 Esplanade Mall (Main Entrance facing Marina Square)
6333 1965
www.thevtearoom.com
Opened 1pm to 10pm Sundays to Thursdays
1pm to 11pm Fridays and Saturdays
Link to previous blog here