This shop is closed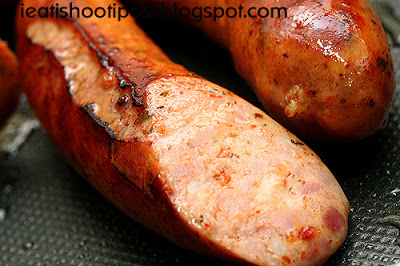 When I was just a kid I remembered going to the neighbourhood "Kek Huay Tiam" (Grocery Store) to buy a can of sausages. I had to repeat the word sausage three times before the lady got the message and blurted out "Orh, you want Haw Lok (hot dog) izzit?"
It was while I was studying in Australia that I realise that most butcher shops actually made their own of sausages. As Singaporeans become accustomed to having more authentic western cuisine, specialised butchers like Swiss Butchery and Espirito Santo began to appear to cater to the growing number of well travelled Singaporeans as well as expats. These butchers offer specialty cuts of meats, cold cuts and sausages which are difficult to find in your friendly neighbourhood NTUC or even Cold Storage.
The latest specialty butchery tapping into this growing market is Butcher House located in River Valley Road. Opened only 4 months ago by Mr Y L Chia and his team of butchers, this is probably the first "Western" Butcher that is wholly Singaporean own with their own sausage production facility.
Mr Chia is just your regular Teochew Ah Hia (like me) who has never even been to Germany or Europe for that matter. But when you taste his sausages, you'd think that there must be some German blood in him. He was making sausages for the Swiss Butchery for 10 years before he decided to start his own factory to produce his own blend of sausages. You'd be amazed at the variety that he churns out. From Bockwurst to Spicy Italian to Chicken and Cheese, the list is exhaustive.
The Chicken and Cheese is the best I've ever tasted. He uses only chicken thigh meat and does not add any flour or starch fillers. The big difference in the taste comes from the use of quality Gouda cheese. At $24 per kilo, the chicken and cheese is great value and guaranteed to give you that umami rush. 4.5/5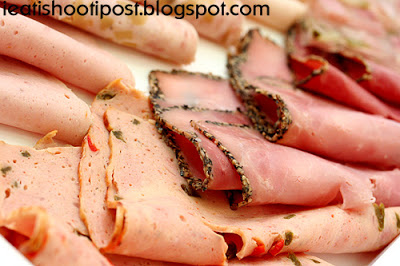 Besides sausages, he also makes his own variety of cold cuts. I really enjoyed the beef pastrami and mushroom lyoner. They also produce whole legs of honey baked ham. Mr Chia explains that hams are now injected with brine rather then soaked, which drastically reduces the marination time.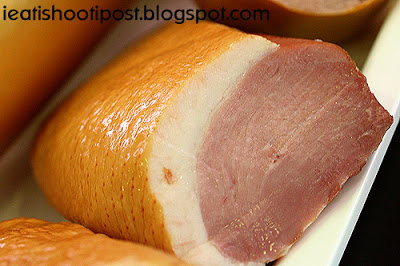 Smoked Duck Breast
The service at the butchery is excellent. Because they make all the sausages themselves, the butchers are more than happy to present some freshly grilled sausage samples. Beware though, you are not likely to walk away empty handed once you have tasted the sausages! You must get them to grill some smoked duck breast for you to sample as well. It was very tender and smoky and really good for a tasty warm sandwich. 4.5/5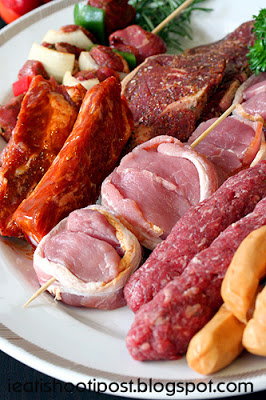 The butchery also stocks very good cuts of Beef like Wagyu grade 7 Ribeye ($280/kg), NZ rack of Lamb and Kurobuta Pork. If you like to prepare Korean BBQs, they have nice Beef Short Ribs (Aust) here for $32/kg. Those planning a BBQ might like to do something fancy and pick up a selection of marinated skewered meats and specialty sausages rather then settle for the usual chicken wings and chicken franks.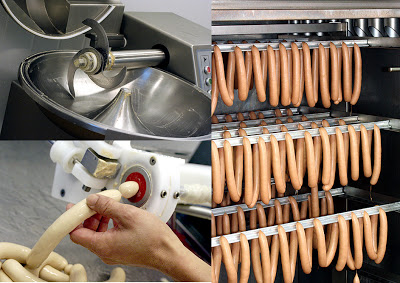 Mr Chia was kind enough to showed us around his brand new sausage factory in Macpherson and gave us an overview of the sausage making process. Basically, the meats and spices are finely chopped up in a special machine and then pushed into the sausage casing which is usually derived from sheep intestines. Interestingly, this is the most expensive part of the sausage but most of the time you will not even think about it when you are savouring your sausage. The outer casing is made by stripping away all the fleshy intimal layers so as to leave only with the tough, transparent outer layer (Serosa). This is the same stuff they use to make strings for your squash and tennis racquets. (Which is why they are called Gut) After the filling process, the sausages are either cooked in 70 degree water or put into the smoker (pic above). Sausages prepared this way is deemed cooked and ready to be eaten!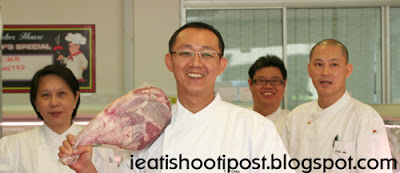 Conclusion
I really admire the entrepreneurial spirit in Mr Chia. He grew up in Hougang "6 pieces of rock" (lit Teochew translation meaning "six milestones") helping his Uncle sell meat in the wet market before joining Swiss Butchery as an apprentice sausage maker and working his way up to become the Top Dog (head sausage maker). When you talk to him you would hardly consider him to be "Ang Mo Pai" (westernised), but his sausages are so authentic that he has even earned the stamp of approval from local German Chefs. If you love sausages, you must make a trip down to the Butcher House to try their wide selection. I think you'd be amazed that these "German" Sausages are actually made in our very own backyard!
Note: All sausages are currently on 10% discount!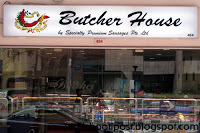 Acknowledgement: Recommended by sailfree