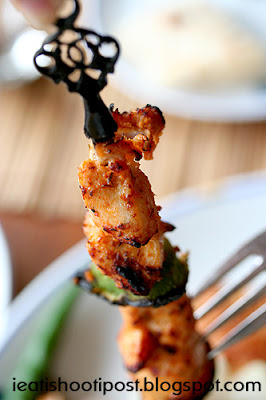 One of the things I must always have whenever I back to my family home in Sydney is to have a Donar Kebab. You can get one at almost every street corner and most of them have quite a decent tasting Donar Kebab. The very very best one I ever had was in a little Turkish/Middle Eastern enclave in the town of Auburn where I spent 3 months working in Auburn Hospital A&E. There is nothing quite like a Donar or a Chicken Kebab after a hectic 8 hour shift pretending to be as debonair as George Clooney (ER). They also had a killer Turkish Pide (Pizza) with spicy sausage and egg which was a Holy Grail experience.
Unfortunately, the standards of the Donar Kebab in Singapore is quite appalling and I have yet to taste one that is even half the standard of the ones in Auburn. That is until now.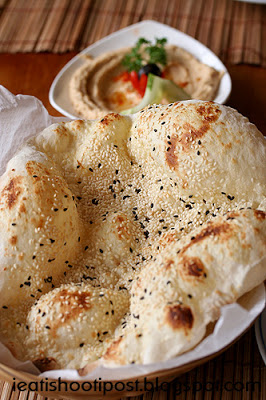 Sesame Bread $2.80 with Hommus $3.60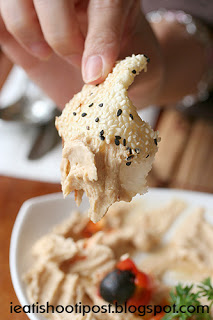 The starter was a promising sign of things to come as we were greeted with this attractively enticing sesame bread which was served with a Hommus dip. One thing that I abolutely love is freshly baked bread with Hommus. It is one of those purely vegetarian meals that I can have without feeling that some animal must die to satisfy the carnivore in me. Give me some freshly baked bread, Hommus and some grilled vegetables and I will be quite happy not to shed blood.
The Hommus here is just about the best I have ever tasted. It was creamy and nutty with just the right balance of zest. I never liked Hommus with too much lemon juice. For me, there should only be enough tang to get your salivary glands working but not so much that you can taste the lemon juice. This is one Hommus that you can really appreciate the beany flavour of the chickpea. Fantastic with the warm sesame bread. 4.5/5
Of all the meats in the Chef's plate, the Donar Kebab was the most outstanding. They have a mix of beef and lamb in the Donar kebab and you can really taste the lamby flavour in the sliced meat. The meat had that great "Middle Eastern" spice quality about it that made it really addictive. The rest of the platter was decent but I would gladly trade in the rest of the meats for the Donar Kebab. 4.5/5 for the Donar and 4/5 for the chicken and minced meat.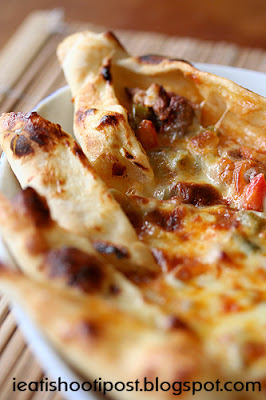 Pide $8.90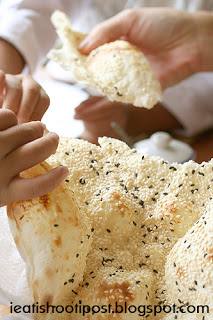 The Turkish Pide was the only real let down that day. The pizza base was far from the chewy and fragrant bread that I was accustomed to and the flavour of the topping was too localised that it lacked that Middle Eastern Spice Ooommph. Apart from its unique shape, one could mistaken it for a run of the mill phone order pizza. 3.5/5
Conclusion
Even though it isn't as good as the Middle Eastern food I had in Auburn, it is closer than anything I have had in Singapore so far. Not everything is great but some items do stand out. When I go back, I would just order the Donar Kebab set, Sesame bread and Hommus dip. That would really make my day.