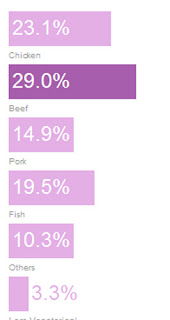 The Results of the Meat polls are in!
Thanks to all 1717 voters who polled.
It seems that the readers of this blog are kindred spirits with myself whose favourite meat is Beef 29%. Chicken and Fish were quite close but Chicken people managed to hang on to the lead though the Fish Lovers at one stage looked as if they might catch up with the Chicken people.
Pork was in 4th position presumably because of some dietary restrictions amongst our Muslim readers.
I am amazed that we have around 57 vegetarians in our midst! Considering that I only have so few posts on vegetarian food, that's quite a number. Perhaps you all would like to recommend your favourite vegetarian food places so that I can add a few more to the blog?
Once again thanks for taking part in the polls. The next one should be coming up later in the week.