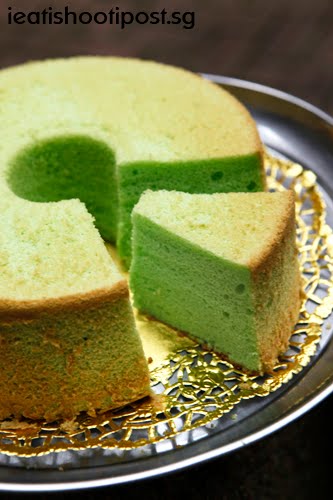 Pandan Chiffon Cake $4.80
I think the Pandan Chiffon Cake can be one of the litmus tests to see if you are Gen Y or Gen X. If you are a Gen Xer like me, you might remember fondly the days when the cake was extremely popular in the 80's. If you are Gen Y, you might not have even tasted the cake or you might have come across it at some time but paid very little attention to it.
The Pandan Chiffon Cake holds a very significant place in my Temporal Lobes. In fact, I would even say that this particular cake has somewhat influenced the way I live my life.
To understand how this happened, you would have to turn back the clock some thirty years to my formative years. It was during this time that some Nonya (I guess) in either Malaysia or Singapore decided to take the Chiffon Cake which was popular in the US in the 50's and made it Malaysian/Singaporean by adding coconut and pandan leaves to it. I could not trace its history, so if you know a bit more about the origin of the Pandan Chiffon Cake, please let us know.
Anyway it is about this time that my mother got really crazy about making the Pandan Chiffon at home. This cake is not easy to make, and like a souffle, it has the propensity to collapse if not done right. I remember having to eat lots of failed Pandan Chiffon Cakes over a period of time as my mum attempted again and again to get the recipe right. To tell you the truth, I never did like Pandan Chiffon Cake that much and after having to eat so much of it, I think I must have developed some kind of sensory aversion to it. But, it really taught me the valuable lesson of persistence and tenacity, or as Commander Taggart, echoing Winston Churchill said in Galaxy Quest: "Never give up, Never Surrender".
Anyway, the Pandan Chiffon Cake is currently cruising along as one of these "Retro" cakes which like donuts, might someday enjoy a resurgence in popularity amongst a new generation of Singaporeans. Perhaps someone might give it an interesting twist to bring it back to life like oversized sunglasses. But until that day, if you want to have a taste of the seventies and eighties, you might want to check out the Pandan Chiffon Cakes at Sembawang Confectionery. They are so old, they might have existed before the invention of the Pandan Chiffon cake. The shop is so out of date that it is in fashion again. Besides finding the classic Pandan Chiffon Cake there, you will be able to enjoy other retro buns and cakes which are made the traditional (ie old fashioned) way.
The Pandan Chiffon is tender, light and moist. My son loves it but my wife prefers the Bengawan Solo version. (but that on costs $8.80) I think I lost my sensory aversion to Pandan Chiffon Cake and am now enjoying it quite a bit.
4.25/5
Conclusion
So, do you have fond memories of the Pandan Chiffon Cake? Or is it just something that you see occasionally whenever you visit an Aunty? I think I might even try to make one myself one of these days, just to experience what my mother had to go through to get the recipe right. Stay tuned…..