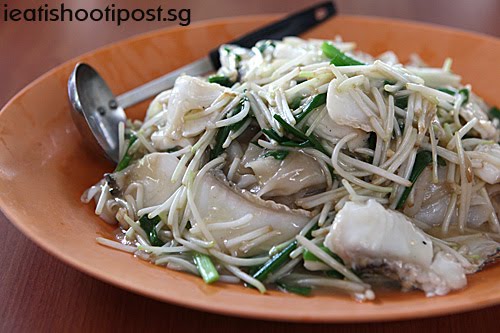 San Lou Hor Fun
In England there is the pub. In Japan, the Izakaya. Here in Singapore we have the Cze Char (lit cook fry). The Cze Char really started as a kitchen away from home where you get to eat home style cooked food. I guess, in the old days when most of our forefathers were immigrants who have left their families back in their home country, the Cze Char is their surrogate home kitchen where you come back from a hard day's work to find something to eat.
Our Cze Char dishes are unique because they are an amalgamation of the styles of cooking from the different dialect groups mostly from the Southern Provinces of China. In the early days, I would expect that Cze Chars could be classified into Teochew, Hokkien or Cantonese, but as time went by, new Cze Char hits are copied by other Cze Char stalls such that nowadays, Cze Chars serve a cuisine that can be called uniquely Singaporean.
The Cze Char dishes continue to evolve, taking in the new ideas from other parts of the world. For example, we have Siang Hee's pumpkin prawns which incorporates western flavours into the dish. We are also seeing more Cze Char places incorporating Japanese ideas like wasabi prawns and fried udon noodles. Over time, these too will be considered classic Cze Char dishes.
I realize that there are still so many Cze Char places which I have not blogged about yet and so I am now making a more concerted effort to archive Singapore's best Cze Char restaurants. It is a daunting task because it would be difficult to have a top 10 Cze Char restaurant list. But what I thought would be feasible is to list the best Cze Char dishes and where to find them instead. So I have started a sort of Cze Char Menu in our forum where everyone can give their inputs as to where to find the best Hor fun, Pork Ribs, XO Fishhead Bee Hoon, Yam Ring, Har Lok Prawns and so on. Do join in and add your favourite Cze Chars onto the growing list!
Most Cze Chars would serve the usual Cze Char favourites like sweet and sour pork, Hor Fun and hotplate Tofu, but there seems to be one branch of Cze Char which serve what I term as Hong Kong St style food. Hong Kong St was famous for its Fish Head Bee Hoon and San Lou Hor Fun and some Cze Chars have made this the focus of their restaurants. Why this should be so I really don't know, since the ingredients should be available at any Cze Char restaurant.
The original Hong Kong St Cze Char is no more, but there are some who claim direct descent from the original stall. The most famous one who would stake the claim
Hong Kong St Chun Kee
. Since then, lots of "Hong Kong St" style Cze Chars have sprung up using the "Hong Kong St" name.
The thing that attracted me to this stall is the fact that they still make their Fish Head Bee Hoon the traditional way without the addition of milk. The way to do this is deep fry the fish head first and then add the stock in a quick rolling boil in order to form an emulsion. This is the case with the fish head bee hoon but not the sliced fish bee hoon where they still need to add milk to give it that milky consistency. That is essentially because there is a lot more collagen in the fish head which aids in the emulsification process.
I like the San Lou Hor Fun here as it comes with a bit of gravy and the Hor Fun is smooth and slippery. With a lot of other stalls, the Hor Fun tends to lack the gravy, but this stall makes theirs with a bit of gravy which is very nice. 4/5 The fish head bee hoon is also very good though I felt that it could have had a bit more ooomph in the soup. However, as I said, it is one of the few stalls which pride themselves at making it without the use of milk powder which I think is quite commendable. 4/5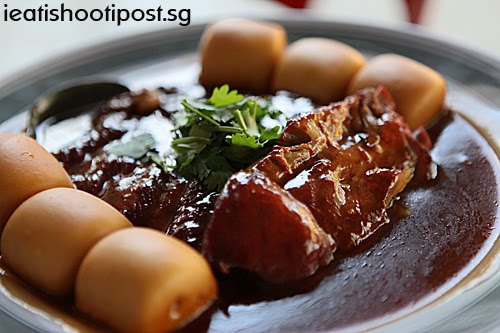 As with many Cze Char stalls, they have a few signature dishes where everyone tends to order. One of them is the special pork ribs which is braised pork soft bone served with fried Man Tou which is very good. The meat is braised till tender but not to the point of being dry and the sauce is excellent with the fried Man Tou.
4.25/5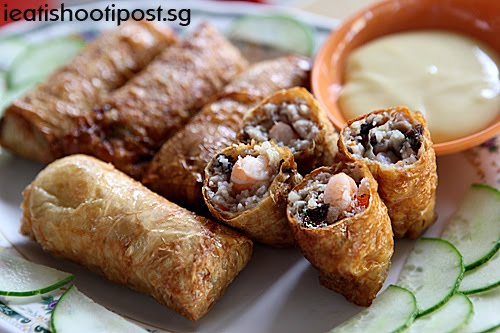 The other signature dish is their Prawn Rolls which is quite special as they put a whole prawn into each roll rather than mincing it. The prawns are also quite large and fresh so each prawn roll is quite a treat.
4.25/5
If you are looking for an old school Cze Char in a rustic environment, then this is a good place to visit. The food is very good in general, nothing mindblowing, but a good place to gather a few friends and have a nice meal and reminisce about how Singapore was like in the Seventies.