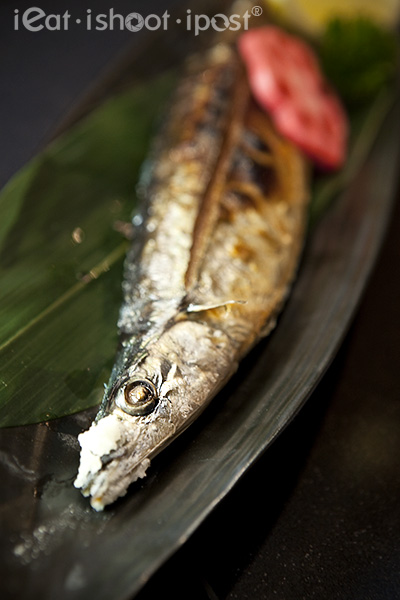 Sanma Shioyaki (Salt Grilled Pacific Saury) $40
It might be hard to imagine a Shopping Centre nowadays without a Japanese restaurant, but once upon a time in Singapore, Japanese food was a delicacy reserved for the few. Then again, it would be hard to imagine a Shopping Centre without KFC or MacDonald's as well. But in the 70's, that's what it was like. I still remember when going to Swensen's at the Airport was such a treat!
Back in the days when most people thought that only cats ate raw fish, there came a band of brave men who would introduce the concept Sashimi to Singaporeans. Among them were Chef Nogawa who has been responsible for discipling most of the first generation Sushi Chefs in Singapore. Chef Nogawa has since returned to Japan to open a Sushi Restaurant in Ginza, something he had always wanted to do.
Another one of these Samurai of Sushi is none other than our protagonist today. Santaro-San (nee Li Kwok Wing) was Nogawa's first Head Chef but counts himself as Chef Nogawa's Siong Di (brethren) as they were both trained by the same Master — Chef Nishimura. Like most well trained Sushi Chefs, Santaro-san is able to engage in lively, animated conversations with his customers at the Sushi counter without accidentally cutting his fingers. However, you would have to be able to understand Mandarin as he was born in Shanghai. As with most Sushi Chefs in his time, being a Sushi Chef was a lifelong vocation, thus he was given the Japanese name Santaro somewhere along the line.
One thing that all these pioneer Sushi Chefs have in common is that their restaurants are adorn with photos of Presidents, PMs and Ministers. I guess it reflects the fact that Japanese restaurants used to be much more exclusive in the good old days. Nowadays, there are plenty of Japanese restaurants around and some are very modern. So, this place still feels very old school, even though I must admit, I have never been to the old school when it was new.
The Sushi bar is stocked with the usual fish. It was good quality but I was slightly disappointed with the variety as it seemed quite limited. The usual Kanpachi, Hirami, Salmon, Chutoro, Mekajiki and Akagai were present. But for such an established restaurant, I was expecting more variety of fish like Kohada and Kinki. The sushi rice was a bit more vinegary for my personal liking but that is very subjective. Santaro San likes to mold his rice a little larger, around 180 to 200 grains compared to Nogawa who does 150 grains. This makes for larger Sushi, so you get filled quite quickly. 4/5
Chef Santaro was quite an interesting character. With so many years of experience, you can really pick up a few tips on Japanese cuisine if you show enough interest. One thing I learnt was how to eat Sanma Shioyaki. Sanma is in season now and one of the best way of cooking this pelagic fish is by simply salt grilling the fish to bring out its natural flavours. This might seem very simple, but the control of the charcoal fire and cooking times will determine if your fish comes out mouthwateringly juicy or cardboard dry.
The way to enjoy Sanma Shioyaki is to first remove bones. To do this, you divide the flesh along the midline of the fish with your chopsticks and then lift the tail. The whole spinal column can be lifted out of the fish easily. You can then enjoy the flesh of the fish, leaving the stomach area for last. The fish is usually served ungutted, so after you have eaten most of the flesh, you pick up the whole of the "stomach", together with the fine rib bones and put the whole thing into your mouth, suck out the oily, bitter contents and then spit out the bones! Sounds disgusting but boy was it good! 4.25/5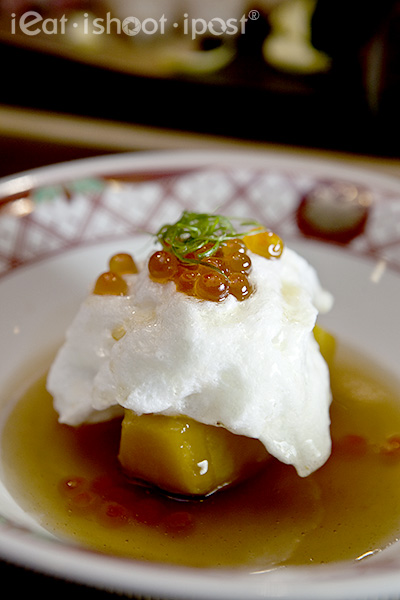 Kabochia $25
The thing with such restaurants is that they usually shine when you go for their Omakase meals rather then the set lunches. This is where you can really taste the Chef's specialties. One of Chef Santaro's signature dishes is the Kabochia, or Steamed Japanese Pumpkin with egg white. The dashi based sauce harmonized so well with the pumpkin and egg white and is certainly a dish I would look forward to eating again. 4.25/5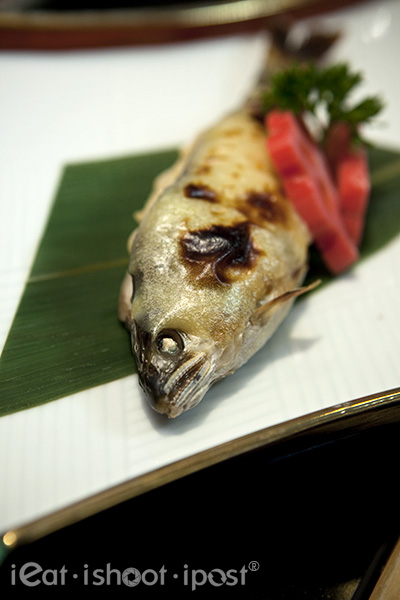 Ayu Futamidengakuyaki $35
The other signature dish is the Ayu Futamidengakuyaki which is a Sweetfish stuffed with prawns and grilled with miso. The bones of the fish were first meticulously removed before the whole fish was stuffed with chopped prawns and then grilled. Previously, I have always eaten Ayu simply grilled with salt, so this version is very refreshing. The concept is almost like the Thai Stuffed Chicken Wings! The prawns added another dimension of natural sweetness to the Ayu which I found quite delectable. 4/5
Conclusion
There are so many Japanese eateries nowadays, but Santaro still stands out as one of pioneers of Japanese food in Singapore!
Special 20% discount plus dessert deal at Gastrocoutre
Book through www.gastrocouture.com to enjoy 20% discount off the ala carte menu plus a free dessert!
This was a media invited review