It's a good thing to know that in fast paced Singapore where everything changes at breakneck speed that there are still some pockets of nostalgia waiting to be discovered. The Kong Bak Pau at Westlake is one such pocket.
I am quite serious when I say that this Kong Bak Pau is still very much the same deal as it was when it was first introduced by Westlake in 1976. Three families are involved in making this one dish and they have been doing it together for the last 30 years or so. The first family are of course the Lims who are the owners of the restaurant. Its founder, Mr Lim Tong Law started Westlake in the early 70's because of his love for cooking. He was a PE teacher at Chinese High School at the time and was in his fifties when he dreamt of running a restaurant so that he can give the public a chance to try his dishes. When he started Westlake, he was still teaching at Chinese High and had to shuttle between two jobs! Business began to really pick up when the Kong Bak Pau was introduced which eventually became the iconic dish for Westlake.

It was during those early days when Mr Lim was sourcing for ingredients for his Kong Bak Pau that he met with our second family, the Loos. The Loos play a very important role in the Kong Bak Pau because they produce the most important ingredient that gives the braised pork its characteristic flavour — premium Dark Soy Sauce. Over the years, the Loos have been constantly supplying the Lims with Dark Soy Sauce, preserving the same recipe as before.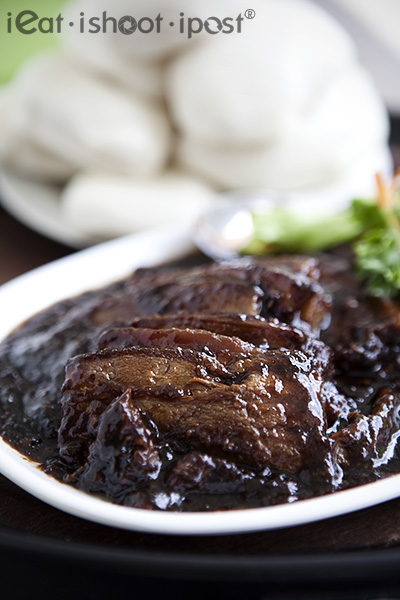 Braised Pork Belly
Now we come to the third family, the Ohs. The Ohs are a 3rd generation master baker of Pau Skin. When you eat Kong Bak Pau at Westlake, you know that there is something very special about the Pau Skin that you can't find anywhere else. That is because the Ohs have been supplying Westlake with the same Pau Skin that is made with the traditional method of adding lye water (kee zhui) and using yeast instead of baking powder as the raising agent. Lye water makes the dough alkaline and when flour is subjected to alkaline conditions, it becomes more springy. Incidentally, lye water is the ingredient that differentiates Chinese noodles from Italian pasta. Whereas Chinese noodles are springy because of the addition of lye water, Italian pasta tends to be more toothy. Nowadays, not many bakers use lye water in their recipes, but they continue to make the Pau Skin the same way just for Westlake.
Now when it comes to braised pork, there are many methods of cooking it. The easiest way is simply to simmer the pork belly in braising sauce. However, if you want to make an exceptional braised pork that has that soft fat layer and a skin which is tender, then it needs to go through several steps. At Westlake, the pork is first boiled, then dipped in braising sauce before being deep fried, after which it is cut into bun sized slices before being marinated in braising sauce. Then when you order the braised pork, one serving portion is freshly steamed and served with the buns. The whole process of making the braised pork takes 6 to 8 hours! 4.5/5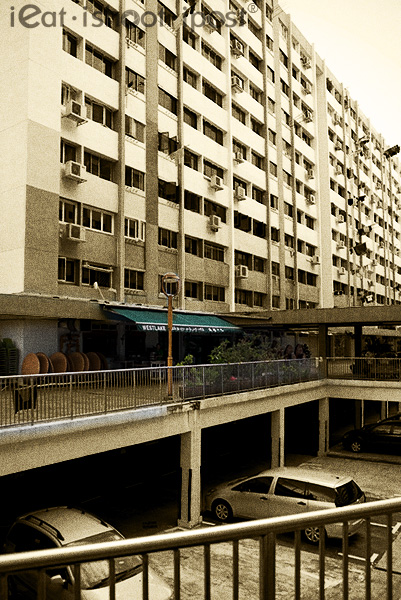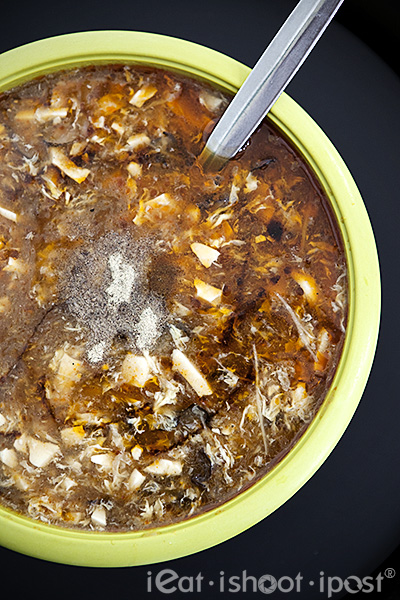 Hot and Sour (Sze Chuan) Soup $8-$20
Aside from Kong Bak Pau, Westlake has several other signature dishes which you must try. One of this is the Sze Chuan Hot and Sour Soup. Now, you might wonder why Sze Chuan dishes feature at Westlake. Well, it so happens that both Mr Lim and his wife did their tertiary education at Chengdu before the war and that was where they grew to like Sze Chuan cuisine. The menu of Westlake really just reflects the kind of food Mr Lim loves.
When you visit Westlake, be sure to order the Hot and Sour Soup. It's the best that I have tasted in recent memory. The balance of Hot and Sour is just right. The "Hot" is just enough to give you a kick, not enough to make you sweat. The "Sour" is just enough to give you a buzz, but not enough to make you wince and the generous dash of sesame oil gives it a wonderful fragrance! 4.5/5
The other must try dish is the Kong Bao Ji Ding. This is one of the best I have come across. Again the flavours are excellently balanced and the smokey chilli flavour comes from dried chillies that were specially selected for this particular dish. One of the key ingredients in Kong Bao Ji Ding is the fragrant vinegar and which gives it aroma as well as a nice tang. 4.6/5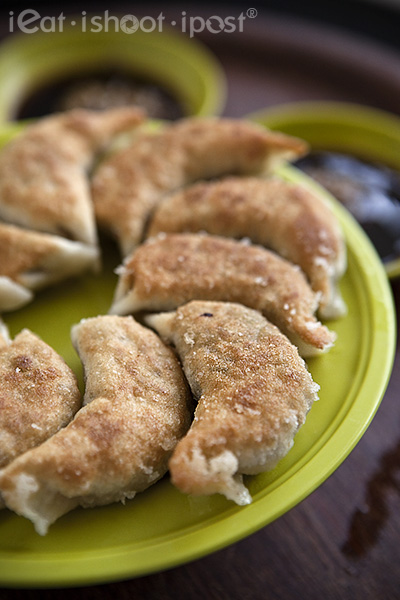 Guo Tie $6.50
Long before Shanghainese restaurants and Japanese gyoza hit Singapore, Westlake was already serving up Guo Tie, which is yet another dish which Mr Lim picked up in his travels. The skin is amazingly crisp and I was told that even the Japanese came to the restaurant to buy the raw ones to bring home to Japan! I felt however that the meat filling could be just that little bit more flavourful and juicy. 4/5
If you have always had trouble trying to get a seat at Eng Seng restaurant, then the good news is that the Black Pepper Crabs at Westlake are done in a very similar fashion. The black pepper is ground very fine and then fried in butter to give it a smooth, creamy texure. The crabs are solid and the dish is excellent but somehow Eng Seng's still has that edge. However, over here you get to enjoy your crabs without having to line up for a seat at 5pm! 4.25/5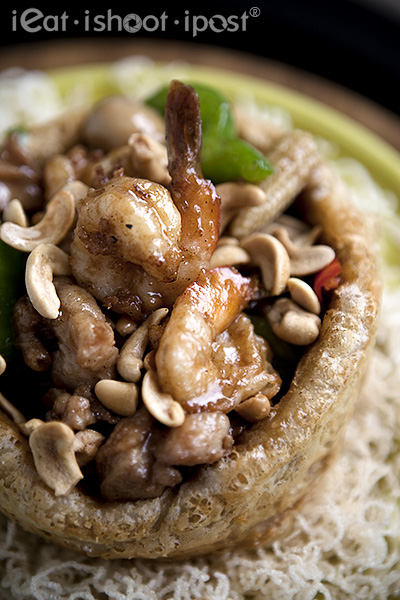 Yam Ring
I am not sure if Yam Rings are as popular as they were years ago, but a good Yam Ring should have that wonderful floury yam inside of a crisp exterior. I felt the Yam Ring would have been better if there were more gravy as it tasted a little dry that day. The yam ring itself was, however, done very well. 3.75/5
Conclusion
This is the kind of place where you can experience a blast from the past and sink your teeth into a warm fluffy bun with moist succulent braised pork. Westlake is an oldie but a goodie just waiting to be rediscovered.