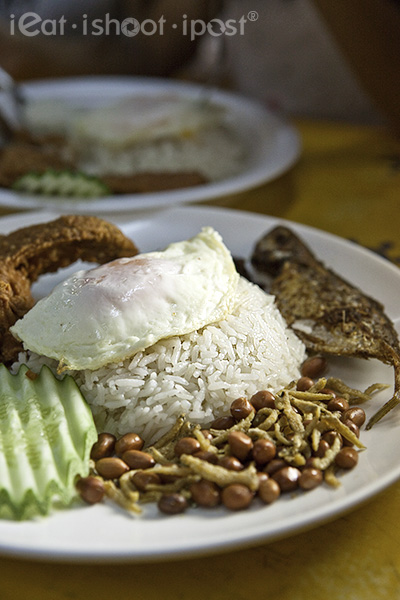 Ah Nasi Lemak. Just the mere mention of it makes you want to eat some right?
I remember the very first time I started to like Nasi Lemak. It was during a Scout camp and we were served packets of Nasi Lemak which were wrapped in banana leaves for breakfast. Up till then, I hadn't really eaten Nasi Lemak because I didn't like spicy food. (Just like my son now) But it was the only thing they served for breakfast and it was that or nothing. I remember just eating the rice and leaving the Sambal Tumis (Chilli sauce) at the side.
It was the most basic of Nasi Lemak. Just ikan bilis (anchovies), peanuts, egg, cucumber, and of course Sambal. The packet was so small and being the hungry boy that I was (I was in primary school), I ate most of the rice and tried to pick out the untainted rice near the chilli. It is was then that I tasted some of the chilli tainted rice and suddenly I saw heaven open and the Angel of chilli appeared before me. With the standard Angel salutation, he said… "Do not be afraid". Ok, there was no Angel, but if an Angel had appeared, he would have said "Do not be afraid". No kidding, I read it all the time in the Bible, to Angels it's like them saying "Jia Pa Buay?" (Have you eaten yet?)
Two Schools of thought
There really are two schools of thought when it comes to Nasi Lemak. There are those who believe that Nasi Lemak is a Malay dish and favour the Malay version and there are others who like the Chinese version of the dish because you can order luncheon meat with it. Those that like the Malay version probably feel that a Chinese cooking Nasi Lemak is like an Indian selling Chicken rice!
Traditionally, the Malay version is cooked in a steamer ie Nasi Lemak Kukus and in general they would use the local Malaysian grown rice instead of the Thai Hom Mali (Jasmine) rice. The Chinese version usually uses Thai rice as we are so used to eating it. In Singapore there is a mixture.
In Changi Village you will find that International Nasi Lemak uses Jasmine Rice, while some of the other ones use the local variety. The bite and texture of the rice a a little different. The local rice tends to be more light and starchy and lacking that more chewy bite of the Thai variety. (This is a generalization as there are many types of Thai rice and not all of them are Hom Mali).
When I ate at a popular Nasi Lemak restaurant in Kuala Lumpur, they used the local rice and wrapped it in banana leaves. Traditionalists will tend to favour this while others might favour the Chinese Chap Chye Png (mixed rice) version.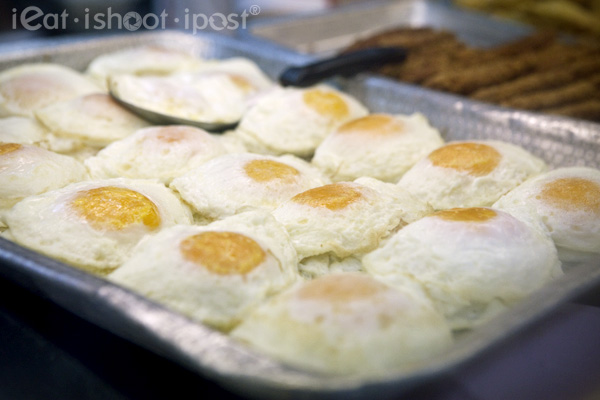 Overrated?
I guess that is why there are a few detractors when I posed the Nasi Lemak question on our facebook fanpage. Singaporeans seem to love to use the word "Overrated". Personally, I feel the word itself is overrated and overused.
I think that when people say that this place is overrated, what they are trying to say is that the Nasi Lemak is not special enough to warrant a perpetual queue of at least 15 people and a price of more than $5 for a plate. Actually if you order just rice, ikan bilis, eggs and chicken wing, it will come up to $4, but most people tend to order more items.
I tend to agree with the people in the perpetual queue. I feel the quality of the rice is very good. They use Thai AAA Hom Mali (ie Jasmine) rice which has a good toothy bite and whose fragrance is accentuated by coconut and pandan.
The sweet sambal tumis balances very well with the rice and is not overly spicy (people who love spicy chilli are justified if they complain). You can see the consistency of the stall by looking at how they have done the eggs. Each one is individually fried and the yolk is runny with just the edges just browned.
They achieve this level of consistency by having one family member who specializes in cooking the eggs. If there is anything I would mark down, it is that the chicken wings could be a little tastier. With the high turnover, they are very fresh, crisp and juicy. However, I do think they can be spiced up a little with tumeric so that they are more like Nasi Lemak Chicken Wings rather than Chap Chye Png Chicken Wings. 4.5/5
Conclusion
Some people say they are overrated, but personally I think that Ponggol Nasi Lemak has managed get the basics of rice, sambal, eggs and ikan bilis right and managed to maintain consistency as the whole place is run mainly by family members. Great place for a night snack but the queues can be intimidating.