This stall is closed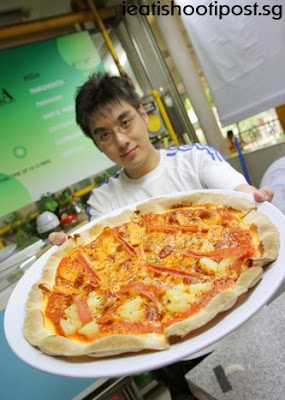 12 inch Pizza $8
Following up on my Hawkerpreneurs at Golden Mile Food Centre story, here is another young Hawkerpreneur that is trying to burst into the food scene by offering Cafe style food at hawker prices.
If you are hungering for your pizza fix but don't want to spend more than $8 on your meal, this might be just what you are looking for.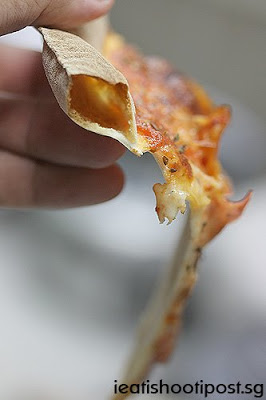 The pizzas here are probably the thinnest and crispiest in Singapore. It is almost like eating "Jatz" crackers with tomato and cheese. The toppings are also modest, you get your basic ham, chicken sausage, mushrooms, pineapple and seafood. None of the fancy stuff, no parma ham or freshly chopped herbs, just staightforward freshly made pizza base with your choice of topping.
I find the crispy, super thin pizza base surprisingly nice although it is not really your traditional Napoli style pizza. As I said, it is almost like eating baked water crackers with tomato and cheese. For $8 for the large 12 inch pizza, it is the kind of thing you can eat and then proceed to have an Ice Cream over at Ice Queen and spend around $10 for a lunch that might cost you closer to $20 at a cafe. 4/5
Conclusion
Cheapest way to get a pizza fix but not for those with a big appetite as the thin crust is not going to fill you up.