Hock Lam Beef Kway Teow:  Let's Raise the Bar on Beef Kway Teow!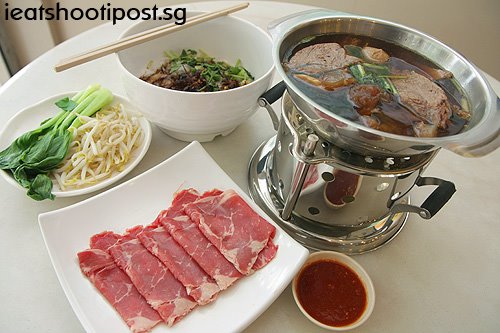 Hock Lam Beef Kway Teow: Let's Raise the Bar on Beef Kway Teow! – ieatishootipost
I recently complained to a TV producer that she should not continue to make TV shows that glamourise $2 hawker meals. I mean, do we really want to encourage more hawkers to compete just price rather than to focus on quality?
With food prices going up, our hawkers are all suffering from lower profit margins but at the same time still under pressure to provide meals at cheap cheap prices. Our friend Liverpool of
Good Morning Nanyang Cafe is still forced to sell his cup of Kopi for $1.10 just because he is selling "Kopi" (Ya Kun already increased to $1.50 btw) while the same people won't even blink an eye to pay $5 for a cup of cappuccino at a cafe.
What we need is to change our mentality and reward hawkers who are willing to give us quality stuff rather than cheap cheap stuff. Either we do that or we risk all the good hawkers not being able to pass down their skills to the next generation. In the end we will all lose out.
I have made it my personal mission to support hawkers who are opened to new ideas and to providing better quality hawker food for us all. The fact is that even if they increase their prices, it is still cheaper than eating at a restaurant, but you derive more shiokness out of it.
So I am very happy to announce that Tina from Hock Lam Beef Kway Teow and taken on my suggestion of introducing a Shabu Shabu style Beef Kway Teow which I hope will do for Beef Kway Teow what Big Prawns had done for Prawn Noodles.
The premise is very simple. We like Beef Kway Teow, we like good beef and we also like our beef not too well cooked. So the solution to this is to provide nice Sukiyaki Grade Beef with a Mini Hotpot of stewed beef tendon, balls, tripe and you can cook your sliced beef yourself!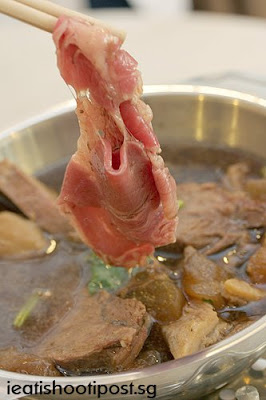 How often have you eaten Beef Kway Teow and wished the beef could be better?
Needless to say, the longer you cook the soup, the more "Tok Kong" (addictive) it is going to get and the slices of beef that you cook yourself just melts in your mouth and is even more shiok with Hock Lam's famous chilli sauce! 4.5/5
I prefer the soup version to the original dry version here. But you should try Tina's new "Gorn Lor" Hor Fun which is fragrant and the kway teow just leaps into your mouth. 4/5
Hock Lam will be introducing their Minipot Beef set on their 97th anniversary which is on 1 Oct (Hari Raya). And to commemorate their anniversary, they will be donating all the proceeds of the day to Operation Smile which is a worldwide movement to fix cleft palates in kids. So that is an added incentive to go down and try this very special way of enjoying one of Singapore's truly heritage foods. And, if it is well received, they might even put it on their menu!
Conclusion
I have tried very hard to convince Tina that there will be a market for better quality beef, but she is worried that consumers might not want to pay for it. How do you all feel about it? Would you like to see Wagyu beef or Karubi on the menu? Or do you want to just stick to the traditional $4 Bowl of Beef Kway Teow?
Please Note:
This special dish is only available on 1 Oct 2008 to commemorate their anniversary. However, if the feedback is good, they might decide to put it on the menu.The ieat kakis will be going there for lunch at around 1.30pm, do come and join us and at the same time support Operation Smile!
They will be opening from 10am to 3pm on that day itself.
What to do next:
Read what others have to say about Hock Lam Beef Kway Teow! Very heated indeed!
See which other kakis are coming in our Forum.