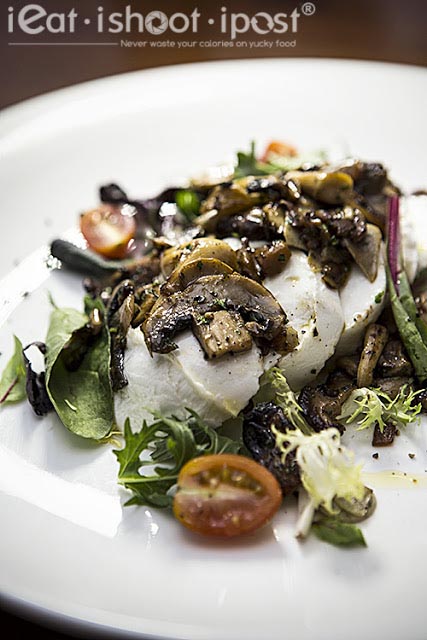 Back in 2009 I wrote about Cacio e Pepe which was a story about an Italian restaurant in an "Ulu" (remote) location serving pretty decent Italian food. Cacio e Pepe has since moved to yet another ulu location on the other side of the island and from last I heard, they are still doing quite well. It was there that I met veteran Chef Peter Neo who was helming kitchen of the restaurant. Chef Peter has been cooking Italian food since the nineties and was one of the pioneer chefs of Italian cuisine in the days when there were only a handful of Italian restaurants around. Nowadays, Italian food is so popular that you can find great Italian food just about everywhere and authentic Italian ingredients are easily available! It's hard to imagine that there was a time in Singapore when cheese referred to a box of Kraft Processed Cheddar Cheese!
Italian cuisine is family friendly and it is one of those foreign cuisines that most children eagerly eat. I mean which kid doesn't like pizza or spaghetti? That is one of the reasons why I think that Italian restaurants do so well in isolated shophouses located in private residential estates. Just around the Serangoon/Hougang area alone, you have a few notable ones, viz Buono, La Pizzaiola, Villa de Parma and now, Pietro. The location of these restaurants outside of the CBD area and within residential estates is a lot more family friendly as we don't have to travel all the way into town and the patrons also tend to be extended families having a meal together. These places tend to have a more "kampung" and laid back feel to them which is great when you are looking for a quiet place to enjoy a meal together.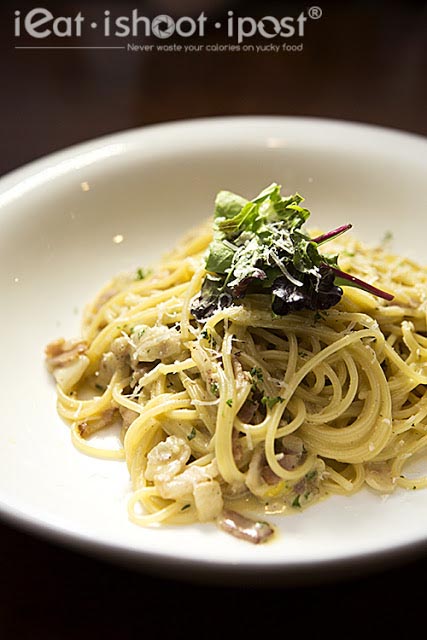 Pietro has been in operation for 9 months now and has built up quite a fan base already. A lot of the regulars are fans of Chef Peter who tend to follow him where ever he goes. He has been moving around in the last few years, but thankfully, he has finally settled here as part owner of the eponymous restaurant. (Pietro=Peter) Being an Chinese Italian Chef does have its advantages. I heard that he does special dishes for his regular customers whose grandparents still have not gotten used to "Ang Moh" food. For these special people, he would fry Hokkien Mee using spaghetti or fried rice using risotto for them! It is these special touches which has won him a loyal following. (Aside from being able to cook great Italian dishes, of course)
Being Chinese, Chef loves to use strong flavours. So at Pietro, Porcini mushrooms and truffles are a recurring theme in his dishes. For starters we had his Caprese truffle with four mushrooms which marries truffle infused mozzarella cheese with sauteed porcini, shitake, button and abalone oyster mushrooms. I was initially quite perturbed by the temperature difference between the cold cheese and the freshly sauteed mushrooms, but once the cheese came to room temperature, the dish was very enjoyable. 4/5
I usually divide Italian restaurants into two groups. Those that serve authentic Italian food and those who pretend to be serve Italian food. One easy way to tell is to ask them how they make their carbonara. Lots of places simply add cream to sauteed onions and bacon and call it a carbonara. But this is not the traditional way to make it. Carbonara can trace its roots back to the Italian miners who used to carry dried pasta, cured bacon and eggs with them for their meals. These ingredients can keep well but cream does not. So, authentic carbonara should not have any cream. Instead, the creaminess comes from adding the egg at the end of the cooking process.
Chef Peter does a lovely carbonara with just the right amount of sauce. His pastas are all made ala minute, ie he doesn't cook a big batch of spaghetti beforehand and heat it up when you order. So there is a minimum waiting time of around 10 to 15 minutes for the pastas as the dried pastas require at least 8 minutes to cook before he assembles it together in the pan. I felt that the quality of the pasta could be better though. He still uses Barilla which was ok a few years ago. But nowadays, you can easily get hold of better quality pastas which are made with brass molds that can hold the sauce better. 4.25/5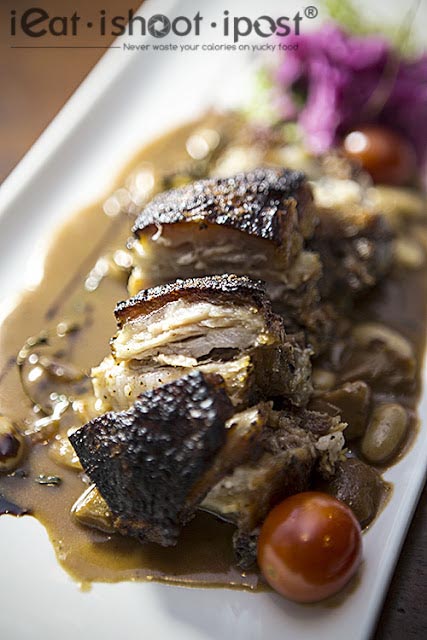 For mains, we had the roasted pork belly with porcini mushrooms which was very nice. The pork belly has been slow roasted till fork tender in the oven before being finished under the broiler to crisp the rind. The flavour of the porcini and kidney beans were excellent and goes so well with the pork. A little bit of home made apple sauce helps to lighten up the otherwise heavy dish. It would have been perfect if the rind was crisp instead of being a little chewy that day. 4.25/5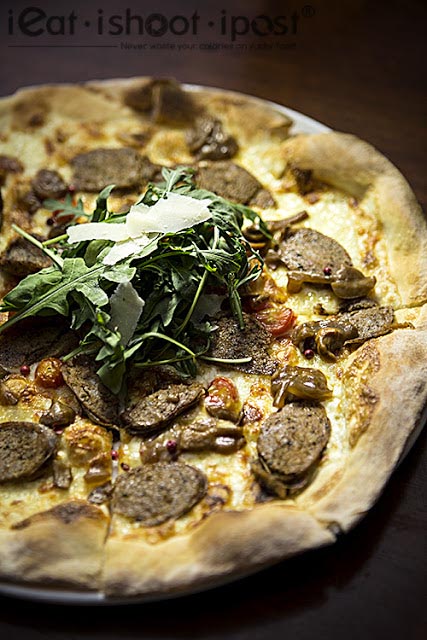 Pietro serves the thin and crispy, cracker like pizzas which appeals to a lot of people. I tend to favour the Napoletana style pizza which is softer and has a bit more chew. I have written at length about the subject and have even conducted classes on how to make an authentic Napoletana style pizza, so I am bias towards the style of pizza that I like. Having said that, I must admit that Peter's thin and crispy style pizza is actually quite enjoyable even though (horror or horrors) it was made using a rolling pin! The rim of the pizza is dry like a water cracker but the middle is pretty tasty and does have a little bit of chew. They are good sized pizzas which are baked in a gas fired oven and the margherita starts from $16. But get this, for lunch from Mondays to Fridays, they offer a 1 for 1 deal on selected pizzas and pastas. So you can actually get a full sized pizza for around $10 to $15 each! 4/5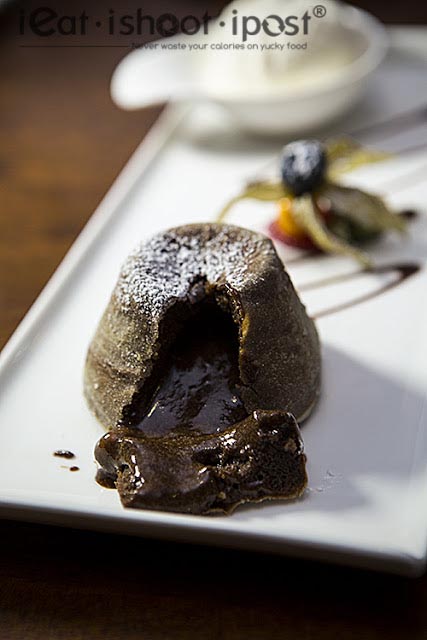 I have always enjoyed Chef Peter's lava cake, but now he has gone one up and added rum into the chocolate which makes it even more delightful! 4.25/5
Conclusion
Its great to see authentic Italian food in these remote places and especially good news for people who live in the North East region of Singapore as you don't have to head all the way down town to get your pasta and pizza fix. Do check out their 1 for 1 lunch deals from Mondays to Fridays. About half of the pizzas and pastas on the menu are on special and it works out to be around $10-$15 for a dish. Great place to drop by for lunch if you are working around the area!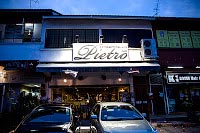 Many thanks to Chef Peter for hosting our meal