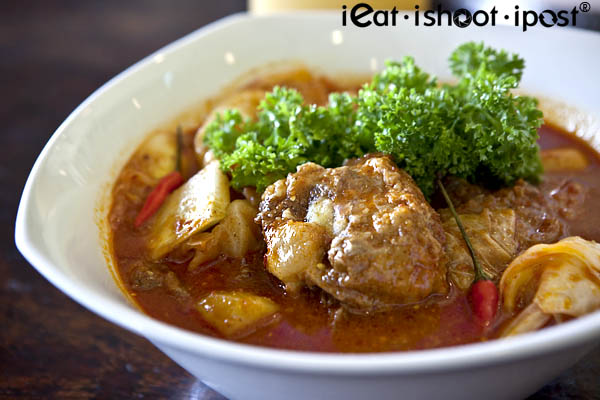 Oxtail Devil's Curry $18.80
You probably know a few Eurasians right? You know, they are the ones with surnames like Pereira, Gomes, De Silva, Olivero, Xavier etc. You hear many of them on radio, especially if you tune into 938live. The Eurasians control the radio waves of Singapore and many of them are also on TV.
Actually, the very first person I met was a Eurasian. He was none other than the late Benjamin Sheares, 2nd President of Singapore. Of course when I first met him, he was my mother's obstetrician and he wasn't the President then, but it was my first brush with someone important.
When it comes to Eurasian food, I am a total ignoramus. I have never had Eruasian food before, or even if I did, I didn't know it was Eurasian food. Perhaps the very first Eurasian dish I came across was Sugee Cake. But I thought it was Nonya since it was sold at Bengawan Solo.
Did you know that there are four official races in Singapore? Chinese, Malay, Indian and Eurasian. So they are officially a minority race! They were only granted this status in the 90's. Before that they were an "Others". For such a small community, the Eurasians have produced many famous names like the aforementioned President Benjamin Sheares and Minister E W Barker or Eddie as he is affectionately called. When you visit Quentin's, you will find that the restaurant itself is called Eddie's Place, in honour of E W Barker.
The Eurasians came to being when Malacca fell to the Portugese in 1511. After that, the Dutch and then the British took over in succession. The intermarriage of the Europeans with the local Asians gave rise to the Eurasians and also to a fusion of European and Asian cuisines. There are not many places left were you can still find authentic Eurasian cuisine. Quentin is probably one of the last few fortresses where authentic home cooked Eurasian food is still being defended from the bombardment of development.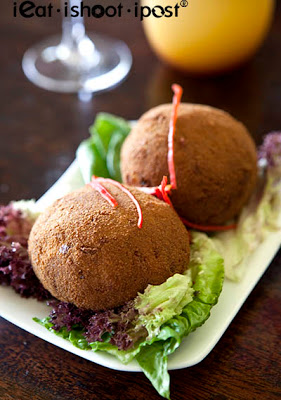 Meaty Cutlets $8
Eurasian food is something that is so Singaporean and yet so foreign, so old and yet so new. If you are looking for a novel culinary experience, then you should pop down to the Eurasian Community House where Quentin Pereira still prepares Eurasian food the way his father used to do it. Patriach Robin Pereira is one of those passionate chefs who would only source for the best ingredients to feed the family and it is with the same spirit that Quentin prepares food for his restaurant.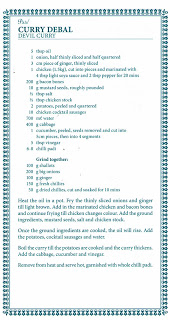 Let's start with the only dish which I knew was Eurasian. Devil's Curry. If you think Devil's Curry is called Devil's Curry because the stuff is made from Chilli Padis from the Devil's own backyard, then you are 100% wrong. I was told that the word Devil is actually derived from "Debal" which was a dish made from leftovers after Christmas. So besides all the chilli and spices, Curry Debal has stuff like leftover ham and turkey in it. We tried the Oxtail Curry Debal which was quite good. The heat has been toned down so that it is more acceptable by the general public, so it wasn't near as devilish as I thought it would be. What was interesting was the bits of bacon soft bones in it which gave the curry its signature, smoky aroma. 4/5
Here is Robin Pereira's recipe for Devil's Curry taken from his book, Robin's Eurasian Recipes which was just released this year. —>
The meaty cutlets are also something I would recommend you try especially if you like corned beef. For me, corned beef reminds me of my childhood as my own father was a lover of the canned version and we used to have corned beef fried rice and corned beef omelette. The meaty cutlets are a combination of corned beef and pototoes and deep fried in a biscuit crumbs. You can imagine what that tastes like. Yep, it tastes like corned beef and potatoes and its comfort food! 4.25/5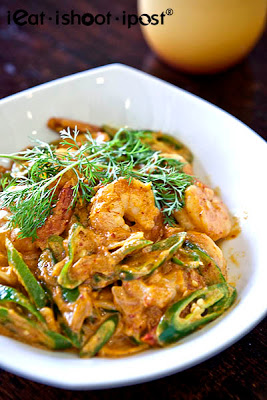 Prawn Bostador $13.80
Quentin was sharing a very interesting bit of info on the Prawns used for Prawn Bostador. We all remarked how crunchy the prawns were and he told us that is all boils down to how the prawns were frozen and thawed. He sources prawns that are flash frozen and then thaws them in ice water in order to get that crystal crunchy texture. He said that he had thawed them out before at room temperature and the texture was different. This is something I have to try the next time.
The best way to describe Prawn Bostador is that it is a deconstructed Otak Otak. The curry tastes very much like Otak Otak which is characterised by the combination of Tumeric leaves with Coconut milk. This is a great dish to eat with rice! 4.25/5
Patchri $6
The brinjal dish was a bit of a surprise. This is one of the best sambal brinjal that I have eaten in recent memory. The brinjal was subtly sweet and the sweet and sour sauce complemented it perfectly. Again, an excellent dish to have with rice. 4.5/5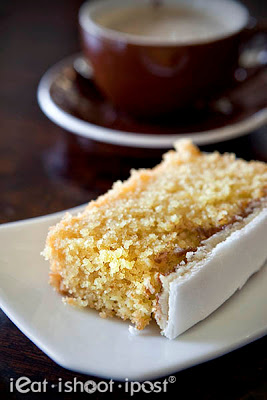 Sugee Cake – Another President's Pick
If there is a cake that best represents the Eurasian community, it is the Sugee cake. This is like a butter pound cake, except that it is made from semolina flour and ground almonds which give its a gritty crumbly texture. Quentin tells me that this is not an easy cake to get right, and is as temperamental as a Chiffon Cake. To me, this is the kind of "Old Fashioned" cake which is heavy, hearty and delicious, harkening back to a time when eating butter was the most natural thing to do. This cake is excellent at tea time with a nice pot of English Tea! The President's home is just opposite the Eurasian Community House and Mrs Nathan is especially fond of the Sugee cake so much so that she has personally endorsed it in Robin's book.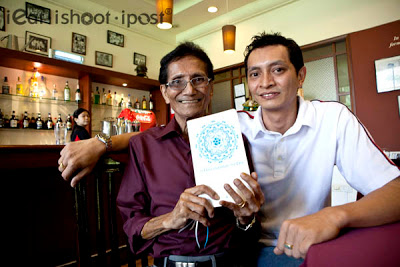 Robin and Quentin Peireira showing off a copy of their new recipe book


Conclusion
Eurasian cuisine is just as unique and delicious as any other. Very similar to Nonya cuisine but much less understood and celebrated. If you have never tried it before, perhaps it is time to pay them a visit! In his book Quentin recalls the time when they just started the restaurant at Changi Business Park in 2001. They would go to the market and buy $100 of ingredients but the sales would just be $70. Such is Robin's insistence on good quality ingredients cooked fastiduously. Here at Quentin, the dishes are cooked only when you order them, even the Devil's Curry. This is the philosophy that Robin has inculcated into his kids and I am glad that they persist in doing it. I was told that if you wanted to try an array of Eurasian dishes, the best is to go and enjoy a Sunday brunch where they serve up over 30 different dishes for $18++ per head.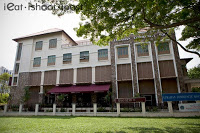 If you are interested to learn more about Eurasian food, do pick up a copy of Robin's book. The book is published by Epigram who are the same publishers that are publishing the ieatishootipost book which will be released later this year. There are actually two other titles in this series on Nonya and Cantonese cuisines which are all based on Singapore Home Chef's family recipes. (This is obviously a plug for my publishers!)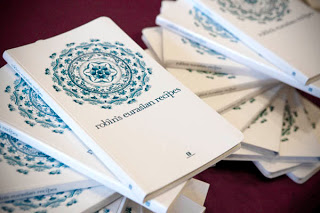 Robin's Eurasian Recipes – available now at all major bookstores