This restaurant is closed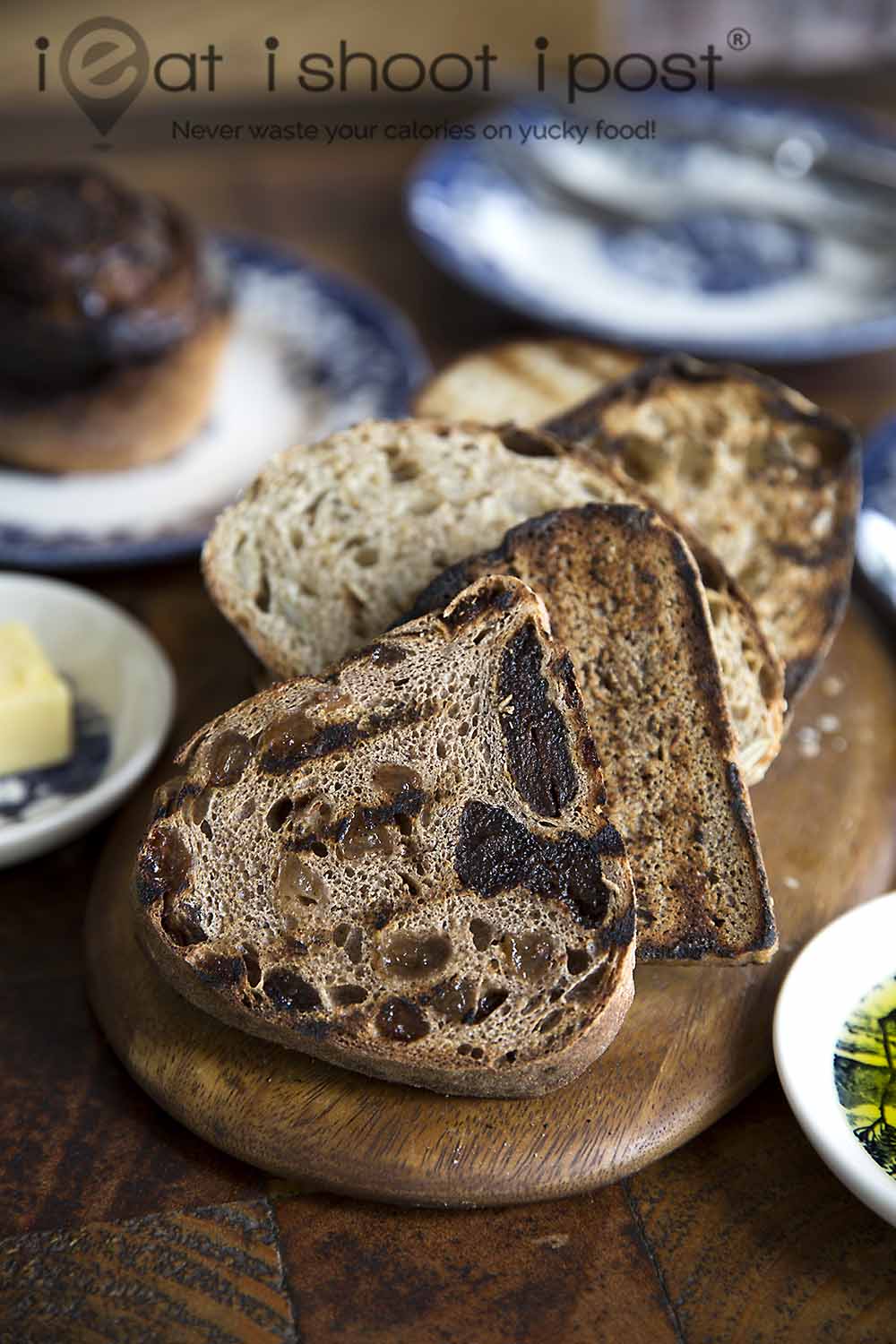 Remember Calton restaurant?  It used to occupy the corner coffeeshop facing the Esso station opposite Jago Close.  It was one of those really old places which you wish would be around for a long time just so that filmmakers like Eric Khoo will still be able to find places to film period movies.
But alas, it is no more. I guess it was inevitable. I had visited the place before it closed and it was a place that has seen its glory days.  I never did write a blog post about them as I felt the food was only so so.  Looking back, I kinda wish I did, as you can hardly find anything on the internet about them.  The place, its history, what it was like in its heydays, all of it now resides in the brain cells of the people it fed and in some dusty archive somewhere.
In its place is a brand new restaurant called Firebake which tries to fill the gap as the place in the neighborhood where friends get together for a casual bite along the five foot way.
As the name suggests, Firebake is all about food that is cooked with fire.  But not just any puny little gas fire, we are talking about real fire, primitive caveman fire, made by burning wood!  Argh! Argh! Argh!  And we are not talking about a single wood fire oven like what you find at some pizza restaurants either.  These guys are serious about cooking with wood fire.  At the heart of the restaurant are two purpose built full scale wood fire ovens used for baking as well as two 1880's refurbished Huqsvana cast iron stoves powered by charcoal for pan frying and grilling.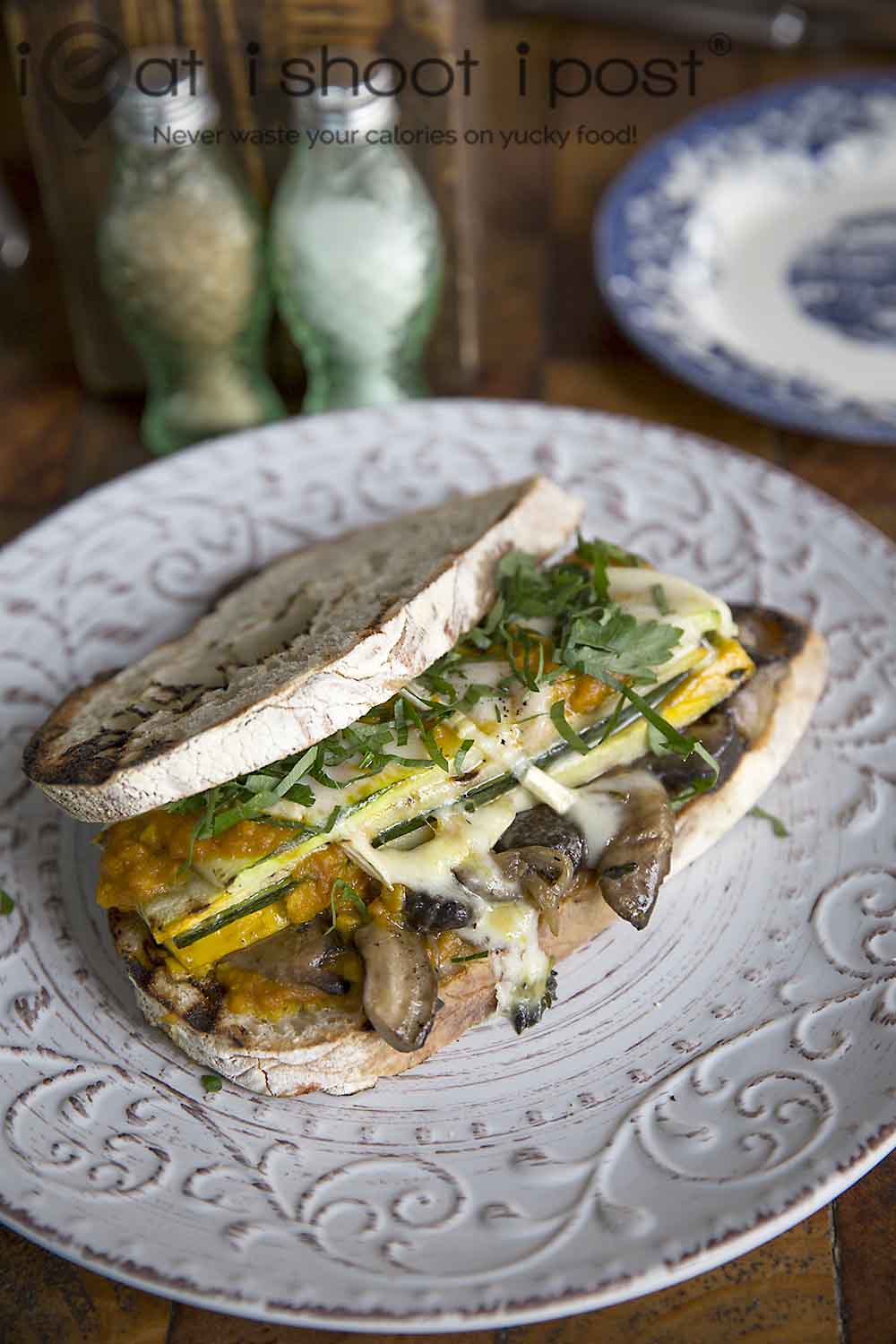 They describe their wood fired bread as "primitive" and I won't disagree. They use organic flour sourced from Australia and even have a flour mill in the premises where they plan to mill ancient wholegrains.  The sourdough starters were hatched on the premises by harvesting wild yeast from the air and they use a special filtration system to produce water that is free of impurities whilest still containing natural trace elements and minerals.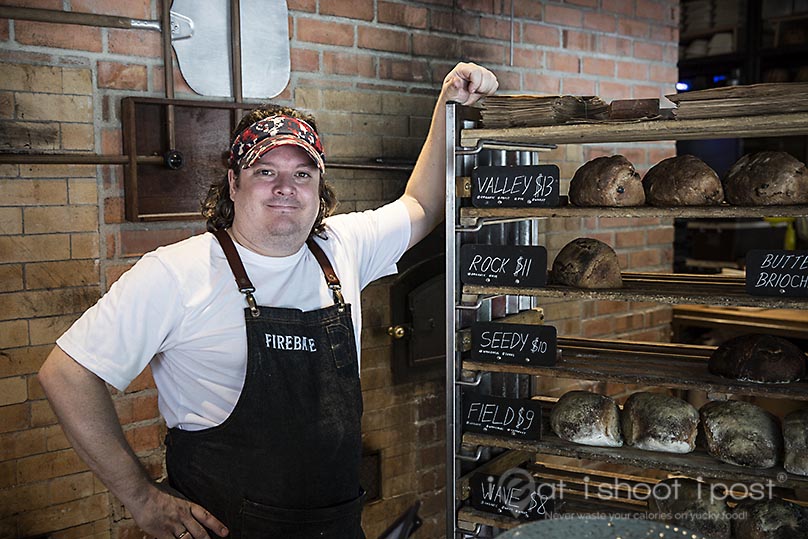 The man behind the whole concept is Konstantino Blokbergen whose maternal grandfather was an artisan baker in Greece.  His own father was a two Michelin Star Chef in Switzerland and he basically grew up surrounded by great food. It's not surprising that Tino himself was trained as a chef before spending the next two decades as an F&B director in various hotels.
The idea for Firebake was hatched in 2013 on a trip to Western Australia when he came across a German baker who was making what, at that time, he considered really "primitive" bread.  But he was sold after the first bite which led to his own bread making journey that culminated with the restaurant 4 years later.
The breads here are, as you would expect, very good.  They are perhaps a little more expensive than some other artisan bakeries, but one has does have to factor in the quality of the ingredients used as well as the cost of actually baking the bread with wood fire.    They serve the bread with an excellent Norwegian butter which alone costs more than twice that of normal butter.  If you want another serving, it's going to cost $3, so please don't waste it.  4.25/5
With good breads, their toasted sandwiches ought to be good.  However, they recommended a vegetarian sandwich the day I visited which didn't quite resonate with me, but I can imagine you can't go wrong with a simple ham and grilled cheese sandwich.
Their breakfast set comes with a soft bun, butter and two soft boiled eggs and are pretty decently priced at $4.50.  Tino tells me it's their way of making sure the place is accessible to everyone so they can preserve that kampung vibe.  They do have kaya, but it will cost another $1 for a small serving.  Yes, some people will find it ludicrous to have to pay $1 for kaya, but this is a Hainanese style kaya made by an old man who spends 6 hours stirring it over a double boiler till the sugars have caramelized. I guess, you can't argue with that.  4/5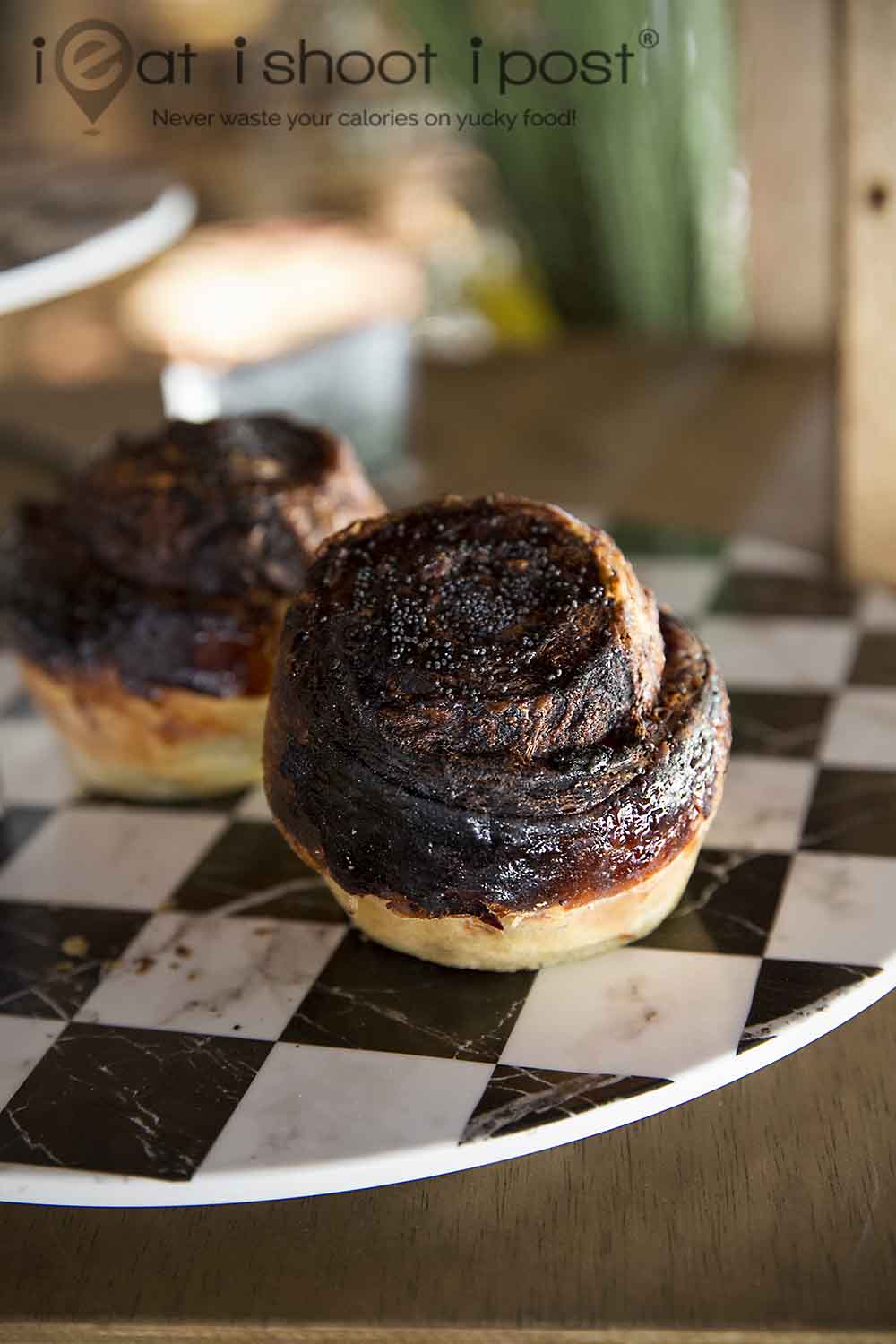 I do like their "cheesymite" which is a brioche made packed with cheese and marmite.  A umami bomb for those who like don't mind the pungent yeasty flavour of marmite. 4.25/5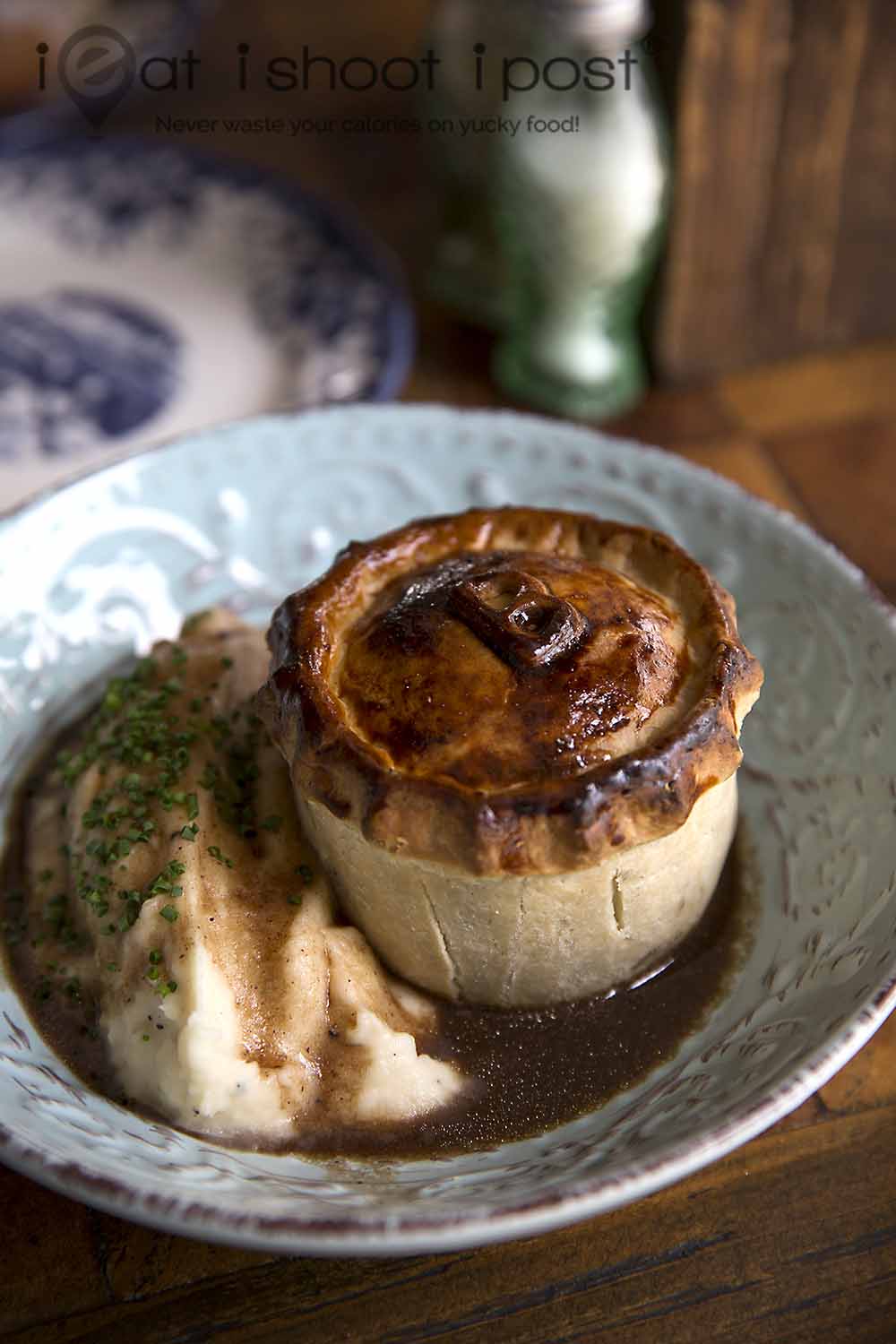 I love pies and was really looking forward to tehir beer shortcrust meat pie.  But I must say I was a little disappointed.  Th crust was very good but the beef filling just didn't have that oomph and was a tad too tangy. 4/5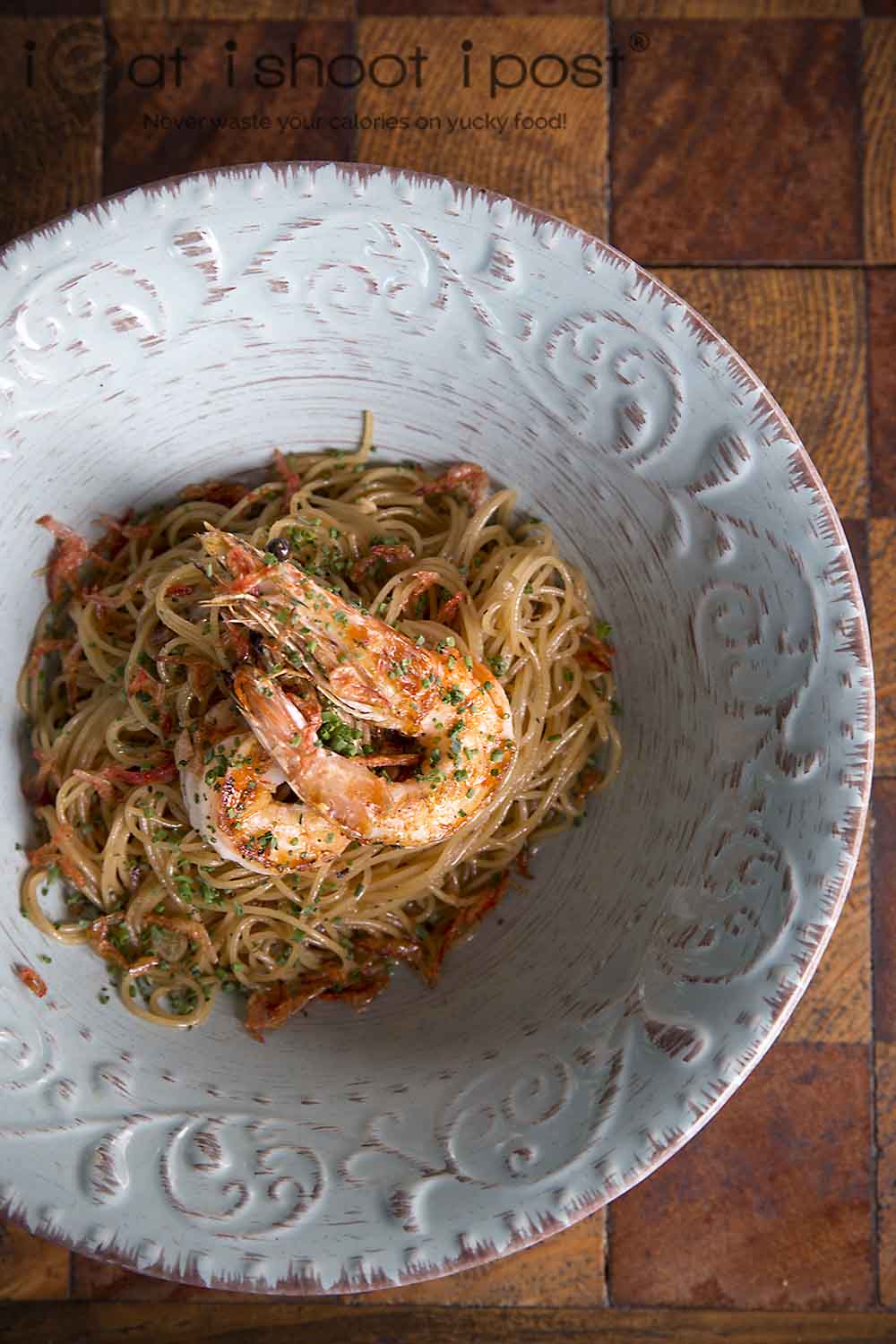 One of their most popular dishes is the prawn capelinni aglio olio with sakura ebi.  The dish was well executed but I just felt it just didn't capture the essence of the place.  I guess what I am expecting more of is the flavour of fire and smoke.  Since the food is all cooked with wood and charcoal fire, one would like to be able to experience a difference in the dishes, right? The capelinni just didn't do that for me.  It was good, but I don't think it would have tasted any different if it were cooked over an induction cooker.   4/5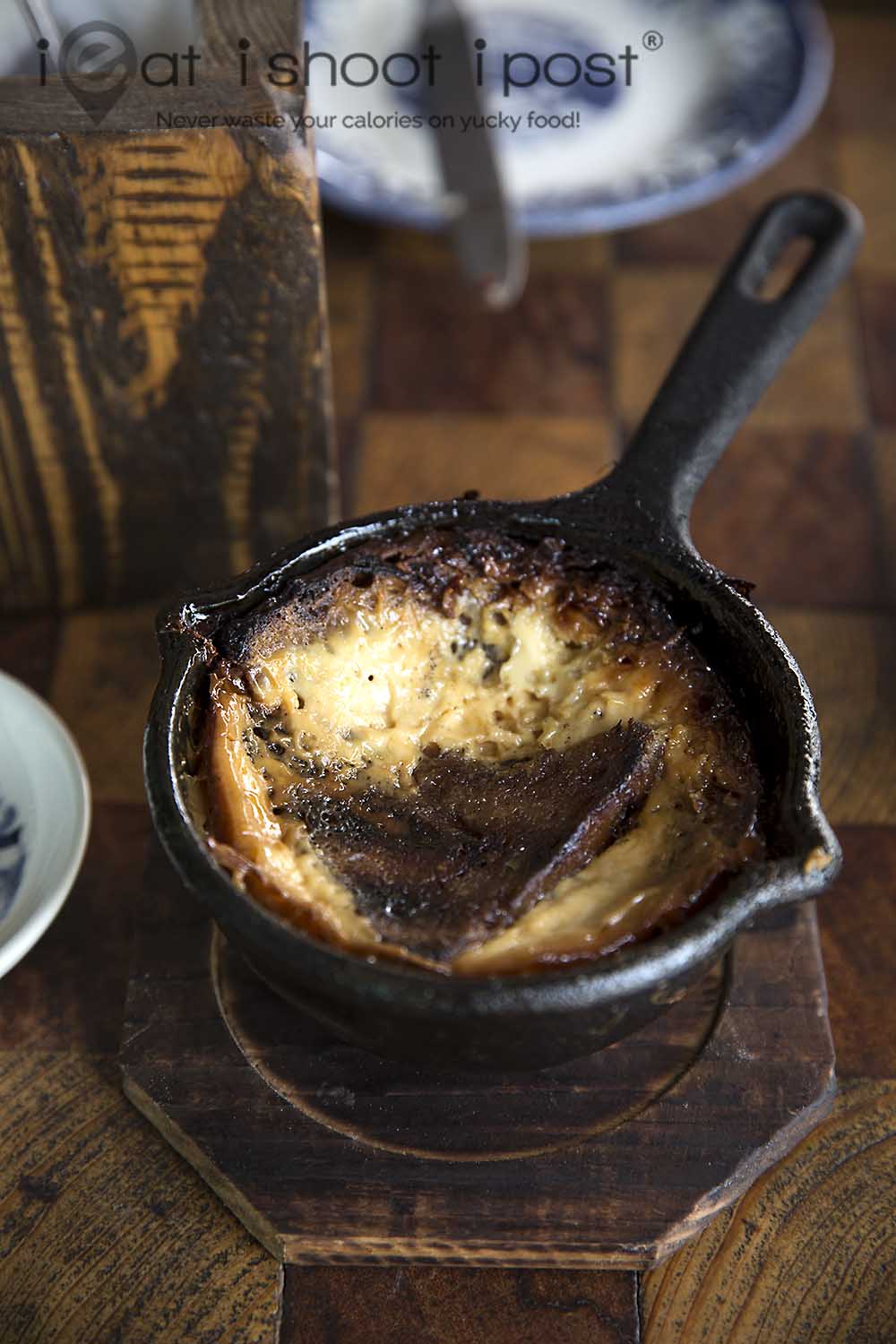 For dessert, we tried their bread and butter pudding which was very rustic.  Made with their own sourdough fruit bread and roasted in a cast iron pan in the fire, this is the kind of thing I would love to see more of as it really captures the essence of the place!  4.25/5
Conclusion
With two full sized wood fire ovens as its centrepiece, there isn't another restaurant in Singapore quite like Firebake.  They have managed to re-create that rustic, kampung feel of Katong with their open concept.  The only drawback is that it can get quite hot along the fiver foot way in the afternoons.  The rustic breads are very good but I can't help but wish I could taste more fire and smoke in the dishes.