Congrats to Putien for winning one Michelin Star 2016!
Putien Restaurant: Heng Hwa Cuisine – ieatishootipost
Among the Chinese in Singapore, the Hing Wa ethnic group is one of the smaller and lesser known ones. I must confess, prior to writing this post I had little knowledge of the Hing Wa people or their cuisine. Who are the Hing Wa? They are the people group who speak the Puxian dialect and reside in the Fujian province — mainly in and around the Putian and Xianyou. If you're like me, you've probably never been to Fujian province, but have heard the name Putian before. That's probably because of the Pu Tien chain of restaurants. As it turns out, Putian is also the name of a city in Fujian that's infamous for its high-end knockoff shoe factories. That's all well and good, but what do they eat there?
In Singapore we cannot talk about Hing Wa cuisine without mentioning Pu Tien in the same breath. Long-time readers of the blog may recall that ieat reviewed the original Pu Tien restaurant on Kitchener Road way back in 2006. Since then Pu Tien has gone up market and expanded to several successful outlets around the island. Their menu has similarly expanded since then with the addition of new items and refinement of old favorites over time. The ieatishootipost Team recently met at the original Pu Tien restaurant to sample their dishes as well as learn a little bit more about Hing Wa cuisine.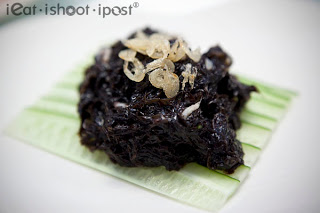 Mini Shrimp with Seaweed
We counted a few Hing Wa (Hing Wa-ese?) among our ranks, and between our party and our helpful ethnic Hing Wa host at Pu Tien we were painted a picture of Hing Wa cuisine that was originated from simple home-cooked fare from a poor agrarian region in China. The emphasis is on making do with what little is available as well as the use of fresh produce. This philosophy was a theme evident in some of the dishes we tried that evening, but not as obvious in others.The meal began with a few starter dishes. Right off the bat Pu Tien did not disappoint. Mini Shrimp with Seaweed is a bit of a misnomer considering the dish is mainly about the seaweed, with the shrimp playing no more than just an aesthetic role. Not that I have a problem with that because this dish was quite a revelation! Loose seaweed marinated in a sweet cold liquid, slightly reminiscent of inari tofu skin — a refreshing combination of mild sweetness and umami. 4.5/5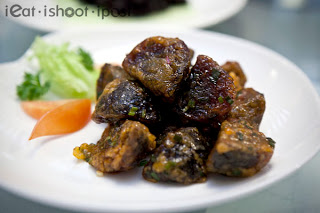 Pu Tien Style Century Egg
Pu Tien Style Century egg looks almost nothing like the regular century egg it was made with. I didn't order this dish, so I was caught unawares when I put a piece in my mouth. The thin slightly-caramelized coating melts in your mouth revealing a soft but rich morsel of century egg. It's making my mouth water as I write this, so I shall stop. 4.25/5
But arguably the most interesting new starter dish we tried that evening was their Braised Small-Intestine, a dish made by braising pieces of a sausage made of several concentric layers of pork small-intestine. According to our host, cramming a small-intestine full of more intestine requires a great deal of effort. The chef uses a chopstick and applies quite a lot of physical force to get the sausage so tightly packed. The result is a unique bouncy mouthfeel quite unlike anything I've ever eaten before. 4.25/5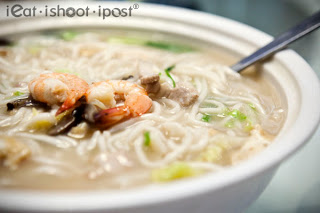 Pu Tien Lor Mee
We also ordered Pu Tien's signature white Lor Mee and Fried Hing Wa Beehoon, obligatory cameos in this dinner. This was my first time trying Pu Tien's famous Lor Mee, and I have to say I quite like it. This dish bears absolutely no similarity to the black lor mee that most of us would be familiar with — instead there's a viscous white seafood gravy and a pale chewy handmade noodle, the combination of which just works. A great one dish meal, and I would gladly order it on its own. 4.25/5
The beehoon was similarly excellent. The emphasis here is on the unique melt-in-your-mouth texture of the super fine strands of rice noodle that are native to the Puxian region. Pu Tien gets their beehoon from artisanal noodle makers in Putian not just for authenticity's sake, but also to keep the craft alive. I must say, I'm quite impressed with the social consciousness aspect of this dish. Of course it also helps that this beehoon is delicious. 4.25/5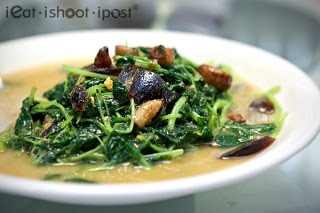 Spinach with Salted Egg and Century Egg in Supreme Stock
A surprise stand-out dish was the Spinach with Salted Egg and Century Egg in Supreme Stock. This dish is by no means exclusively Hing Wa, and can be found in many a cze char establishment, but its common appearance belies something quite special. The rich gravy balances the unique flavor of the salted egg yolk with the heady complexity of century egg, and everything is held together with the smoky aroma of fried whole garlic cloves. It's not a new flavor combination to my palate, but believe me when I say emphatically it is excellently executed. This is quite simply the best spinach with salted egg and century egg that I have eaten to date. 4.5/5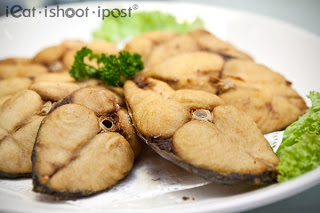 Deep Fried Tenggiri Fish
The meal wasn't all hits and no misses however; some of the dishes on the menu are apparently mainstays of traditional home-cooked Hing Wa cuisine and are probably delicious in their own right, but juxtaposed with some of the other Hing Wa dishes that have been given the restaurant treatment by Pu Tien's talented chefs, these seem a bit ordinary in comparison and slightly out of place in a restaurant setting. Take for example the Deep Fried Tenggiri Fish — cross sections of mackerel simply seasoned with salt and expertly deep fried until golden brown — it tasted exactly like… home-cooked fried mackerel. Granted, it was tasty, but it wasn't memorable. 3.75/5
Another dish that fell afoul of this characterization was the unimaginatively monikered Shredded Meat with Bun — a DIY starter where you fill a crispy fried sesame mantou with a tasty filling of stir-fried shredded pork and thinly sliced onion — it tasted exactly the way you'd expect it to taste. Good, but by no means special, especially not when compared with other more interesting starter dishes. 4/5
Conclusion
While Pu Tien's food may have its roots in humble traditional Hing Wa cuisine, the restaurant chain in its current iteration is a far cry from being simple fare, not that that's necessarily a bad thing. Although it must be said that despite moving with the times they have stayed true to the fresh clean flavors that Hing Wa cuisine is famous for. I can't claim to have become an expert in Hing Wa food after this one outing to Pu Tien, but I would definitely like to learn (and eat) more of it.
Afterword by ieat
When I first reviewed Putien restaurant in 2006, it was an exciting new restaurant offering a cuisine which is novel to many Singaporeans. Four years later, I think most of us have heard of Putien cuisine. Although you can find Putien restaurants at several locations nowadays, nothing is quite like eating at the original restaurant. In terms of authenticity of Heng Hwa cuisine, I would say that they have adapted the food to the taste of the locals. But that is not necessarily bad for us locals as we might not find pure Putien food to be as palatable. Overall, the restaurant chain is providing good food at reasonable prices and I think they are a welcome inclusion to our shopping centre restaurant scene.
Click here to read the previous post on Putien