This stall is closed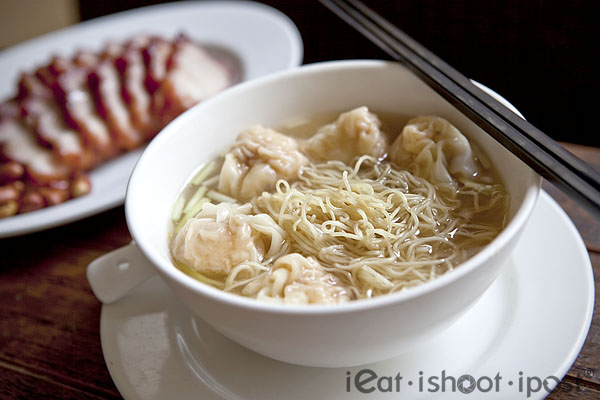 Wanton Mee $7.50++
People rave about the Wanton Mee in Hong Kong. So when I visited Hong Kong the last time, I made sure I had a bowl there. I came back wondering what the fuss was all about? I felt that our version was still better. But the problem was that I did not eat at one of the more famous Wanton Mee place, so perhaps I was still missing something.
So when Damien told me that the executive Chef at Mak's Wanton Mee is now cooking up the Wanton Mee at Noodle Place, I felt the need to see if the Wanton Mee there would change my mind about Hong Kong style Wanton Mee. According to our makan kaki, PChong, Mak's Wanton Mee is about as good as it gets in Hong Kong, so perhaps I would gain Wanton Mee enlightenment here.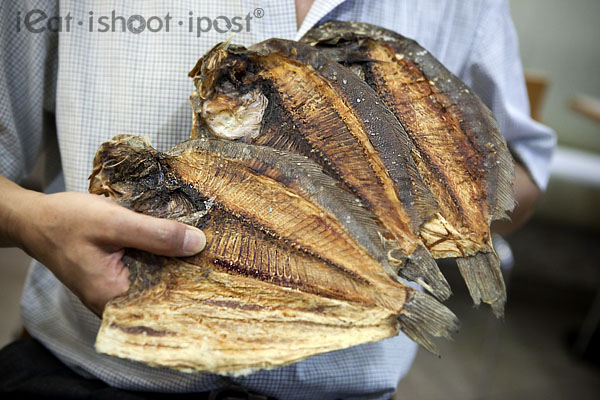 Dried Sole Fish used for Soup Stock</i>
Actually, Hong Kong Wanton Mee should be considered the "Real" Wanton Mee since the Wantons and the noodles take centre stage, unlike the Singapore version where they have to share the limelight with charsiew. The typical bowl of HK Wanton Mee is characterized by a wiry thin noodle in a seafood consomme with large wantons that contain only prawns. The clear soup might not look like much but I was told that it had to be boiled for at least 10 hours and contains pork bones, dried prawn roe and dried sole fish.
The noodles here are specially made for the restaurant using a special blend of flour that is not available anywhere else. The secret is that Noodle House is actually owned by Prima who operates Prima Flour Mills. So they have specially come up with a blend of flour to make the noodles here. As a result, Chef Chui tells me that their noodles are actually better than what they were serving up at Mak's. Indeed, the texture of the noodles are excellent, but what is more surprising is that the noodles can actually soak in the hot soup for half an hour and is still Al Dente. The Wantons are very good, the fillings are generous and they use only fresh sea prawns, so the crunchiness doesn't need to come from the use of bicarbonate. Were the Wantons good? Yes. Was it something I must eat again next week? Not quite. Overall, I thought the bowl of Wanton Noodles was very good but it still did not have the "Pow" factor. I am still left wondering how much better it can get if I actually ate at Mak's in Hong Kong. 4./5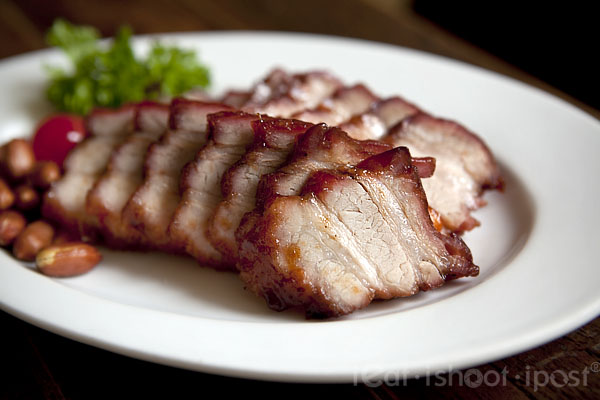 Nicely caramalised Char Siew $12++
If like me, you like to eat your Wanton Mee with Char Siew, then you will need to order some of their charsiew. As you can see from the photo, the Char Siew here is excellent. The marinade is thick, sticky and sweet. You should ask them for the thinner pieces which are slightly charred and coated with treacle like marinade. 4.25/5


Conclusion
So, are you a big fan of Hong Kong Wanton Mee? Then perhaps you can share with us what you think of this particular bowl at Noodle Place. I personally would still go for my Singapore style dry Wanton Mee with Charsiew. But is it just because I haven't tried the best ones in Hong Kong?