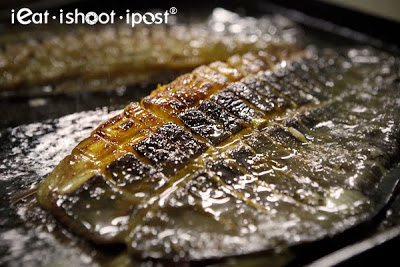 Sapporo Snacks House does not serve Japanese food, it does not even serve snacks, but boy is their seafood good! The reason it is called Sapporo Snacks House is because the current owners bought over this shop from the previous owner who was selling Japanese Ice Cream and never bothered to change it. But heck, that doesn't stop the queues of people from lining up outside the shop for a meal there.
The sight which would immediately catch your attention is the BBQ hotplate that is on the pavement outside the shop. Here you find the Seafood BBQ man BBQing all manner of Seafood without realising that we are facing an oil crisis. I guess news about Trans fat has not yet trickled down to this part of the world. Then again, they are really supporting the local industry since one of the main exports of Sandakan, apart from Seafood, is palm oil.

I don't think I have to tell you that the stingray was really very tasty and best of all, for the $10 dollars you spend on a one person portion here, you get a stingray the size of a steering wheel. 4.25/5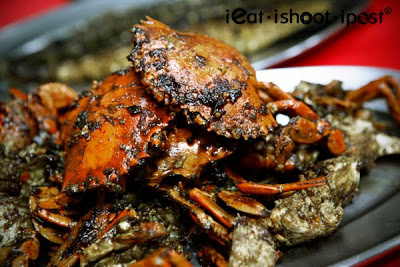 The Kum Hiong Crabs here were excellent. This particular style of cooking is popular in Malaysia but hasn't really made its appearance in Singapore yet. The crabs are huge but they were very very tasty. The sauce is slightly spicy and has the taste of curry powder. I can't help but wish someone in Singapore can start selling a similar dish. 4.5/5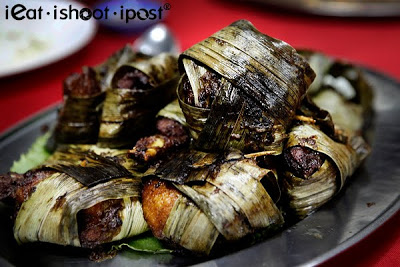 Pandan leaf chicken is another of their specialties. This is not an uncommon dish, but again it is the quality and quantity you get for the price you pay that really makes you very happy. The taste is as good as any I have tried and the pieces of ?kampung chicken were generous! 4/5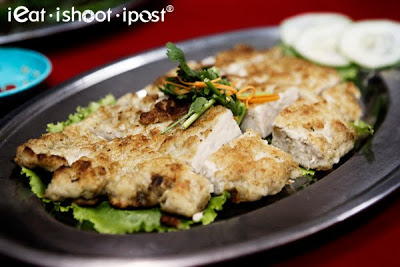 We again ordered the Salted Fish and Pork Pancake and though it was good here, it was not as great as the one we had at Restoran 2020. Still, we ended up ordering a 2nd helping of it because it was still one of the tastiest things we ate in Sandakan. 4.25/5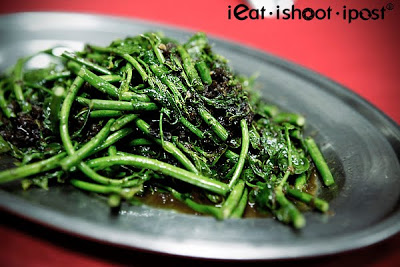 Again, we had this dish of "Young Tree Shoots" which has become my favourite vegetable in Sandakan. This version is simply stir fried in soy sauce but it was amazingly good. 4.5/5
Conclusion
We had so much good food and ended up paying really full and paying something like $6 per head! Sandakan is really a seafood lover's paradise! We'll be making more Makan Mission trips in 2011 for sure!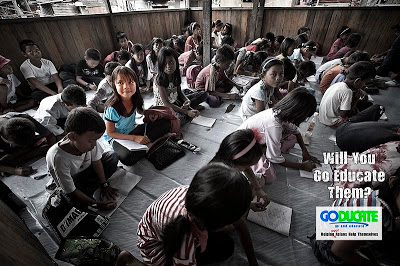 You can read of our 2010 ieat Makan Mission Here