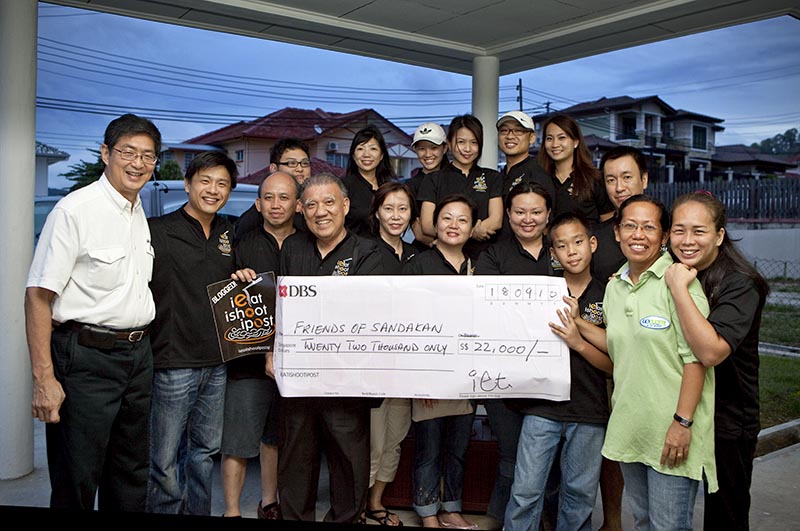 T

rip Report by Holydrummer
Dedicated to the brave volunteers, teachers & children in Sandakan.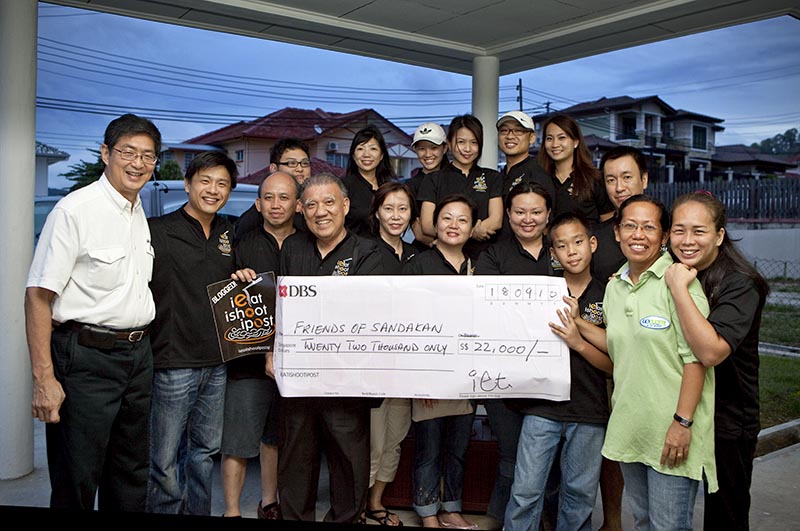 Our team presenting our cheque to Goducate
To my wonderful companions on the journey
Leslie, Lisa, Wee Kiat, Shirley, Ryan, Jimmy, Irene, Nicholas, Huiwen, Estee, Sheylara, Kay, Amylia, Veronica, Pastor Victor & Dr. Paul Choo.
The greater community of ieatishootipost had toiled tirelessly over the past year to raise funds through the charity makan sessions and donations from our readers. So first we want to say a big THANK YOU to everyone who have who contributed to aid the cause of Goducate. We also want to acknowledge MCHAsia for matching our contribution dollar for dollar.
As we have managed to hit our target of $22K for the van, the ieat Sandakan Makan Mission was a natural progression; a culmination of our combined efforts which was finally bearing fruit. After seeing how I have been acquainted only on the peripheral sidelines of the campaign – wondering why we did what we did & who we did it for – I definitely developed an interest & inclination to learn more about the work of Goducate.
Hence, the decision to make the trip was a no-brainer, really. Besides, I could certainly use a weekend trip to break away from the routine of the daily grind…
Together, we embarked on our first leg of the mission.
Our convoy had to discreetly manoeuvre past a sentry post to 'by-trespass' and drive through an empty gulf of privately owned land (hence, the security guards) before arriving at what seemed to resemble a 'safe house' – in the middle of nowhere – a solitary wooden shack with a zinc rooftop. It provided brief respite & shelter under the scorching sun.
The first encounter was a class of young-lings learning the English Alphabet, who enthusiastically greeted us in unison. They also gamely posed for the cameras, though some were understandably shy. The inhabitants here squeeze shoulder to shoulder with merely a partition defining their living quarters.
But, we were barely there yet!
In order to access the "Boat Village", we had to cross a small river via a novel one-minute boat ride which serves as one of the few trickling streams of revenue for its residents. The others being, fishermen proudly parading & peddling their catch and a 'mini mart' which takes pride of place at the village entrance.
And boy, did we cross over to the other side!
We trod on cautiously over the precarious wooden planks, as we made our way through the village, entirely built on stilts and suspended above the water, to the main classroom where the children sang a simple sweet song. Thrice, with added gusto!
I will adjourn the sharing here for the video as it reveals the deceptively subtle, layered & meaningful lyrics adapted to fit the familiar tune & melody of Auld Lang Syne.
"I'm here because you're here.
Because I'm here, because you're here."
The boat ride was a short but significant journey, during which I couldn't help but brood over a glaring juxtaposition that stuck out like a sore thumb. That is, the sheer proximity of this village (and all the subsequent ones) to normal civilization. Just a few miles away lies the apparent widespread availability of basic forms of accommodation and here they are in the slums subject to insanitary living conditions? Most befuddling & extremely perplexing.
How ironic is it that the river which is their supposed source of life, also cuts through and separates the two polarizing worlds, symbolizing the deep proverbial divide?
That summed up my very first impression of our first stop and I soon realized it would be a recurring observation throughout all the subsequent villages we visited. But,
"There is a glimmer of hope yet…The smile on her face & the hope in her eyes tells me so.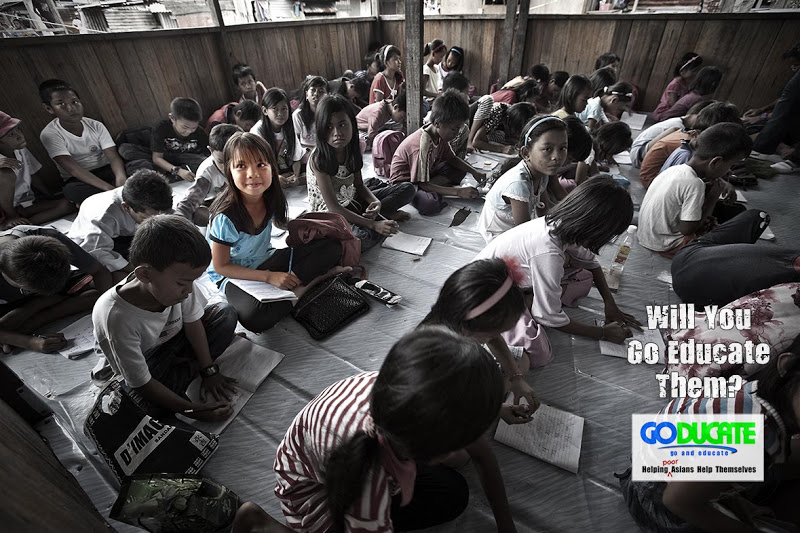 After the boat village, we proceeded to the "Hajjah Village" to meet some old friends.
It has been three years since the centre was set up here & it has definitely come a long way as Goducate's first foray into Sandakan. In its infant stages, Dr. Paul Choo recounted the story of a seventeen year old who was so timid and shy at first, but within a year or two, she eventually became confident enough to be standing in front of complete strangers as an emcee speaking fluent English – as was the case that morning – in such a short span of time. And now she has even become a teacher here and one of the students was even designated as our "tour guide"!
The Hajjah, considered the matron of the village, graciously hosted us with a homely feast cooked with much love.
The 3rd village was a huge challenge. It was raining cats and dogs. The inclement weather threatened to thwart our treacherous half hour trek into the jungle. For a moment, I seriously thought it was going to be called off. But in retrospect, I'd have regretted it if it were.
Unfortunately, we did not prepare a wet weather contingency plan nor form an "umbrella party" because there were insufficient umbrellas to go around.
But, we pressed on despite the odds. We improvised……. with banana leaves.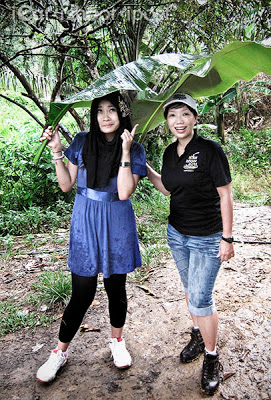 Whoever said women can't go through Jungle Confidence Course, go take a hike!
It was simply hilarious to see some of us tumbling in the wet, slippery terrain (I won't mention who fell on his butt like a hapless kid =p Nor will I mention she who fell twice, or was it thrice? You know who you are!) , but it was truly heartwarming to witness the spirit of our group strongly manifested in the extended helping hands, ready to always pick each other up along the way.
We briefly took shelter in a hut where the children are cramped into three classrooms. I would have been turned off! But here they are, in the open, subject to the storms of life, acquiring basic education in their quest to attain knowledge and gain wisdom. They would probably risk a landslide to continue studying.
Guilt filled me at that instant & I have to admit that I have taken my education for granted. At that moment in time, I wished our students in Singapore were here to see this for themselves to truly understand. It must have been an eye opener for Ryan from our group, who is the son of our team member, Cactuskit. Ryan is in primary four.
Final stop, "Water World".
Out of the four we visited, this village left the deepest and most indelible impression. It would be an understatement to say that the living conditions are absolutely not fit for human beings at all.
As we were about to leave, all the kids rushed to us to sincerely seek our blessings with their customary hand-to-forehead greetings, some repeatedly. It was like a mob.
It was then that their simplicity shone through, struck & stunned me senseless, as with their incredible innocence.
The longest farewell I've ever bade. So hard, so hard…
The gravity of their situation had me questioning repeatedly the logic of it all. In my mind, I battled continuously with the obvious injustice, only to unveil a vast shade of grey with certain issues churning out & revealing multiple sensitivities and boundless complexities way beyond our control. At the end point, I realized we can only take it one step at a time. We chose to focus on fostering education through the auspices of Goducate.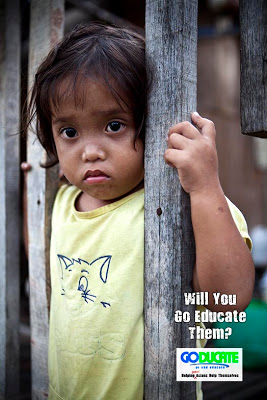 It does not end here. Personally, I returned with a renewed & changed heart. Ultimately, I received much more in return than what I gave & I believe all of us returned from Sandakan feeling the same way too. I daresay I speak for the entire team on this, right fellas?
So it is only right that we pay it forward now.
I was determined to ensure that their voices are being heard and their plight is known. I am so glad that I was presented the opportunity to do so with this report and even more heartened that our community is still strongly rallying together to support such a wonderful cause. I certainly hope this good work will continue to reach out further for the kids' benefit.
Please spread the word around, I humbly implore you. Give them a chance. Let them have a shot at life.
I conclude with a quote from Goducate's visionary founder, Dr. Paul Choo:
"We are the voice of the poor"
Their voices need to be heard. Go and tell the world.
Check out our other blogger, Sheylara's report here
Acknowledgments
Many thanks to MHC Asia Pte Ltd for their generous donation to our van! You can visit their website here: www.mhcasia.com
Special thanks to our gracious hosts – Johnny & family (Sandakan)
Monica, Angeline & Saracen Reef World (Kota Kinabalu)
More information on Goducate can be found at www.goducate.org