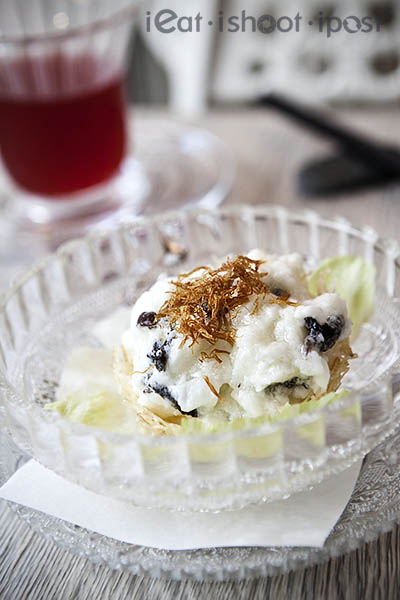 Egg white with dried scallops and morel mushrooms in Potato baskets
As Chinese, we have been brought up to be aware of the medicinal values of the food we eat. Whether some foods are "Warm" or "Cold" and that chicken should be avoided when one is having a cough and soy sauce is a no-no when one is suffering from chicken pox. Although there are some things that most of us do attest to, like getting a sore throat if one eats too much durians, I feel, like most people, that these are stuff of hearsay, which are difficult to substantiate most of the time, but unwise to ignore completely.
For a Western trained doctor, I certainly did not learn about the medicinal value of foods at Uni. The way we were taught to think about food is in relation to its nutritional value in terms of carbohydrates, proteins, fats, vitamins and minerals. This is so different to the way the Chinese think about food and how different foods affect different organs of the body or whether it is "heaty" or "cooling". For example, Western doctors think of beef as a good source of protein, iron and Vit B complex. The Chinese on the other hand, consider beef to be good for diabetes and edema and affects the spleen and stomach. Whereas in western medicine, we would advise patients with anemia to eat more iron rich foods like beef, the Chinese physician would actually prescribe beef to patients suffering from weakness of the spleen.
The West is beginning catch up on the thousands of years of Chinese thinking about the food we consume. To be honest, there are many things in Chinese medicine I do not understand. But when I consider what I learnt in Med School 16 years ago and how medicinal value of foods are being discussed today, I can't help but start thinking a little more about how we can try to conciliate both viewpoints. But there is still a long way to go. Take for instance the Wolfberry (Gojiberri). The West has only recently discovered the high anti-oxidant levels of the fruit and its subsequent anti-cancer and cardioprotective benefits. The Chinese on the other hand use the herb for lumbago, weak legs, frequent urination, whitish vaginal discharge and chronic ulcers. I own books on both herbal remedies of the West as well as the East and it is amazing that I find very little overlap.
However, I am opened to hearing what the Chinese physicians have to say about how foods affect the body and certainly I am opened to trying some of these dishes that have been inspired by this wealth of knowledge. At the end of the day, even if it does not do what is purports to, the whole process can still be quite a novel and interesting taste experience. So when I was invited by Restaurant Ten over for a media tasting session, I took the opportunity to see what deer penis wine tasted like.
Restaurant Ten is opened by the same people responsible for the now defunct Metropole Herbal restaurant. Although the menu is still well thought out and targeted at healthy eating, they have steered away from the heavy emphasis on designing dishes specific to your state of health as prescribed by a Chinese physician and instead have focused on good tasting food which is healthy at the same time.
Those who missed the food at the Metropole would be happy to know that the Egg White in Potato Basket is still on the menu. This signature dish is made of a light and fluffy egg white, a bit like the inside of a souffle, which is placed in a crunchy potato basket and eaten with a dash of vinegar. For our special menu they even added some morel mushrooms. The dish was a nice and light starter. For me, the egg white and vinegar tasted a lot like shark's fin soup. The contrast between the fluffy egg white and the crunchy potato basket was excellent, but I could only see but not appreciate the taste of the morel mushrooms. 4/5
They served a variety of soups here which would please many a Cantonese soup fan. BUT, if you want to impress a potential Cantonese (actually any dialect) mother-in-law, your best bet would be to go straight to the most famous of extravagant soups, viz Buddha-jumps-over-the-wall (BJOW). Yes, deer tail with Fu Ling soup or the abalone with ginseng soup might well be very nutritious and delectable, but the very mention of BJOW will surely score you high marks and put you ahead of the other less sagacious suitors.
For those who haven't come across the BJOW, this is basically the best and most expensive of Chinese ingredients all distilled into one bowl of soup. Legend has it that there was this scholar who was traveling to the capital to sit for the imperial exams. His wife had packed for him all the precious dried ingredients to bring along for the journey. One day, he happened to be boiling his soup just outside a monastery. The aroma of the brew was so fantastic that the monks (who are vegetarians) jumped over the wall in order to taste the soup.
As you would expect of an extravagant soup, not only must the ingredients be expensive, it must be labour and time intensive as well. The preparation of the dish itself takes at least two days. One the first day, the dried ingredients like sea cucumbers and dried scallops have to be soaked and steamed and left over night. Since there are around 30 ingredients, you can imagine how much work that is. On the second day, the ingredients are then cooked together for a long time to maximize the flavour and nutritional value of the soup.
The BJOW here is excellent, but I would be lying if I said that it was better than any other BJOW I have tried. The fact is that for us middle class laypeople, the real value of BJOW lies in the fact that you are actually eating BJOW. In order to really be able to differentiate one BJOW from another one has to be drinking BJOW quite often. So, simply from the tastiness of the soup, I would give it 4.25/5. In order to be truly objective, I would have to set up a few bowls of BJOW from different restaurants outside a monastery and count how many monks actually jumped over the wall the eat it!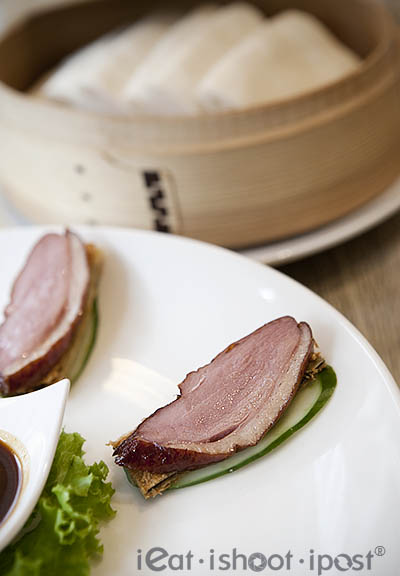 Smoked Duck with homemade Steamed bread
I think what I appreciate about Restaurant Ten is the fact that the owners here do really put a lot of thought into their food. Not just in terms of health, but also in terms of taste and novelty. Take the smoked duck for example. This is a dish that is served with steamed bread which they bother to make themselves. To add textural contrast, they serve it with a thin wafer of seaweed sandwiched between crisp Tau Kee (bean curd skin). The dish is reminiscent of Peking duck, but is healthier as there is less skin, but no less tasty, and I loved the crunch of the Tau Kee Seaweed sandwich. 4.5/5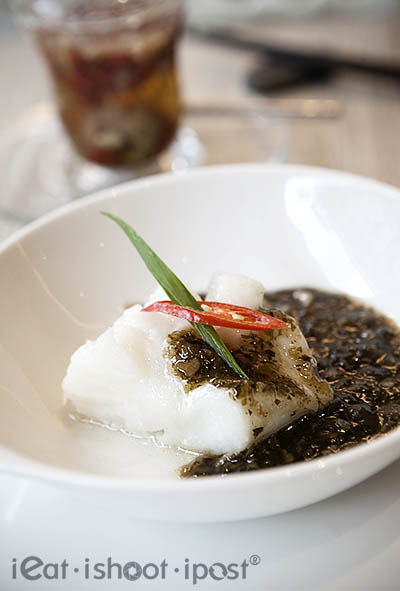 Cod Fish with Celery and Parsley
The Celery and Parsley sauce that was used to accompany the cod fish was also another one of those items which was very different from the same-o, same-o that you are going to eat at a typical chinese restaurant. The sauce is reminicent of the chye buay that you get at your Teochew Porridge stall and it had some preserved radishes in it. The sauce was very interesting and but I would have liked the fish to been fried to give it a nice crust. However, I can understand that in terms of healthy eating, it is better this way as reduces the amount of oil in the dish. 4/5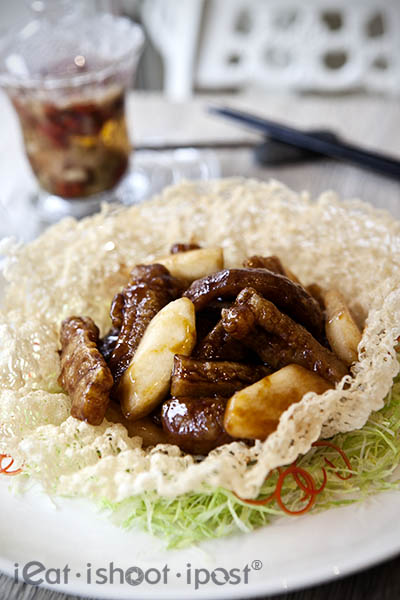 Sauteed Sea Cucumber with Korean Pears with Szechuan Pepper sauce
The Deep fried sea cucumber is a new dish that they are planning to add to the menu soon. Sea Cucumbers are more commonly used for braising, but we found that sauteed sea cucumbers were actually very nice texture wise. I felt the pepper sauce could be toned down so that it does not dominate the dish. The use of Korean pears added some natural sweetness and crunch to the dish. 4/5
According to my book on Chinese Natural Cures, the Sea cucumber is good for the kidney and increases sexual potency in men and is commonly prescribed for impotence. It is also recommended for pregnant women as it nourishes fetus and facilitates labour. Given, our national drive for more babies, it looks like the government should start a campaign to get more people to eat sea cucumbers!
From a Western Medicine viewpoint, sea cucumbers are an excellent source of protein with very little fat. It contains high levels of chondroitin which is good for treatment of arthritis. They have yet to find the compound responsible for the Tongkat Ali (sexual potency) effect. My point of view? Well, I find it a great substitute for fat. Braised sea cucumber has a texture like well cooked pork fat and if you add it into, say, a Rice Dumpling, you could easily re-create that melt in your mouth and coat your whole palate feeling that you get when you bite into braised pork fat! Hey, and if it also reduces your need for Viagra, why not?
Conclusion
If you are looking for something tasty and not go away feeling that you have to do an extra session at the gym, then Restaurant Ten somewhere you might want to consider. The food is refreshingly different from your usual Chinese restaurant and even though you will not cure your insomnia or depression eating here, it can certainly be an uplifting experience, especially for the men who order the sea cucumber.
This review was done as part of a media tasting event
Special for ieatishootipost readers. Just make your reservations and mention ieatishootipost!
1 dine free with 3 paying adults for the set lunch and dinner menus from $38++ per pax*
Conditions:
* excludes Express Set Lunch
* valid on weekdays from Mondays to Fridays (except eve of and Public Holidays, lunch and dinner)
* free Set Lunch/Dinner applies to the lowest value Set
* valid from now till 30 Nov 2010