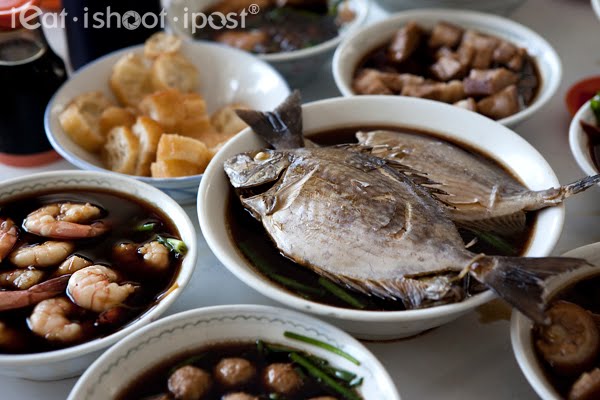 Seafood Bak Kut Teh (Rabbit Fish featured)
How can you call a Bak Kut Teh (Pork Bone Tea) a Bak Kut Teh if there is no Bak Kut(Pork Bone)? At least, if there is no Teh, it is still quite acceptable, but no Bak Kut? Might as well order your Ice Kachang Mai Pang Sng (Ice Kachang, no Ice).
I guess when you are in a seafood paradise like Sandakan, it does make sense to use the most available form of meat and cook it in the familiar soy and herb based broth. So Seafood Bak Kut Teh, it might sound like an oxymoron, but hey, when I heard about it, I just gotta try it.
Bak Kut Teh only made its appearance in Sandakan around 30 years ago and apparently, this is the shop that started it all. According to Mr Chan, the restaurant owner, he idea of Bak Kut Teh came from Klang, but the soup base was something he came up with all by himself. He said that unlike the Klang style Bak Kut Teh, his soup base does not contain any Tang Gui, which is a herb that is usually considered a "ladies" herb. So he set out to create a "Real Man's" Bak Kut Teh and with real macho spices like Sarawak black peppers.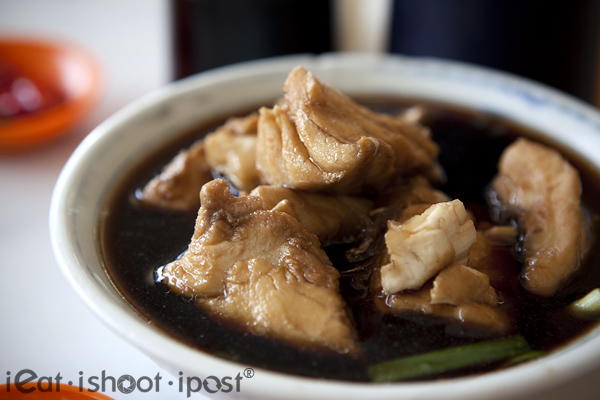 Our Mission Team was at first unaware that the spicy version contains Sarawak peppers so we opted for the non-spicy version since it was a hot day and we were running around visiting the villages. As a result we were left wondering what the fuss was all about. It is only after the meal when I got to try the real man's version that I realized that we ordered the wrong thing. The pepper version is not unlike our own Singapore version, but our own version would seem like Luke Skywalker when compared to the Sandakan version. It's time to turn to the dark side of the soup, Skywalker!
The seafood was of course, very fresh and the flesh of the Pei Dou Her was smooth and delicate. However, I still miss my Bak Kut. They do have it, we just didn't order since we were here to eat Seafood Bak Kut Teh. The next Mission Trip, I am just going straight for some hot peppery prime rib soup! 4.25/5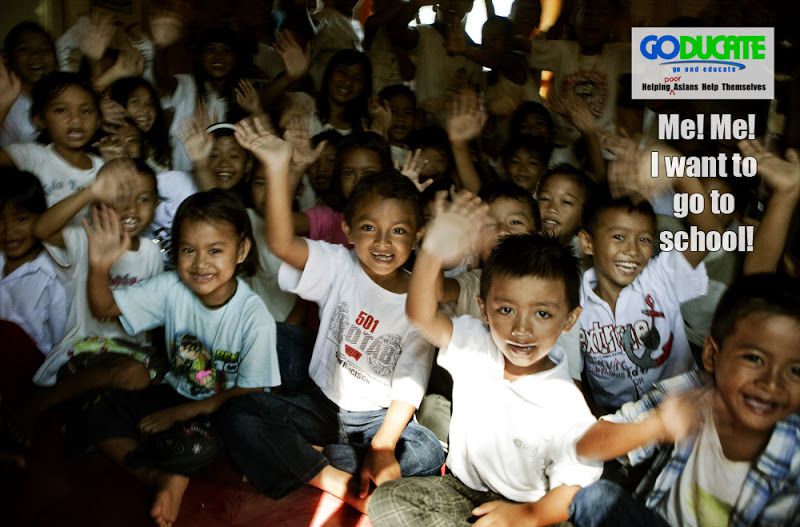 Kids at one of our sponsored schools
We had this interesting meal in between visiting the schools that we have been supporting. Although the school houses are located in the forested areas, they are within an half hour drive from civilization. The kids do have enough to eat, so they are generally in good health. But without some basic education, they will have problems breaking out of the poverty cycle. Some of the boys may end up trafficking drugs whilest the girls may be lured into prostitution. The funds that we raise during our makan sessions and other fund raising activities go into providing school houses, teachers and books for the kids. Thank you for your continued support!
To read more about our recent trip, please click here.