This stall is closed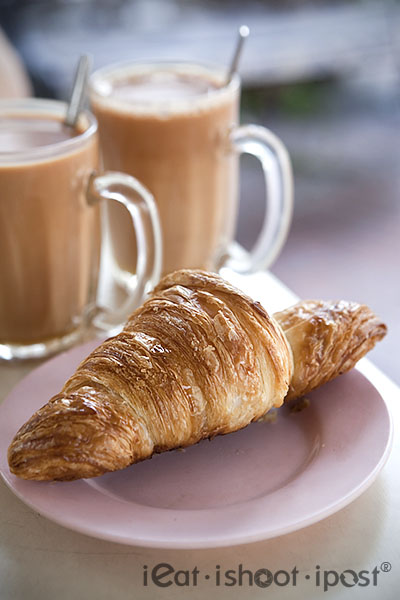 Croissant $1.50
Where in the world can you eat an authentic French croissant with a cup of Kopi for less than $3?
Mackenzie Road, that's where.
Located just diagonally across from the former Rex Cinema is this tiny little French Patisserie which serves one of the best Croissants in Singapore and some might say, JB and Batam.
They don't have space for you to sit down to have a cup of coffee with the croissants. So if you get there just when the croissants come out of the oven, what you need to do is to quickly buy one and plonk yourself down in the kopitiam just opposite Rex Cinema, order a cup of Kopi and try to imagine that you are sitting in a French Cafe somewhere in Paris.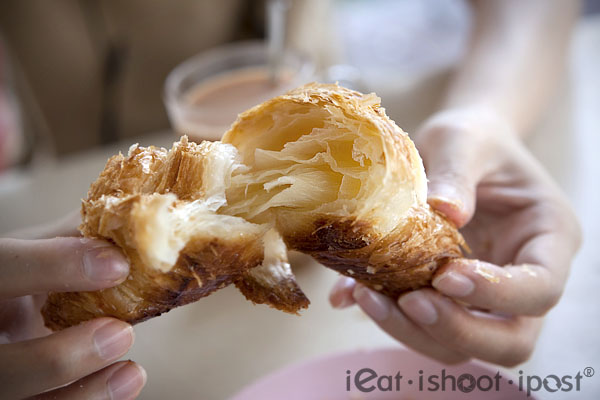 Since I have never been to France, I can't really say if these croissants are as good as the ones you can get in a Parisian cafe. What I can say is that the inside is elastic, yet tender, the crust outside shatters into a million pieces when you break it apart and the whole thing tastes really buttery. Not just ordinary buttery, good butter, buttery. Not the cheap margariney, French butter wannabe, kind of buttery. At $1.50 each, this is probably one of the best places to buy your Croissants in Singapore. The only flaw is that the bottom can be a little oil soaked. But hey, croissants are not supposed to be health food! 4.5/5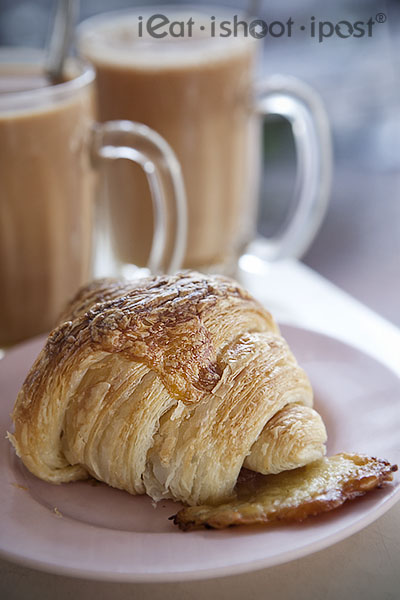 Ham and Cheese Croissant $2.20
One of my favourite breakfasts when I was living in Sydney was a freshly toasted ham and cheese croissant. As if there wasn't enough calories in a normal croissant already, the addition of extra sharp cheddar and a slice of smoked ham is one of those things that is so tasty that I would eat it everyday if not for the fact that it was a cholesterol bomb. Actually, whenever I go on holidays, one of my favourite concoctions at the breakfast buffet is to order a ham and cheese omelette and stuff that into a butter croissant. Can you feel your coronaries choking up already? Sigh, why does something that feels so good have to be sooooo bad?
But, for that "Gu Gu Jip Bai" (occasional) breakfast treat, the Ham and Cheese Croissant at Mirabelle is something worth saving up your calories for. I like the fact that they don't use the usual processed cheddar that a lot of shops use. You get a nice sharp cheese here that melts and flows out of the croissant and sets as tasty chewy crust. Oh yeah! 4.5/5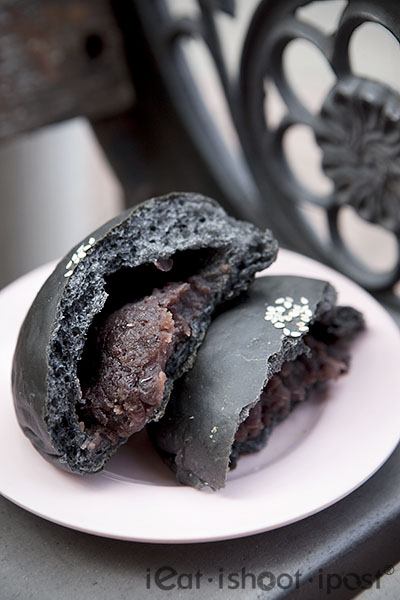 Charcoal An Pan
Aside from the croissants, Mirabelle also has a whole range of other cakes and pastries. One of the iconic ones is the Charcoal An Pan. Apparently the black colour is made from charcoal powder. The owners were very media shy, so I could not get any info out of them. If they really used charcoal, then I would say these buns would be great if you were having diarrhoea. Even if you don't, the charcoal is excellent as a detoxifying agent for your gastrointestinal system. Tastewise, I thought it tastes like any other An Pan except that it was a tad dryer. 4/5
Conclusion
According to Damien, the Croissants here are as good as the ones in Paris. Would the French pastry enthusiasts care to comment?