With iwatch_ueat, smart, damien and liverpool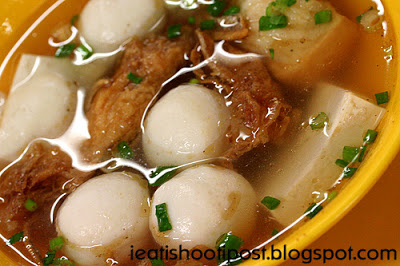 People's Park Food Centre was really a bit of an anticlimax. The place has so many stalls and is such a bustling hive of activity, but there are so few really die die must try stalls to eat at. Am I missing something? This is right at the heart of Chinatown! Surely there should be more great stalls around!
Anyway, those who like Yong Tau Foo, but are unwilling to stand behind a queue of 30 people, can make their way over to the other side of the Food Centre to try this Yong Tau Foo. The soup is very different from the other stall (I think it is because the other stall makes their own fishballs and so the soup is from fishball stock) but otherwise the Ngor Hiang and tofu is all pretty good. At least over here you get to choose what you want to include in your bowl of Yong Tau Foo. 4/5
Conclusion
Die hard YTF lovers would go line up the other side. Die soft YTF lovers can come over this side.