With smart, damien, liverpool and iwatch_ueat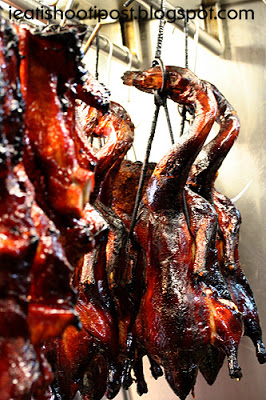 This is another of Singapore's Zhao Pai (Famous) Roast Ducks and the name is almost synoymous with People's Park Centre. With a roast duck so yummy, I wonder why there aren't more people trying to copy their style. Well, maybe the difference is not huge, but the first thing that strikes me is how much darker their Roast Duck is. Yes, it is the Dark Lord of the Roast Ducks. It is almost half black rather then the usual burnt sienna colour.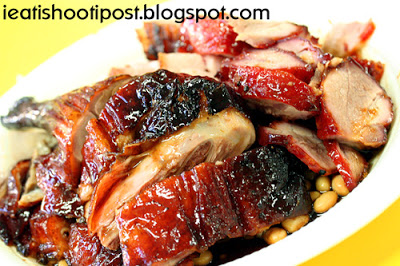 Underneath that crispy Dark Skin is a very tender and highly agreeable duck meat. Definitely one of the better roast ducks around. 4.5/5 I especially like the braised soy beans that accompany the platter. Not many places provide these nowadays. The next best thing is the Sio Bak, which has very crispy skin and the flesh is tender and fragrant. 4/5 We were not overwhelmed, nay, even whelmed by the Char Siew though. It was tasty, but the meat was a little dry. 3.5/5

Conclusion
Definitely a Roast Duck worth trying. Only complain is they don't have plum sauce to go with it.