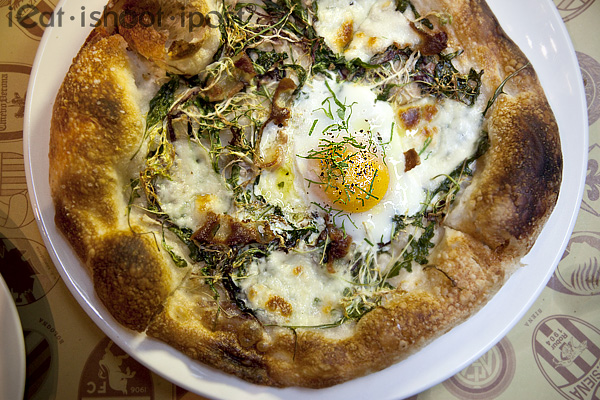 Egg, guanciale, bitter greens and gabna cauda pizza $24
What is your reaction when you first saw the photo of this pizza?
Frankly, I have never seen a pizza with a crust this size before. It's so big, you can almost hear an echo when you crunch into it. Most Singaporeans love thin crust pizza probably because they want to eat more toppings and less crust. So what would you think of a pizza where the crust is almost 40% of the whole pizza? Far from turning you off the pizza, you'd probably think that you must at least give the darn thing a try wouldn't you?
I know I have said this before in a previous posts, but Pizzas are all about the crust and this is more evident at Pizzeria Mozza than anywhere else. Much as I would like to dive straight into the pizzas, I think we should start with the antipasti. But even before that, let's talk a little about this Pizzeria which is one of the latest Celebrity restaurants to hit town.
What you have at Pizzeria Mozza at Marina Bay Sands is a replica of the Los Angeles icon that was opened by Nancy Silverton, Mario Batalli and Joseph Bastianich. Nancy Silverton as you may know, made a name (and a fortune) for herself by baking some of the meanest artisan sourdough breads in LA. She went on to apply her knowledge of sourdough breads to making pizzas which explains why the pizzas look they way they do. Aside from the crust, the other very important ingredient in any good pizza is the cheese and Mozza really does live up to its name.
I love fresh Mozzarella cheese. There is something very primal about fresh cheeses. Milk is after all the very first food that enters our mouth when we are born and suckling is the second thing we do, the first being crying. So having your whole palate coated by an unctuous and milky substance is really much more than just satisfying an appetite, it connects you to the ultimate source of comfort…. mom. And of all the cheeses, a fresh cheese like Mozzarella is for me, one of the ultimate comfort foods. Give me a creamy fresh Buffalo Mozzarella cheese and a crisp baguette and I would be as happy as a suckling baby. Or so I thought, until I discovered that there was something even more gratifying than a creamy Buffalo Mozzarella… the Burrata.
Burrata cheese is Mozzarella with double the calories. Essentially, it is fresh buffalo mozzarella mixed with cream (panna) and encased in a mozzarella skin. When you order the Mozza Caprese, they give you a ball of Burrata cheese, drizzle it with basil pesto and top it with roasted vine tomatoes. The Burrata used here is the same one being served in LA and is made by Di Stefanos in Southern California who makes nothing else but Burrata. This cheese shares a symbiotic relationship with Pizzeria Mozza as it was the restaurant that rocketed this cheese to stardom and is now one of the most favourite cheeses in LA. It's silky, velvety gorgeousness wrapped in a skin that give you a satisfyingly tender chew. Seriously, I would come to Mozza just for the Burrata cheese. 4.5/5
In case you feel that the Burrata is not giving you enough calories, you might want to order the oven roasted bone marrow. Bone marrow is one of those foods which foodies take pride in savoring while others might just crinkle their noses in disgust. This is, after all, globules of fat suspended in a fine mesh of connective tissue. But it isn't just fat, it is mostly monounsaturated fat and there are other stuff in there which is highly nutritious. The marrow is where all the "baby" bone cells, blood cells, connective tissue cells originate. You can think of it as the hive where the different cells are first manufactured before growing up into matured cells. Again, this is primal food. It is said that our ancestors fought off hyenas and vultures to get to this highly nutritious stuff which provided lots of calories for Homo Habilis (small brain) to develop into Homo Sapiens (big brain).
So if you want to experience cavemen cuisine, here is your chance. The beauty of the bone marrow at Mozza is the fact that they actually split the bone lengthwise so that all that luscious marrow is so easy to scoop up with a spoon. All they did was to sprinkle some sea salt and pepper over the marrow and roasted it. A bit rich for me especially after all that Burrata Cheese but a definite must try if you can afford the calories. 4/5
The pizzas here are very unique. So unique that I think every pizza connoisseur must at least give it a try. Now, when it comes to pizza, everyone has their own preference, but I am sure no one would ever imagine ordering a pizza with extra large crust. Having spend quite a bit of time experimenting with pizza making myself, I can tell you that the dough is amazing. Not amazing to eat per se, but amazing in its character. This is a light and chewy dough with an airy, moist crumb and yet the outer crust is blistered, crispy and flaky. Now this is not easy to achieve and I am still trying to think of any bread that comes close to this dough.
Chef Mendoza, who worked at Pizza Mozza in LA with Nancy Silverton tells me that this is a very wet dough which is made with a special strain of yeast from California and fermented for three days. They also specially import King Arthur flour which is a high protein bread flour that is used by many Pizzerias in the US. You can see from the video that the dough needs very careful and delicate stretching, unlike the normal pizza dough that the pizzaiolo can flippantly toss in the air.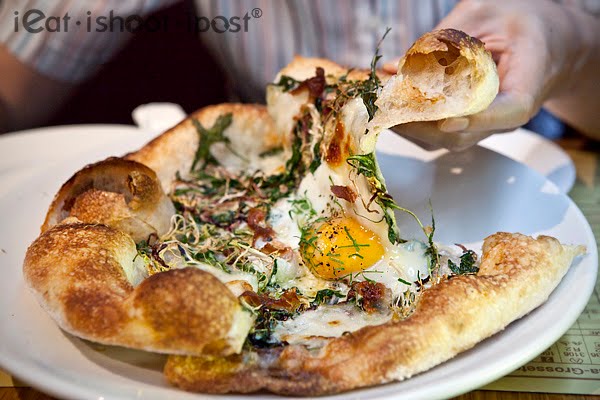 The result is a pizza that is surprisingly light when you try to pick up the first slice. This is not a blogger friendly pizza though as you really need to eat very soon after it hits your table. I spent a bit of time taking photos and found that when the crust cools it becomes a tad chewy and gave my jaws a bit of a workout. The toppings here are varied and some are quite unique, so you will have no problems trying to find something you like. I personally feel that a creamy burrata would provide and excellent contrast to the crispy chewy crust which might feel a tad naked without something to creamy to chew it with. (You can tell I just love the burrata, can't you?).
Personally, I haven't really made up my mind whether I would consider this a pizza which I would go back to again and again. I think I would need a few more visits before I can decide. There is no doubt that the pizza dough is an amazing creation but for me the crust might be a bit too much of a good thing as I got a bit tired chewing it.A lot of people have liken the crust to that of You Char Kway, and in a sense it is probably the closest thing we can compare the airy crumb to locally, but I must say that my jaw muscles never got tired chewing on You Char Kway. However, we do need to considerthat the humidity here in Singapore might make the fermentation process a bit tricky, such that it might not be exactly how it is like in LA.
The other thing about the pizza is the tomato sauce and cheese. I like my mozzarella cheese stringy and chewy but you won't get that kind of texture if the mozzarella has spent 15 minutes in the oven. Mozzarella is at its chewiest when has just melted which is why at home, I often would add mozzarella cheese just one or two minutes before the pizza is done. If you are having the Margherita, you will also find that the tomato sauce is overly cooked such that it has lost much of its zest and tastes more like tomato paste, which is fine when you have other toppings on it but if you are looking for plain Margherita, then it doesn't quite capture its essence. However, if you add a few dollops of brurrata on top of the Margherita, then it becomes something you can rave about! 4.25/5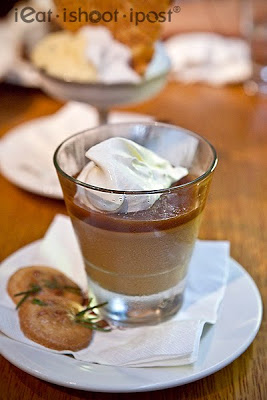 Butterscotch Budino: Maldon sea salt & rosemary pine nut biscotti $15
I was told that the Butterscotch Budino has achieved almost legendary status in LA, so we just had to give it a try. A budino is basically an Italian pudding made from heavy cream, eggs, sugar and cornstarch. (Recipe here). If you are not used to having salt with your desserts than this would be the first thing that gets your attention. The salt and caramel combination has, in the last few years gone from obscure French innovation all the way to fancy restaurants and magazines and has even reached the palate of the world's most powerful man himself. Yes, it is reported that President Barack Obama, who might have one hand on the button that can blow up the world, holds in the other hand, a lethal combination of caramel and dark chocolate sprinkled with smoked sea salt.
The pudding itself can be best be described as a cross between creme caramel and a butterscotch tiramisu (there is no such thing of course). The texture is velvety, but not smooth like a custard and the butterscotch flavour is rich and bold. Bit of a pity they use Maldon Sea salt here instead of fleur de sel which they do in LA. 4/5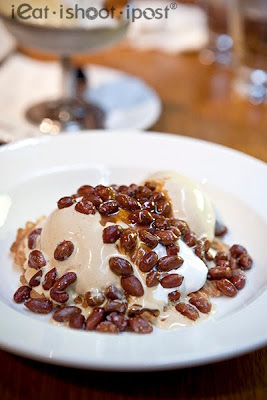 Caramel Copetta: Marshmallow sauce & salted peanuts $13
My personal favourite dessert was the caramel copetta which marries coffee flavoured gelato, marshmallow sauce and salted peanuts. Yes, it is the same theme of salty and sweet but this time I found the salty savoury peanuts went very well with the housemade gelato and marshmellow. It's amazing how salt is able to draw out flavours! I think the next time I have any dessert, I might just sprinkle some salt on top to see how it tastes like! 4.5/5
Conclusion
If you love pizza, then Pizzeria Mozza must definitely be on your list of Pizzerias to visit. The pizza crust is as amazing as it is unique as are some ofthe antipasti and desserts. Personally, I haven't made up my mind on the pizza yet, but I wouldn't mind going back a few more times to decide. The one itemthat you must try when you are there is the Burata. Order it as a pizza topping or as an antipasti to eat with the crust of your pizza and you're gonna be as happy as a baby!
This was a media review