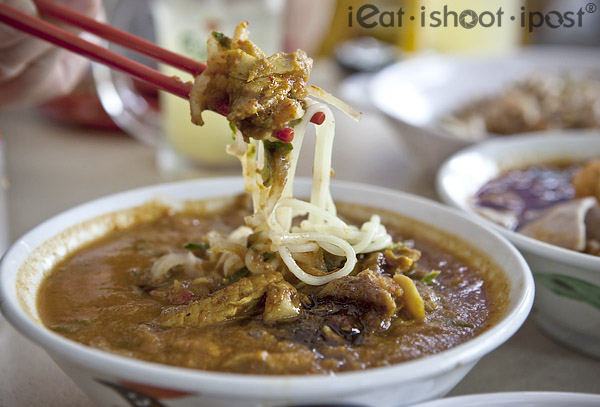 Assam Laksa $4
This year I want to focus a lot more on Cze Char stalls and in particular, Cze Char stalls which are dishing out more unusual and unique dishes. I actually want to start a new label called "Innovative Cze Char Dishes" and blog about dishes which our Cze Char chefs are experimenting and coming up with. So if you know of any such stalls, do write in and let me know!
Let's start the ball rolling this year with this Cze Char stall in Geylang which is dishing up Penang Food and some very competent Cze Char dishes. I guess you can't really consider Penang food very innovative, but it is certainly unique to find Penang food being served in what is largely a Cze Char stall. The Chef, who hails from JB, started off in a small stall in Geylang Lor 15 serving Assam Laksa, Penang Prawn Mee and Penang Char Kway Teow and did well enough to move to his present location where he has expanded his menu to include Cze Char dishes. That explains where there is a splattering of Penang dishes amongst Cze Char dishes even though the name seems imply the opposite.
If there is one dish that most people are eating during lunch time, it is the Assam Laksa. I don't know about you, but whenever I go to a new restaurant, I would usually take a quick survey of what people are eating and I actually ask people who are dining there what they would recommend. It's one of my methods of conserving calories for only good stuff.
Anyway, it seems to me that a lot of ladies like to eat Assam Laksa. Not sure why. Maybe it is because the sour nature of Assam Laksa is perceived to be less fattening. Anyway, the day I was there, I noticed that most of the people who were eating the Assam Laksa just happened to be ladies.
When I was in Penang last year, I tried the famous Ayer Hitam Assam Laksa there and found that I did not like it much. I think it's a personal preference since everyone else seemed to be lapping it up happily. For me the Hei Gor (Prawn paste) aroma was a little overwhelming and quite frankly I found it too fishy. However, the Assam Laksa here doesn't have that "fishy" aroma. In fact, our kakis felt it was much improved after we added some extra Hei Gor. If you like Assam Laksa, our friends Cactuskit and Soundman both feel this is one place you can plan to visit. Me, I am not big on Assam Laksa, but I felt this one was had a nice balance between sour and salty without being too overpowering on the Hei Gor . 4/5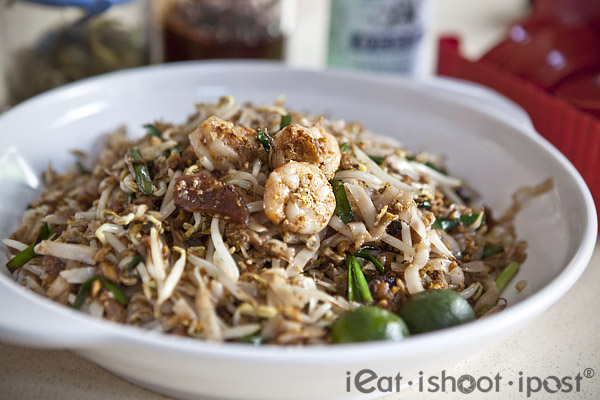 Penang Char Kway Teow $6.50
A lot of people I have spoken to like to compare our local Char Kway Teow to Penang Char Kway Teow. I prefer to treat them as two different dishes. Admittedly, the Char Kway Teow in Penang is spectacular, especially Ah Leng's where he fries mantis shrimp and seaprawns in oil to extract the flavour before using the fragrant oil to coat his Kway Teow with a fragrant seafood charr. If you don't have time to fly to Penang to eat at Ah Leng's, then here is a good alternative. It is not quite as shiok as the ones in Penang, but the Char Kway Teow here is quite satisfying when you have a Penang Char Kway Teow craving. I think the wok flavour is quite good, but it does lack that bold crustacean flavour of those in Penang. 4.25/5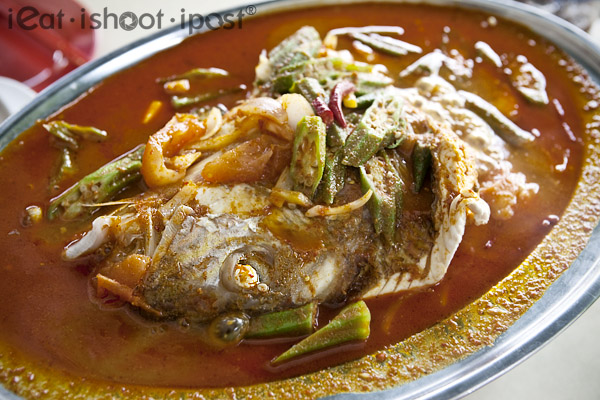 Assam Fish Head $20
The Cze Char here is very popular and after tasting a few of the dishes, our kakis have put the restaurant on our list of places to go for Cze Char. We were particularly impressed with the Assam Fish Head. The fish was very fresh and the gravy had a nice balance of sour such that it was enough to get your salivary glands going but not enough to cause a shudder. We all felt it was one of the best Assam Fish Head we have come across. 4.5/5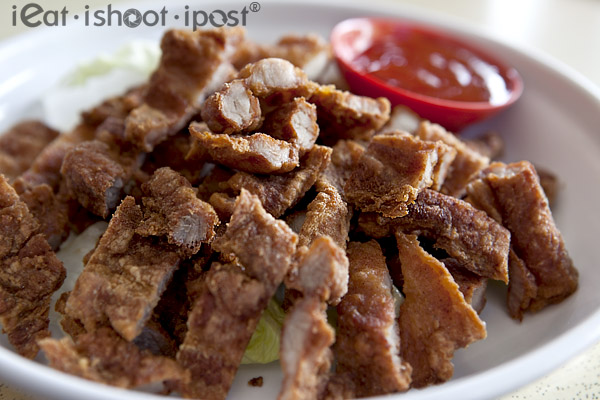 Deep Fried Pork Strips $8
You can hardly go wrong with marinated pork that has been deep fried unless of course they have been overcooked or have been cooked beforehand and left for too long. They are, fortunately, freshly fried here and are juicy and quite addictive. It would have gone well with a nice sweet and sour chilli dip or perhaps some mayonaise, but all they provided was standard out of a bottle chilli sauce. 4.25/5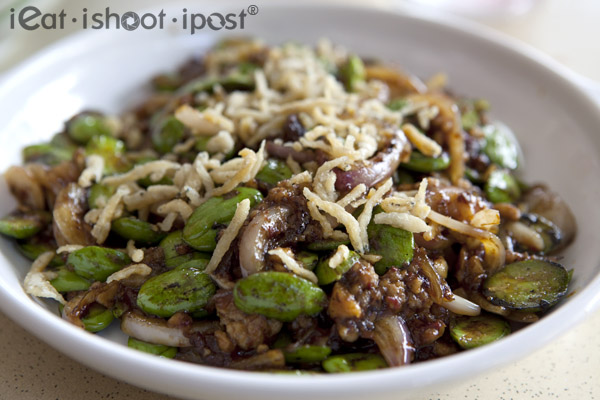 Fried Sambal Petai $9
Again, I am not a big fan of Petai, but Cactuskit, who is a big fan, said the petai here is excellent, or at least they are very generous with the amount of petai. Petai are essentially the seeds of the parkia speciosa and its quite interesting to note that they have medicinal properties and can treat anything from depression and PMS (premenstrual syndrome) to controlling blood pressure and diabetes. Fans of petai will also tell you if you eat enough of the stuff, your urine might stink for the next few days! Now, anything bitter and that potent must be good for you right? The sambal chilli here is very good and again the flavours are very well balanced. Good place to bring your wife, mother or girlfriend around that time of the month, no? 4.25/5
Conclusion
Overall, this a great place to consider for your next Cze Char outing and definitely a place to check out if you miss Penang food. The prices are quite attractive too and they open till midnight.
If you have any Cze Char with interesting, novel dishes to recommend, please do write to [email protected]. I look forward to blogging about them.