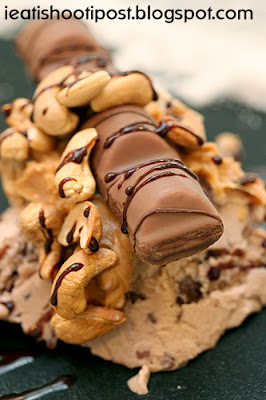 Creating of my Dream Ice Cream!
Have you ever wondered what a Vanilla Ice Cream with Lemon Sherbet and Crispy Pork Floss tastes like? Well, wonder no more because at Ice Cream Chefs, you can make the Ice Cream of your dreams (or nightmares) come true! And if they don't have the specific ingredients you want, you can BYO (bring your own) at no extra charge. Kinda reminds me of the days when we brought eggs to give to the Roti Prata man to make egg prata!
Ice Cream Chefs is a brand new Ice Cream experience started by 2 guys who could be sitting at a desk with a laptop. It is a concept that is popular in the US. Basically you have a cold stone top upon which you can mix and match any flavour of ice cream and extra ingredients. The home made ice creams come in different base flavours such as vanilla bean, chocolate, green apples, etc and they provide extras like Kinders Bueno, Rice Crisps, Oreo Cookies, Cashew Nuts, Peanut Butter and even frozen sliced fruits like strawberries. Each scoop of ice cream is $3.10 and each extra ingredient is 70 cents. Oooooh, doesn't it sound like something that you could go crazy over?
I went nuts (literally) with my Kinder's Bueno, Peanut Butter, Nutella, Chocolate Fudge and Cashew Nuts on Nutella Ice Cream creation. Phwaaaa Say. Don't play play ah! 4.5/5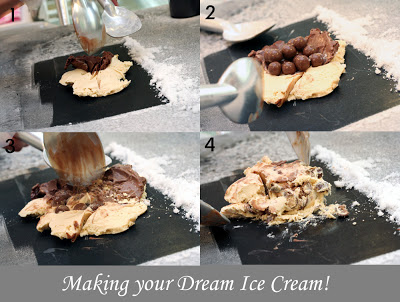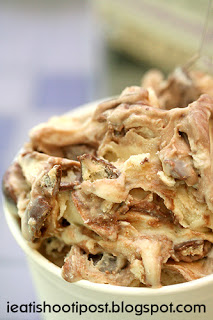 Some of the other more popular (and sane) combinations are the Horlicks and Chocolate Ice Cream with Malteses which you get both the sticky and crunchy textures of malt with bits of chunky milk chocolate. Not very pretty to look at but a wild combination of flavors and textures.
Ice Cream Chefs has been opened for 2 weeks, so the guys are still busy experimenting with new flavors and getting their coffee and waffles act together. Some ideas they are toying with are the addition of Kahlua, Rum and Baileys as ingredients to add to the ice creams. Until they do, you are very welcomed to BYO as I mentioned earlier.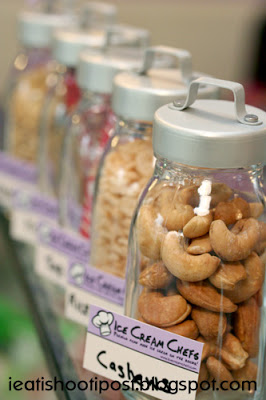 At this point, I would say that they still need to work on the creaminess and flavors of some of their ice creams. By itself, there aren't any killer flavors to rave about yet. But hey it is really up to you to create that "die die must try" ice cream which is limited only by your imagination!
Conclusion
The kind of place where ice cream dreams takes flight! So start dreaming!