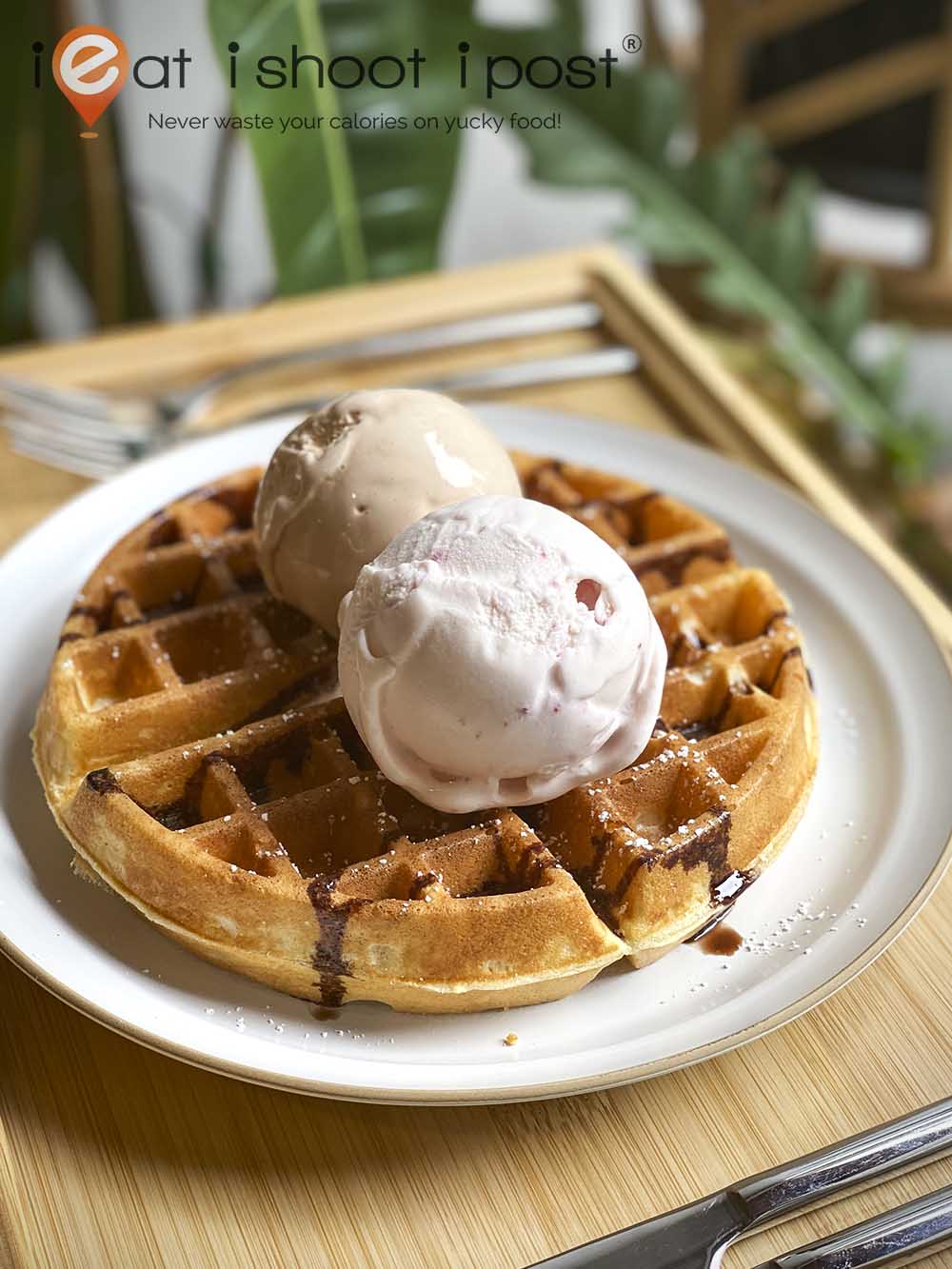 "When life serves you lemons, make lemonade", or more accurately, "If you have a lemon, make a lemonade" as Dale Carnegie puts it, in his 1948  book "How to stop worrying and start living".  Yes, we are being pedantic but it helps segway into our story today which is about a lady who was thrown a lemon by the Covid pandemic which puckered up her otherwise sweet existence.
Faith Koh had spent over 20 years as a finance professional when her company underwent reorganization and her role was relocated out of Singapore. That was when she started focusing on her ice-cream making hobby and began to experiment with gelato and giving it to her friends. Her hobby soon grew into a small home business and after receiving lots of positive feedback, she finally took the plunge to open O Happi Place which serves, amongst other things, a Yuzu sorbet which is about as close to lemonade as you can get in a gelateria.
And what better place to create a cosy place for creamy bliss than the hipster cafe enclave at Everton Park. This may be another HDB cafe, but they have spared no expenses in its interior design such that you would think you were dining at a swanky place along Orchard Road.  For drivers, it's conveniently located just across the link bridge from deck 3A of the multi-story car-park.
We can go on and on about the place, but let's get onto the gelato.
Why Gelato and not ice-cream?
Gelato as you know is creamier and packed with more flavour than ice cream.  The intensity of flavour is due to the fact that it contains less air than ice cream. In wanting to serve a higher quality product, Faith decided to keep to gelato. Although it started as a hobby, Faith further honed her gelato-making skills at culinary school. Her talent for mixing and matching flavours coupled with a no-expense-spared approach to sourcing equipment and ingredients has resulted in a smooth and creamy gelato with a range of exotic flavours.
Flavours: Something for Everyone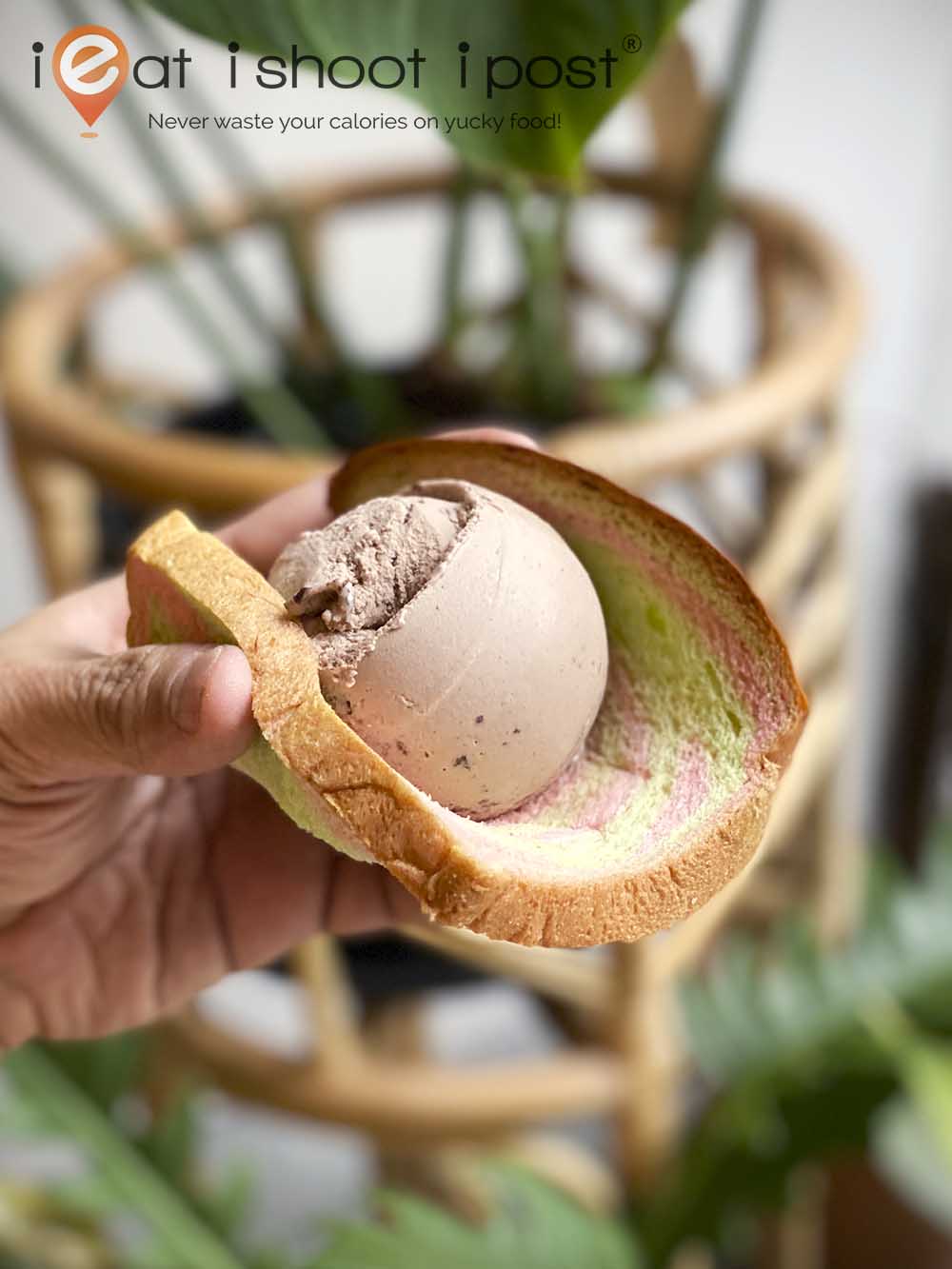 Faith has developed over 20 flavours and says there are usually 18 flavours available at the store at any one time. Her philosophy is to create something for everyone. That means that conservatives will be able to find your standard Chocolate while the more adventurous can tease their tastebuds with Yellow Capsicum.
Of the flavours that we tried, Lisa really liked the Bon Bon and Coconut with Kaffir Lime. Though not a fan of cocoa,  the creamy hazelnut and chocolate with bits of waffle biscuit in the Bon Bon won her over.  The Coconut with Kaffir Lime combines the creamy coconut confectionery with the zesty Kaffir lime fragrance which is reminiscent of Tom Kha Gai. The prettiest looking flavour that day was the Rose Lychee Raspberry that Leslie actually likes! It's probably the rose flavour that reminds him of his favourite bandung drink that got him.
One of Faith's best selling flavour is the Ju Pu, which is a combination of Pu 'er and Chrysanthemum tea. She created this flavour because it's her favorite tea to drink at Chinese restaurants. The other premium flavour we got to try was the Bergamot Orange where you get the fragrance of an Earl Grey tea without the tea.
A Simple Menu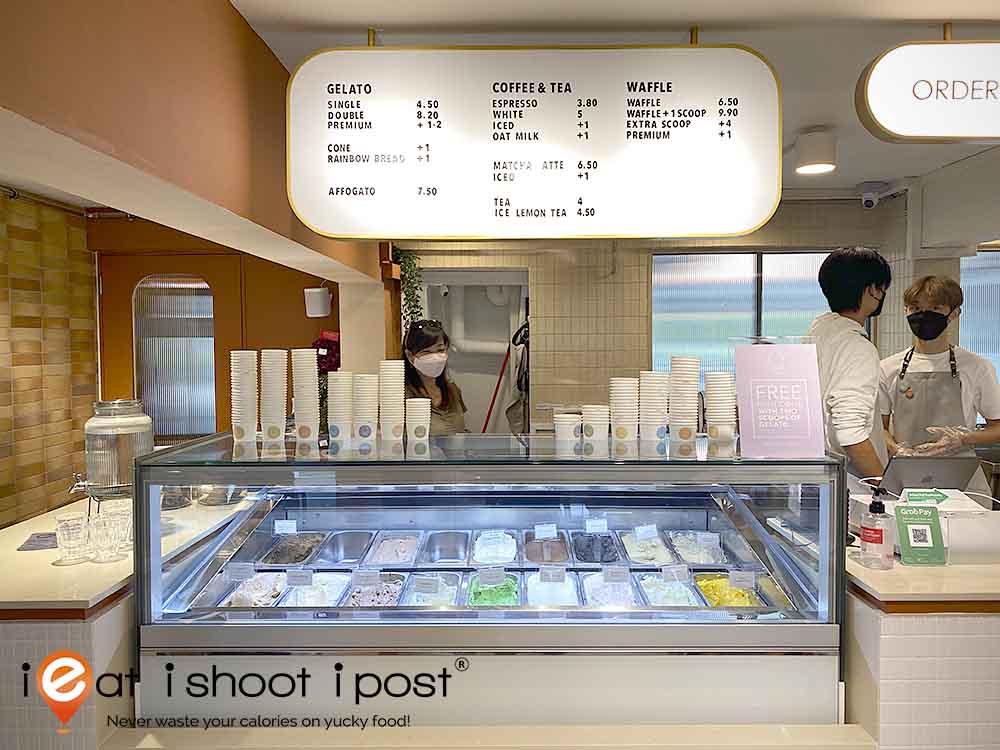 They offer a very simple menu here.  You can order your gelato and then opt to have it neat or with waffles or rainbow bread, then pair it with tea and coffee if you wish.  A single scoop is $4.50, double scoop $8.20 and an additional $1 for premium flavours.
A Different Life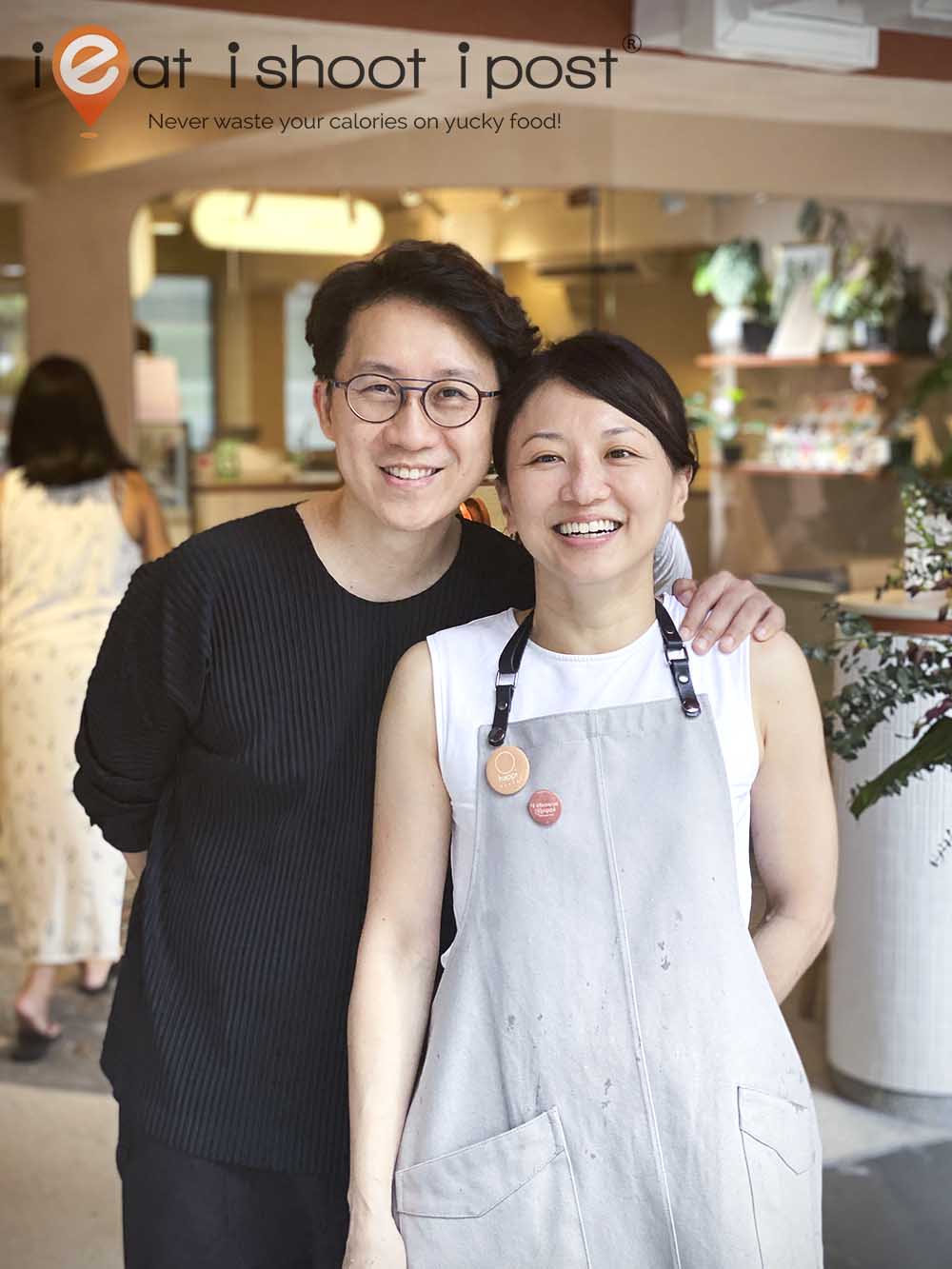 As many who have made the switch from an office job to being an entrepreneur in F&B, will attest, Faith admits that she is actually working longer hours now.  But, the satisfaction of serving a product that gets her customers coming back regularly has been extremely rewarding and the gelateria is slowly becoming the nexus of a budding community, which is part of the vision that Faith and her husband Jeff have for their place.
It's a Happy Place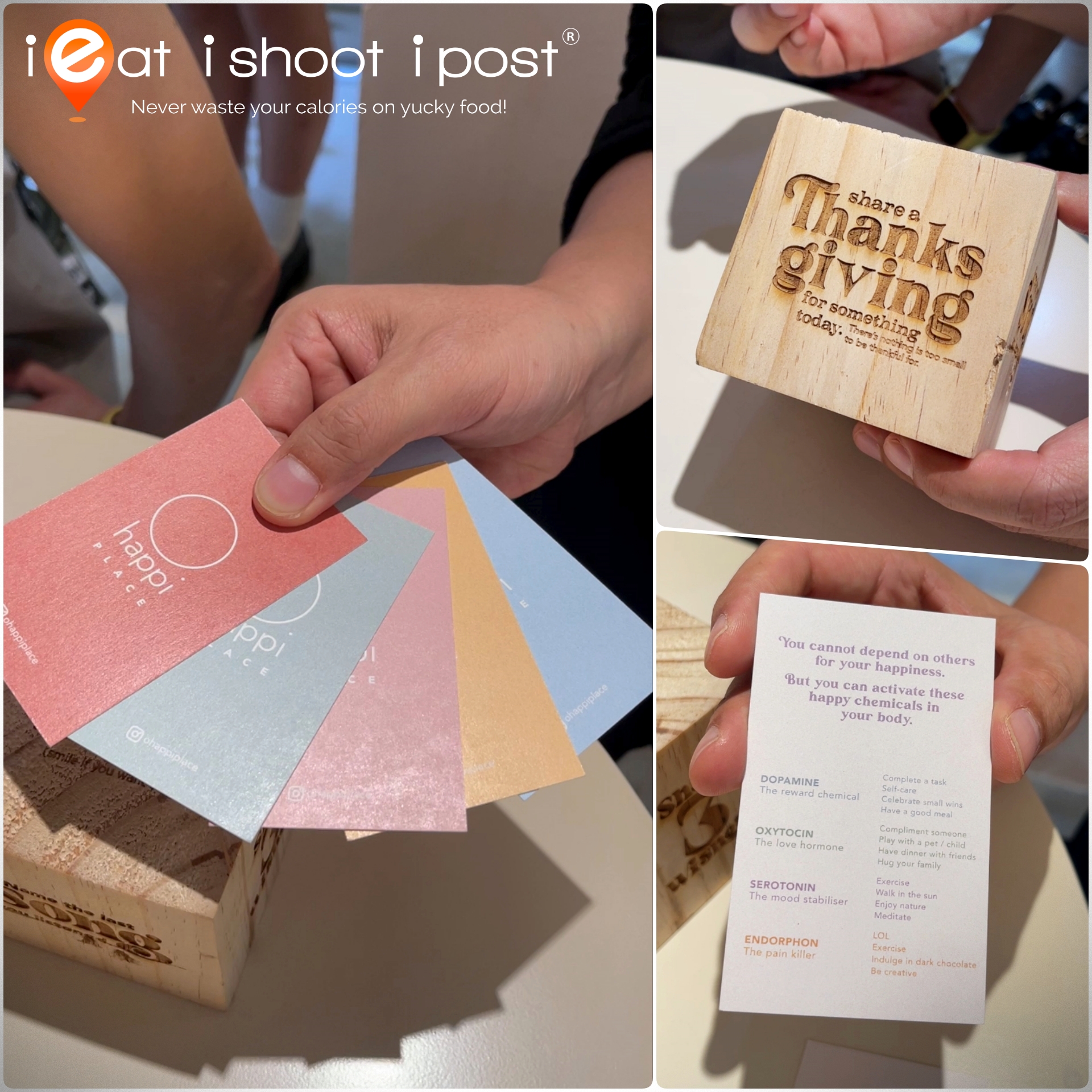 To facilitate community building, they have custom-made a set of "Happy" playing cards where you pick a coloured card, flip over to be some encouraging verses, phrases or tips on how to generate brain juices that cause happiness. In case you wonder why there are blocks of wood around the table, those are custom-made wooden cubes that function as dice where friends around the table can roll and be challenged to do something positive like waving to a stranger, giving thanks or making three wishes. Nothing overly taxing, just conversation starters.
It's a beautiful cafe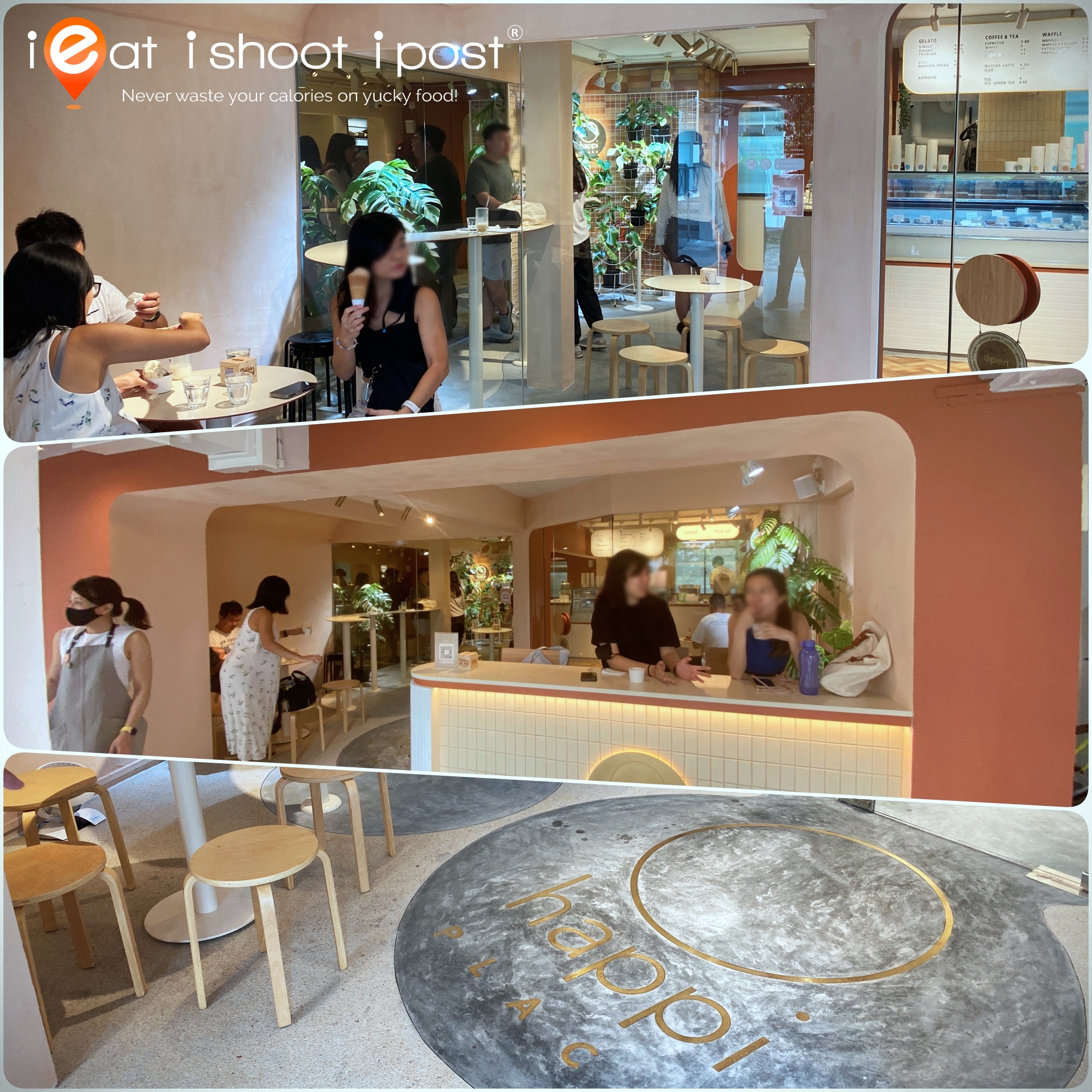 Even if you are not a dessert person, this is one cafe where you will certainly stop to take a look around. Three keywords about the place come to mind  – Pastel, Plants and Curves.
The manicured green plants set against soft pastel coloured walls and rounded fixtures immediately displace one from the hustle and bustle of the city. We are told that the "curves" in the design were deliberate to flow with the overall architectural design of Everton Park. We like how they were able to create a nice flow between the indoor and outdoor spaces so you feel comfortable sitting or standing anywhere in the cafe (apart from the heat if you're outdoors).
If you are a phytophile, you would no doubt be intrigued by the collection of indoor plants in one corner of the cafe as well as in the toilet.   Don't anyhow touch, some of these plants actually cost more than a smartphone! (Yes, even the pro max version)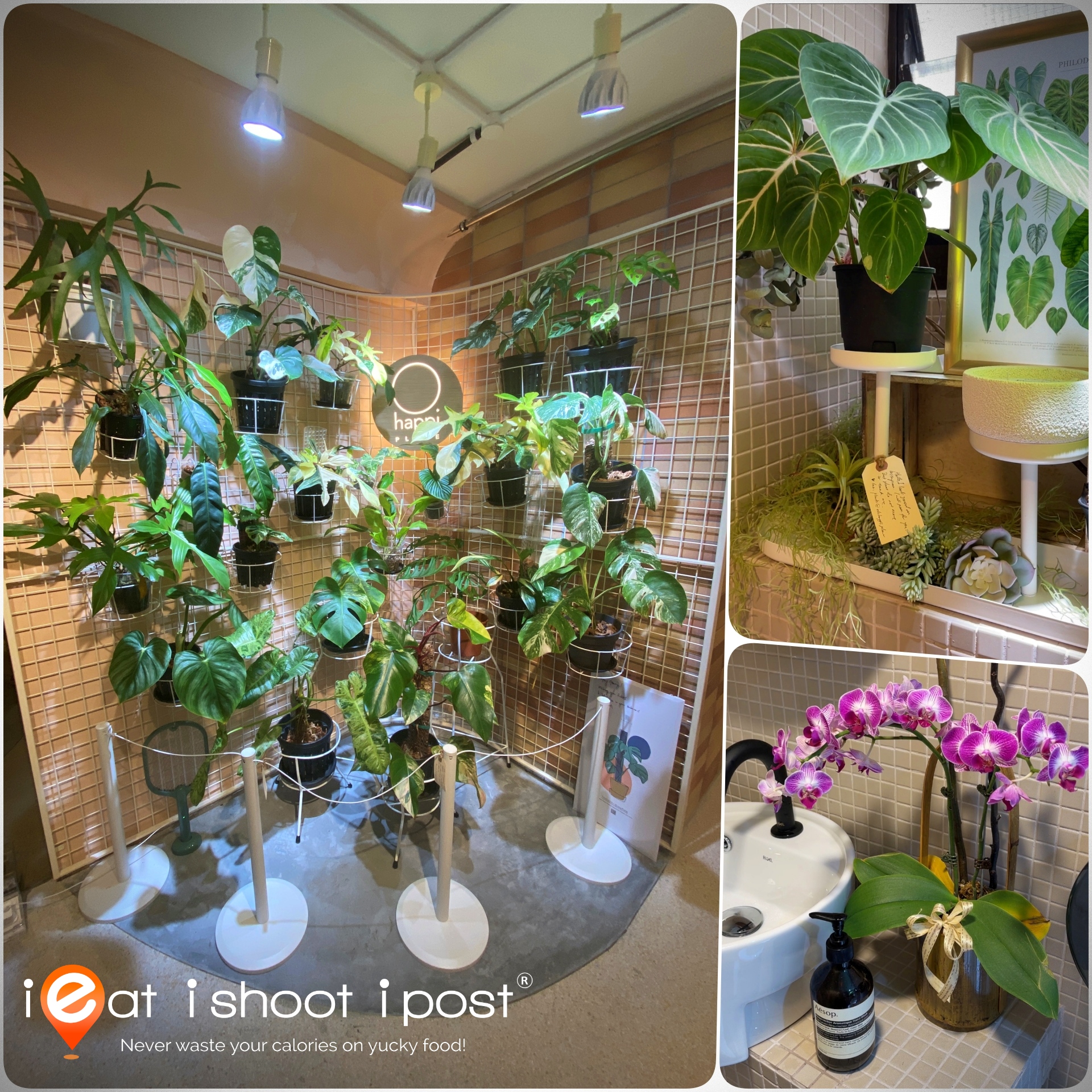 Conclusion
Overall, this is a cosy little gelato cafe where the eclectic interior and creamy gelato will ensure that you leave the place a happier person.
Disclosure: This was a media tasting and Jeff Cheong is a long time friend of ours.