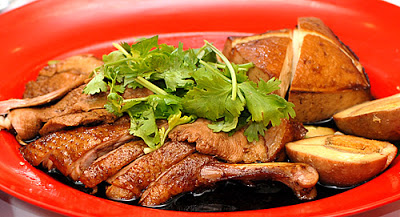 This stall is closed
On assignment with Professional Photographer, Alec Ee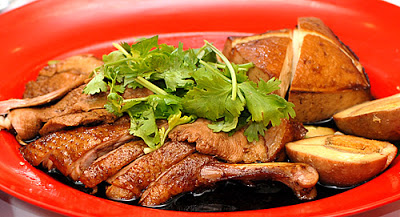 Set for 2, $8 Photo by Alec Ee

On this occasion, I was invited to join professional photographer, Alec Ee to a photoshoot of his favourite Braised Duck stall which according to him is better (in a different sort of way) from the famous one at Tekka. This little known braised duck stall facing the Sungei Road thieves market was only started 6 months ago but has already attracted a regular following of braised meat lovers like Uncle Alec, who, until he found this stall, was a regular at Tekka.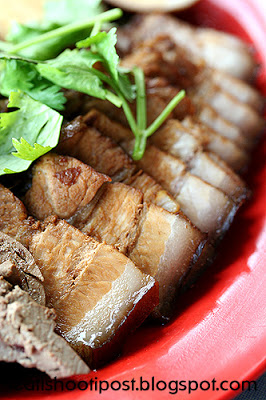 Being in the presence of a professional photographer was a little intimidating for me at first. When you look at the kind of photos that he takes, you will know what I mean. Because he was so particular about the lighting and set up, it meant that for once, I was the one who had to be patient and wait while others took the pictures. After that I had to take my shots before we got to eat! Phwa I was really hungry by the time I got the first piece of duck into my mouth.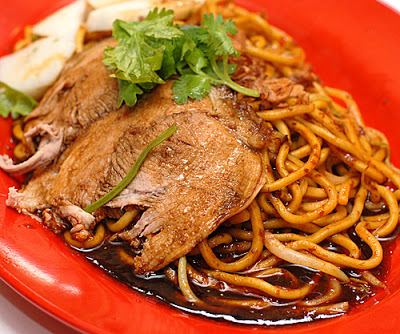 Duck Noodle $2.50 Pic by Alec Ee
The first thing that caught my attention was the way the stall owner sliced the duck breast. It is in the same style as the braised goose served at Guan Hin. Surely a good sign! When it comes to duck I actually prefer the breast meat to thigh meat. Because duck breast is actually red meat not white, I find that it combines tenderness of breast meat with the taste of thigh meat.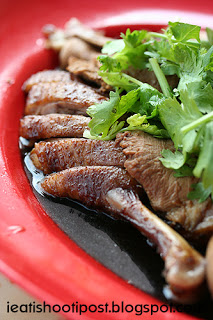 Do you know the difference between red and white meat? Red meat consist of slow twitch muscle fibres while white meat consist of fast twitch muscles. Slow twitch muscles are used for slower, sustained activity such as walking while fast twitch muscles are good for quick but short lived bursts of activity. So, chicken breast is typically white meat because a chicken doesn't really fly, it uses its breast muscles to quickly flap its wings when it is excited. The legs contain more slow twitch muscles since it is always walking around. That explains the difference in tastes of the two parts of the chicken. But since ducks actually fly (most migrate seasonally), the breast meat contains more slow twitch muscles so that they can have sustained muscle activity while they fly for long distances. Which is why duck breast tastes more like red meat. Yes or no?
The Braised Duck here is quite good. The breast is nice and tender and because it is sliced thin and wide, the texture is very different from your usual braised duck. I like the Lor as it is the thin watery type and is on the sweeter end of the spectrum but it still has enough umami. 4.25/5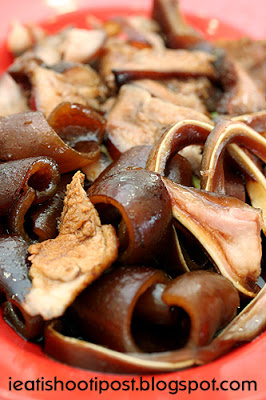 Aside from the duck, the other thing that you really must order is the pork cheek. Oooh, sinfully soft and chewy at the same time! Not good……Very Good! 4.5/5
Conclusion
My next assignment is to try the famous Braised Duck over at Tekka. The braised duck here is very good, but until I get to compare it with the other famous one, you will just have to take Uncle Alec's word that it is good enough for him to switch loyalties! It's a new stall, but the stall owner really has passion for his craft, so I think it is only a matter of time before other braised meat lovers will discover his stall.