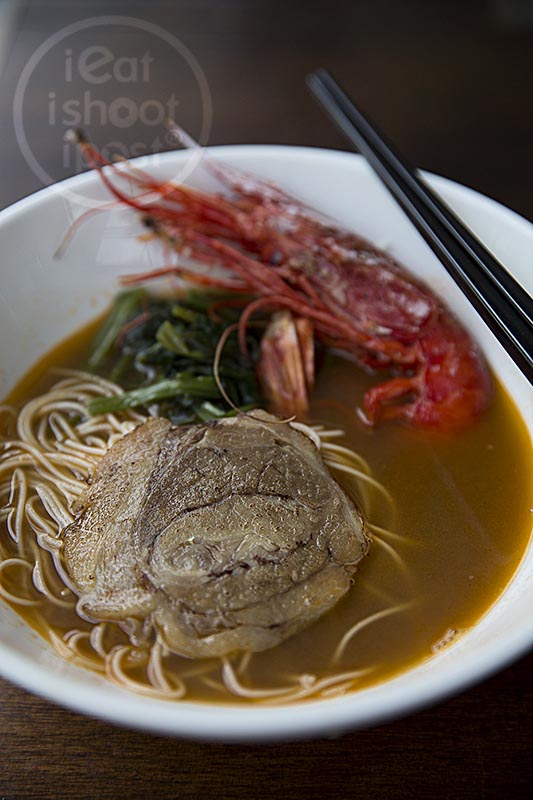 Naked Finn is a bit of an anomaly. You can't really call it Western or local cuisine. Perhaps it is best considered Singapore cuisine, which is a fusion of East, West and all the rest. If you really have to put a label on it, you can probably call it crustacean cuisine, because the food here is all based on Ken Loon's peculiar obsession with prawns and shellfish.
I have written about the psychiatric condition of Ken in my previous post, so I will not labor the point. This post is just to let you know that Naked Finn is now open for lunch and the main event is Ken's vision of the almost-ultimate prawn mee.
I say "almost" ultimate because the ultimate prawn mee would cost too much for lunch. So some compromise has to me made so that he can sell the prawn mee for $18 per bowl which should be more accessible for the general public.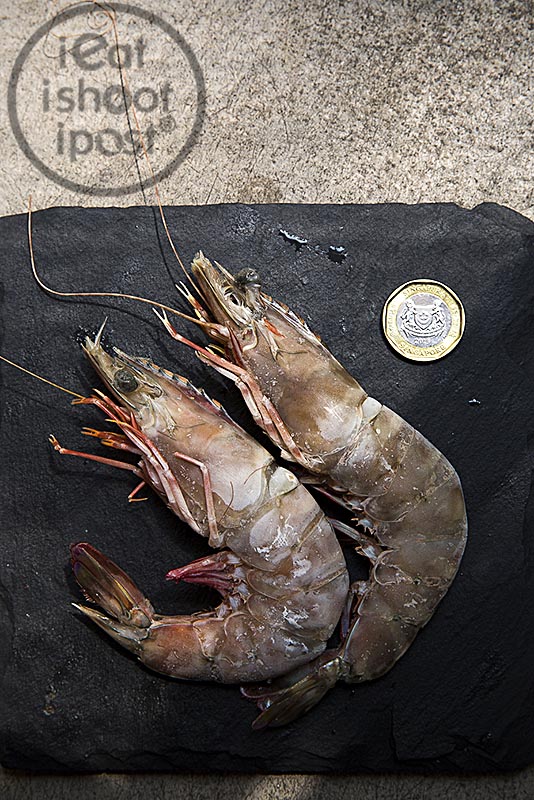 The soup is made from blue tail Sua Lor prawns which he gets fresh from Jurong fishery port daily. No salt or msg is added. The whole prawn is fried and then boiled and blended extract all the goodness from the meat and head. Prawn mee hawkers would normally save the meat as garnish and use just the head and shell of the prawns to cook the soup. Using the meat of the prawn is much more expensive but results in a soup which is a great deal sweeter. The resulting broth is reminiscent of Wah Kee's prawn mee soup and not the salty, brownish type that one would expect from the hawker centre. The broth is presented au naturale and it is up to you to season it with the sea salt and Iberico pork lard provided.
I have argued with Ken that he should have added a bit of salt in the cooking process to bring out the full flavour of the prawns. As such, when you are first presented with the soup, you might find it a bit bland. It is only after you add the salt and the lard that the full potential of the soup is realized. But that is my opinion. If your palate is more attuned to subtler flavours, you may prefer the more natural flavour of the prawn stock.
For the standard $18 bowl, you get two good sized green tiger prawns and a slice of Kurobuta pork belly which has been slow cooked then torched ala Ramen style. For the noodles, you have a choice of bee hoon or somen. If you wish to try the carabinero version, you have to order ahead and for $25, you get a medium sized carabinero whose flavourful, briny tomally adds a real umami boost to the soup. 4.25/5

Conclusion
Prawn mee is one of those few hawker dishes that Singaporeans are conditioned to pay more for. Jumbo prawn noodles easily cost around $15 to $25, so $18 for a bowl of prawn noodles is quite acceptable, especially when you consider that it is served in a restaurant setting. The real question is whether one can fully appreciate the natural flavour of the soup which is made from fresh whole prawns? Even though many Singaporeans frown at the addition of msg in their food, when it is missing, the same people would complain of the lack of flavour. Personally, I feel the soup is very shiok but only after you salt it adequately and add a bit of the pork lard to it. But there is no doubt that this is a bowl of prawn mee that is made with quality ingredients and lots of passion. You would not expect anything less from its prawn crazed creator.