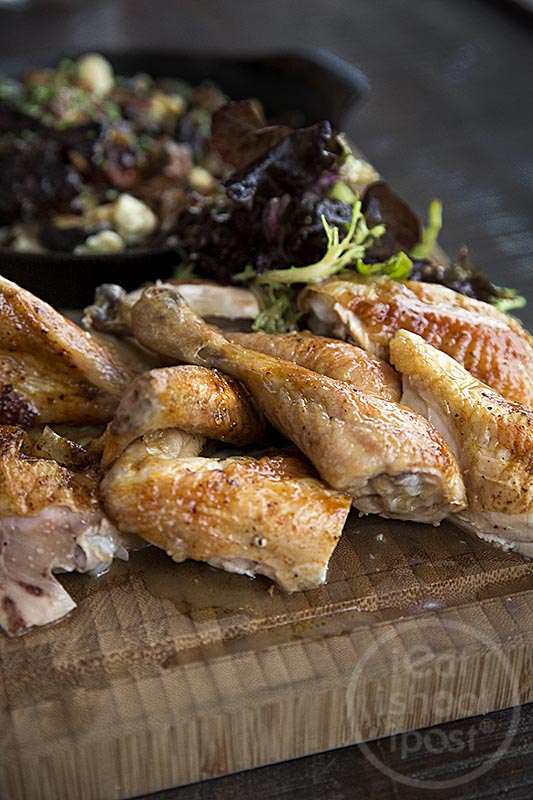 I once asked Fashion Foodie who is a well traveled gourmand, which cuisine he preferred, Italian or French, to which he replied — Italian. The next question was of course, why? To which he said that Italian food is more hearty and casual, very much like Chinese cuisine where family and friends can gather around the table to eat together. French cuisine, on the other hand, is usually served fine dining style which is good for the occasional meal, but not something he could eat on a regular basis.
I think it was five years ago that I asked him that question and it was quite true of the French dining scene in Singapore then. But how things have changed in recent years! With the rise of Spanish cuisine, it seems that more and more restaurants are catering to the Singaporean preference for more casual, shared dining.
This then is the niche that Bar-roque is targeting. They serve French food here, but the dishes are robust, down to earth and served on long tables without table cloths. Once the dish hits the table, it's every man for himself and if like me, you grew up in a family of three hungry boys, you get to eat more if you eat fast!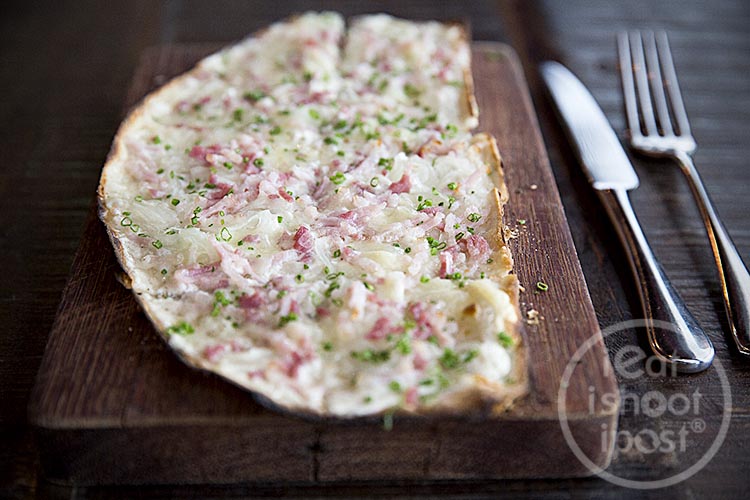 The food here strikes me like the type you would get served if you were sharing the meal with some farmers in some remote village in France. The flavours are bold and generous and there is less of an emphasis on the plating and more on providing food that you can pick up with your fingers to eat.
The Tarte Flambe is something I would recommend for a starter. This is basically a thin crust pizza done French style. Cheese, bacon and chopped onions on a cracker. How can you go wrong with this classic combination unless you are using lousy ingredients? But over at Bar-roque, you won't have to worry about that as Chef Stephane doesn't compromise on the cheese or the wine and even goes to the extent of making his own cured meats. 4.5/5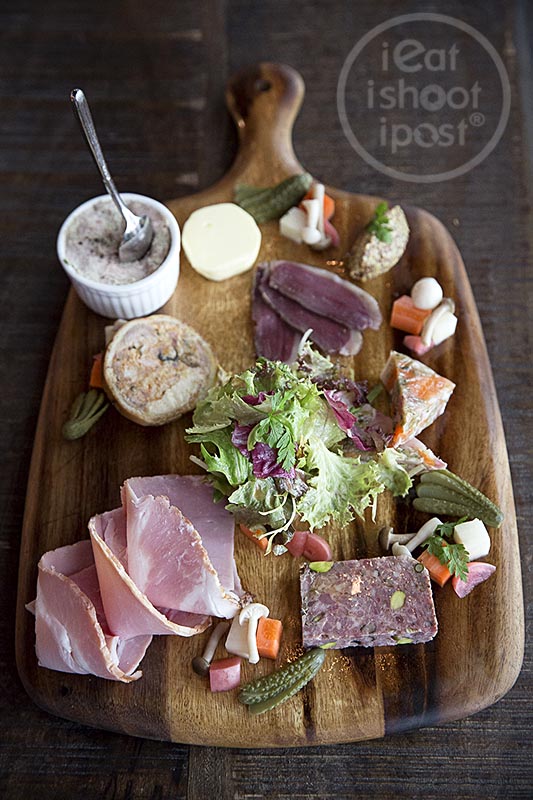 Most restaurants would boast about their cured meats being imported directly from Europe but here they they boast that it is all made in-house. The home cured kurobuta pork ham is lovely as is the smoked duck breast and the various terrines. I love cold meats on hot crusty breads so I am quite partial to this. 4.25/5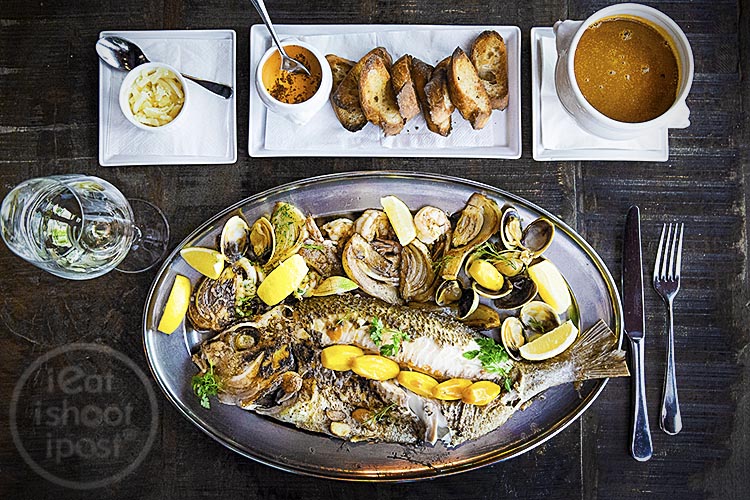 You would probably be familiar with Seafood Bouillabaise as a soup rather than a whole plate of seafood with a bowl of rich seafood broth at the side. From what I understand, usually the seafood is taken out of the soup and served on a separate plate to ensure that they don't overcook and get mushy. At Bar-roque, they do things a little differently. Here the seafood broth is made separately and you get to pick a whole fish that is be oven baked and served with it. They use a variety of air flown NZ fish here as one of the partners is from New Zealand has has good contacts with the local fisherman there. So, depending on the size of your entourage, you could pick a small fish for two to share or a large one for the whole department. The fish are air flown direct from NZ several times a week and are excellent.
We were served a whole Tarahiki fish which has been oven baked together with clams and other seafood. When the platter arrives, you help yourself to the fish and seafood and construct your own bowl of soup. The seafood soup is like a bisque and goes really well with the Tarahiki which is a fish that that is quite similar to a snapper. 4.25/5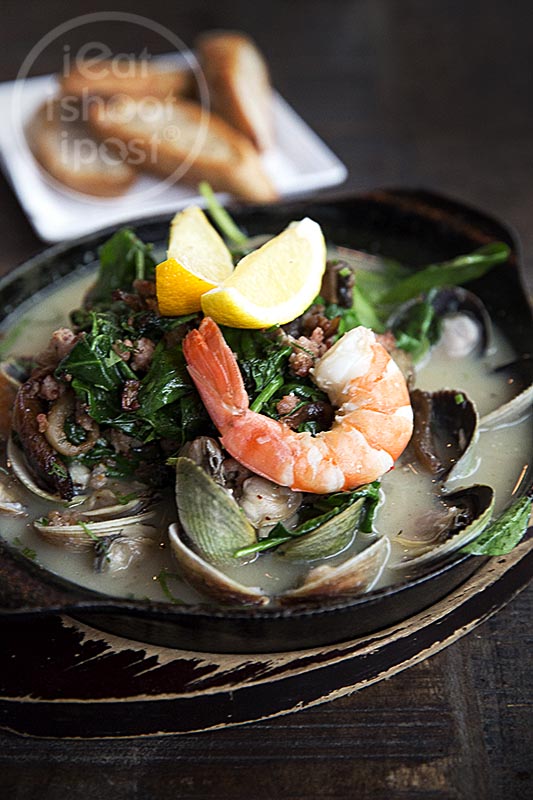 Any French Chef would use wine in their cooking, but Chef Stephane seems to be a little more generous with his wine, not that I am complaining. The clam casserole was quite a pleasant surprise. The classic French dish would not have included the garlic pork sausage. It was something of his own creation and it was a superb combination. As I have alluded to earlier, there is a generous splash of white wine which gives the dish a wonderful tartness and aroma. The addition of sourdough croutons which remained crunchy even when soaked through was delightful. 4.5/5
For something even more robust and earthy, order the Coq au Vin. The chicken is first marinated with red wine overnight and then roasted before being made into a stew together with some lovely fresh mushroom and bacon bits. This dish really hit the spot for me. The sauce was rich and has that wonderful stickiness from the breakdown of all the collagen in the chicken. I could just have this with some bread and be a very happy man. 4.5/5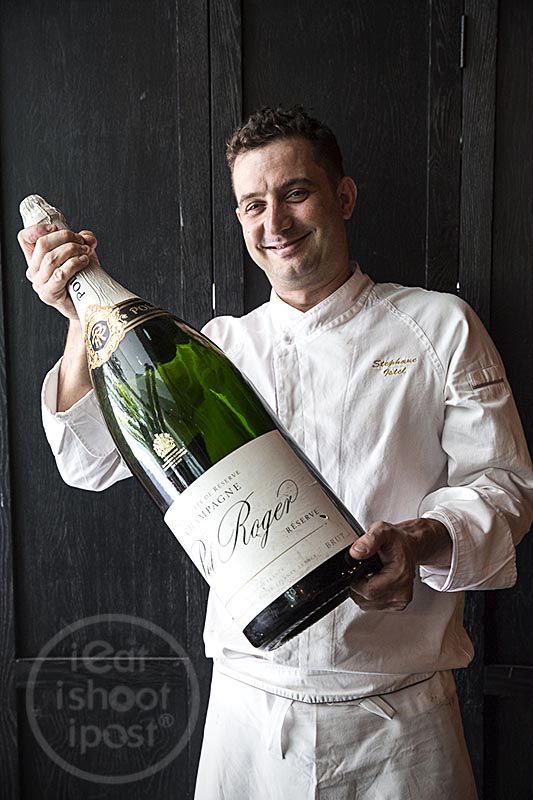 Born in Alsace, France, Chef Stephane Istel started cooking at 15 and spent the last 8 years working with Daniel Boulud before being sent to Singapore to helm DB Bistro Moderne at Marina Bay Sands. He is a great guy to talk to and openly shared all his recipes with me and I have learnt quite a few cooking tips from him on my two visits there.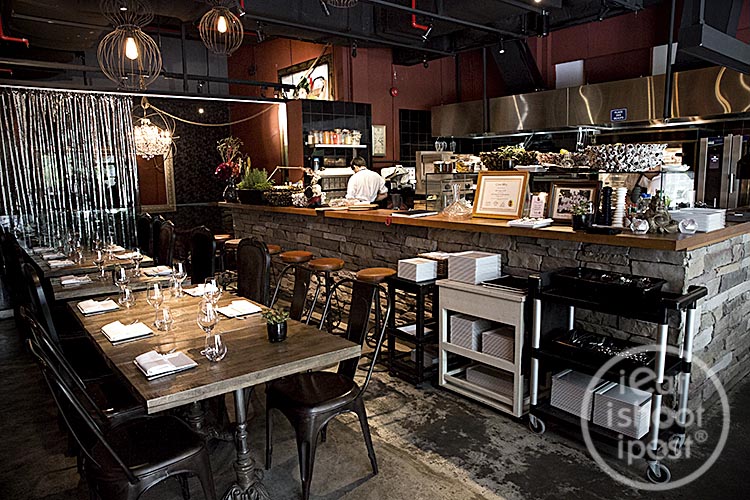 Conclusion
Rustic French food that you can share with friends and eat with your fingers! The flavours here are bold, unpretentious and Chef doesn't stinge on the wine in his cooking! You would probably end up ordering extra bread so that you can wipe up all the wonderful gravy in the dishes!
Note:
I was there twice. The first as part of a media invite and the second was a paid visit with the kakis.